HOW TO sewing instuctions
Anthro-Inspired Pillow
How to Copy Ready-to-Wear
Like many women of my generation, I love pinup bathing suits.
How-To: Make a Pinup Bikini – Sewing Blog | BurdaStyle.com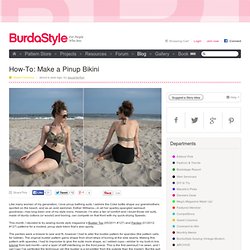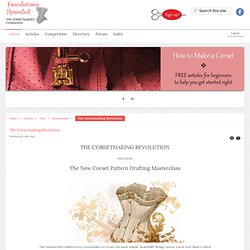 Home | Foundations Revealed
Details Written by Cathy Hay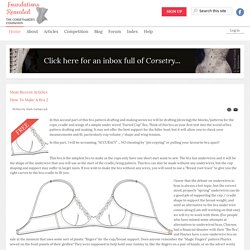 How To Make A Bra 2 (free article) | Foundations Revealed
Details
Make Your Own Damn Bras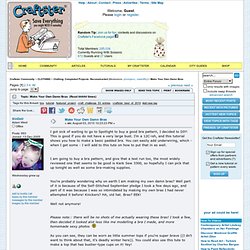 I got sick of waiting to go to Spotlight to buy a good bra pattern, I decided to DIY! This is good if you do not have a very large bust. I'm a 12C-ish, and this tutorial shows you how to make a basic padded bra. You can easily add underwiring, which - when I get some - I will add to this tute on how to put that in as well. I am going to buy a bra pattern, and give that a test run too, the most widely reviewed one that seems to be good is Kwik Sew 3300, so hopefully I can pick that up tonight as well as some bra-making supplies. You're probably wondering why on earth I am making my own damn bras?
DIY Tutorial - How to make your own knickers! (Printouts) - drummbellina
Corset Tutorial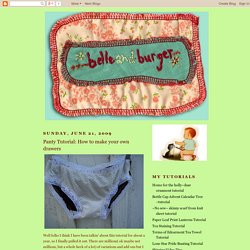 Panty Tutorial: How to make your own drawers
Well folks I think I have been talkin' about this tutorial for about a year, so I finally pulled it out. There are millions( ok maybe not millions, but a whole heck of a lot) of variations and add ons but I was trying to do the simplest one first.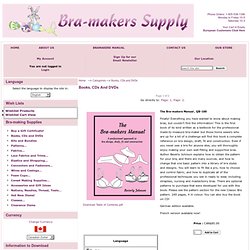 The Bra-makers Manual , QB-100 Finally! Everything you have wanted to know about making bras, but couldn't find the information!
Bra-makers Supply - Books, CDs and DVDs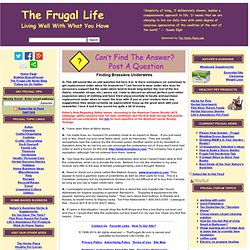 Finding Brassiere Underwires
Q. This will sound like an odd question but here it is: Is there someplace (or somehow) to get replacement under wires for brassieres? I am forced to wear under wire bras for necessary support but the under wires tend to break long before the rest of the bra (fabric, shoulder straps, etc.) wears out.
In the article Food Storage Basics: Step 4 — Non-Food Items I explained the importance of storing non-food items as part of your emergency essentials.
Homemade Sanitary Pads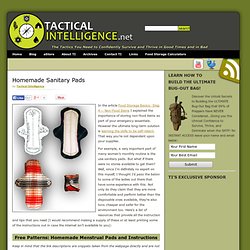 A Novice's Guide to Draping
Make It and Love It: Re-Purposing: Boy's Pants
Can you believe it? A boy project. I've been trying to think of new things for my sweet boy…..it's just harder to come up with projects for him.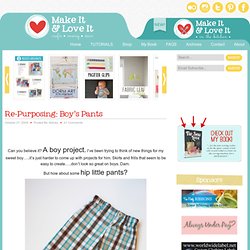 One of the greatest men's shirt makeovers ever--tutorial!
Okay, I'm partial, but I think this is one of the greatest makeovers of a men's dress shirt into something else--a cute, springy skirt! I had so much fun with this and just figured it out as I went along, but I do have the pics and instructions for you in a tutorial. Follow along if you ever want to do this to an old shirt!
smocking a honeycomb texture
How to smock – tutorial « The dress I made
Here's a little sneak preview of a project I'm currently working on. Can you guess what it will be? In about a week both my photographers will be back from holiday, so just a few more days of patience before I'll have new photo's to show.
How to Make a Smocked Tube Top
Jersey knit tube top smocked at the bust with multiple rows of elastic thread. The circumference of the top (unshirred) is 8-9" (20-23 cm) larger than the bust measurement.
How to Create Elastic Shirring
Princess seams, and other treacherous curves!
How to create a hand rolled hem
How to sew a perfect baby hem
How to Hem Pants - Hemming Pants Tutorial
Taking in Jeans at the Side Seam Tutorial
Jean-ius Reverse Engineer Your Favorite Fit
Video tutorials on arts and crafts throughout history
beltmaking 101
How to Shorten a Skirt - DIY Fashion
how to sew a circular skirt
Bohemian Infinity Dress… « Needles, Thread and Love
How to Create Mitered Corners, by Sara Moskovitz
S4H's Top Tips & Techniques: #3 Attaching Metal Snaps
Out of Order: DIY Tutorial - Full Skirt - StumbleUpon
Panty Tutorial: How to make your own drawers
How to make a jumper pouffe | Life and style
Girl's Gone Child: Gone Style: Fable's Homemade Dresses
Summer Dress
Ivy Designs Dress Pattern Guest Giveaway