Frugality/Budgeting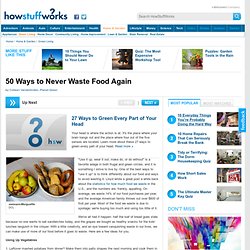 "Use it up, wear it out, make do, or do without" is a favorite adage in both frugal and green circles, and it is something I strive to live by. One of the best ways to "use it up" is to think differently about our food and ways to avoid wasting it. Lloyd wrote a great post a while back about the statistics for how much food we waste in the U.S., and the numbers are, frankly, appalling.
50 Ways to Never Waste Food Again - Planet Green
Frugally Sustainable A Resource for All Things Frugal and Sustainable Frugal Days, Sustainable Ways #38 July 31, 2012 By Andrea 14 Comments The Frugal Days, Sustainable Ways Wednesday Blog Hop
Frugal Days, Sustainable Ways #38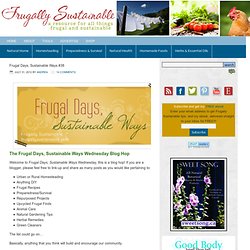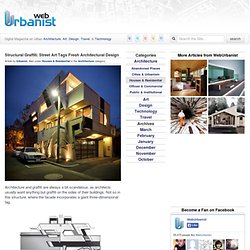 Structural Graffiti: Street Art Tags Fresh Architectural Design
Structural Graffiti: Street Art Tags Fresh Architectural Design Article by Urbanist, filed under Houses & Residential in the Architecture category. Architecture and graffiti are always a bit scandalous, as architects usually want anything but graffiti on the sides of their buildings. Not so in this structure, where the facade incorporates a giant three-dimensional tag.
Frugal Living: WHAT store bought items do you make at home & WHY?
EatingWell: How To Save $250 On Groceries This Month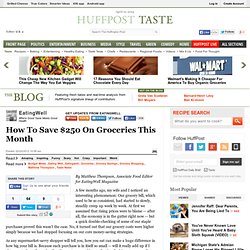 By Matthew Thompson, Associate Food Editor for EatingWell Magazine A few months ago, my wife and I noticed an interesting phenomenon: Our grocery bill, which used to be so consistent, had started to slowly, steadily creep up week by week. At first we assumed that rising prices were to blame -- after all, the economy is in the gutter right now -- but a quick double-checking of some of our staple purchases proved this wasn't the case. No, it turned out that our grocery costs were higher simply because we had stopped focusing on our core money-saving strategies. As any supermarket-savvy shopper will tell you, how you eat can make a huge difference in how big your bill is.
Nancy Deville: Shopping for Real Food on a Budget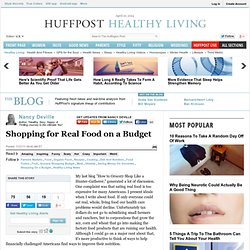 My last blog "How to Grocery Shop Like a Hunter-Gatherer," generated a lot of discussion. One complaint was that eating real food is too expensive for many Americans. I present ideals when I write about food. If only everyone could eat real, whole, living food our health care problems would decline. Unfortunately tax dollars do not go to subsidizing small farmers and ranchers, but to corporations that grow the soy, corn and wheat that go into making the factory food products that are ruining our health. Although I could go on a major rant about that, it's more productive to think of ways to help financially challenged Americans find ways to improve their nutrition.
This is a guest post by Mehdi, author of StrongLifts.com. If you enjoy this post, check out his site. Eating healthy is important.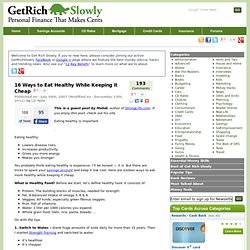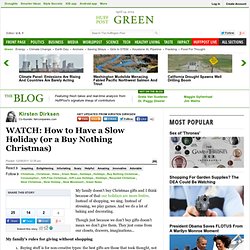 My family doesn't buy Christmas gifts and I think because of that our holidays are more festive. Instead of shopping, we sing. Instead of stressing, we play games.
Kirsten Dirksen: WATCH: How to Have a Slow Holiday (or a Buy Nothing Christmas)
Food for a Month: Week 4 | Food & Drink | Living Frugally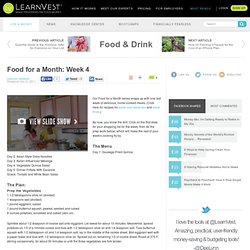 Our Food for a Month series wraps up with one last week of delicious, home-cooked meals. (Click here for recipes for week one, week two and week three.) By now, you know the drill: Click on the first slide for your shopping list for the week, then do the prep work below, which will make the rest of your week's cooking fly by. The Menu Day 1: Sausage-Fried Quinoa Day 2: Asian-Style Soba Noodles Day 3: Italian-Influenced Mélange Day 4: Vegetable Quinoa Salad Day 5: Dinner Frittata With Escarole Snack: Tomato and White Bean Salsa
10 Things to Do With 10 Bucks: $10 and Under Meals | Food & Drink | Living Frugally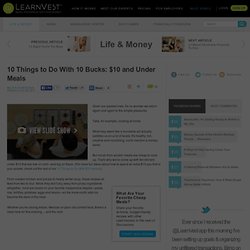 Given our packed lives, it's no wonder we return again and again to the simple pleasures. Take, for example, cooking at home. What may seem like a mundane act actually satisfies us on a lot of levels: It's healthy, fun, creative and nourishing, not to mention a money-saver. But not all from-scratch meals are cheap to cook up. That's why we've come up with ten dinners under $10 that are low on cost—and big on flavor. (For more fun ideas about how to spend an extra $10 you find in your pocket, check out the rest of our 10 Things to Do With $10 series.)
20 Frugal Tips from Someone Who Lived Through the Great Depression | Steadfast Finances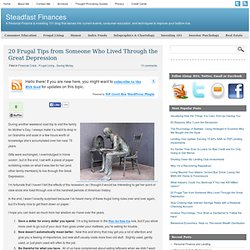 During another weekend road trip to visit the family for Mother's Day, I always make it a habit to drop in on Grandma and soak in a few hours worth of knowledge she's accumulated over her near 75 years. Gifts were exchanged, I overindulged in home cookin', but in the end, I sat with a piece of paper scribbling notes on what it was like for her (and other family members) to live through the Great Depression. I'm fortunate that I haven't felt the effects of the recession, so I thought it would be interesting to get her point of view since she lived through one of the harshest periods of American history. In the end, I wasn't exactly surprised because I've heard many of these frugal living rules over and over again, but it's finally nice to get them down on paper. I hope you can learn as much from her wisdom as I have over the years. Save a dollar for every dollar you spend.
We have what you really want... From grocery coupons to your everyday essentials, we help you save more on the things you use most. Browse our top grocery and online coupons below, select an aisle to narrow your search, or View All Grocery Coupons. Simply click the "View All Grocery Coupons" button to begin printing.
Frugal Living, Practical Ideas, Spend Less and save money NOW Welcome to our site, let me introduce ourselves. We are Kate and Matt and we have led a money saving lifestyle now for over 10 years and are still going strong. We didn't know we were being frugal, we just thought we were trying to save some money and live our lives less harmfully towards the planet. Just like many of you we have a mortgage to pay and all the usual monthly bills but we have managed to stay out of debt otherwise.
Frugal Living Tips To Save Money Everyday
I'm Susanne, owner of HillbillyHousewife.com. I'm also a mother, wife, daughter, sister, aunt, friend, and neighbor. I struggle with many of the same things you do each day. With limited time, money, and energy, we need to search for the very best resources to run our household and raise our family. And, if we can squeeze a bit of fun in between, we can end our days with a smile and a grateful heart. Frugal living is the focus here because I believe if we can live within our means, we can truly enjoy all the blessings God has given us.
How To Make Your Own Laundry Detergent – And Save Big Money
I've been experimenting with making lots of cleaning supplies at home, but this one is by far the craziest – and the most successful. Basically, I made a giant bucket of slime that works incredibly well as laundry detergent at a cost of about three cents a load. For comparison's sake, a jumbo container of Tide at Amazon.com costs $28.99 for 96 loads, or a cost of $0.30 a load. Thus, with each load of this stuff, I'm saving more than a quarter.
"45 Ways to Save Money on Groceries" by Neil Shelton page one