Frugality/Budgeting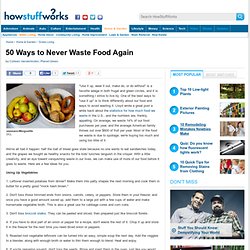 For More About Reducing Waste in Your Life:
50 Ways to Never Waste Food Again - Planet Green
Frugally Sustainable
Frugal Days, Sustainable Ways #38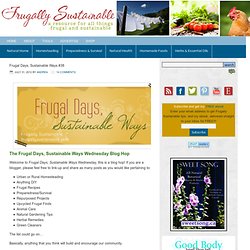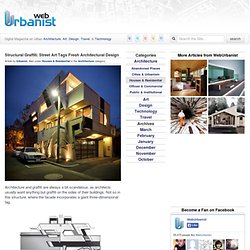 Structural Graffiti: Street Art Tags Fresh Architectural Design
Structural Graffiti: Street Art Tags Fresh Architectural Design
Frugal Living: WHAT store bought items do you make at home & WHY?
EatingWell: How To Save $250 On Groceries This Month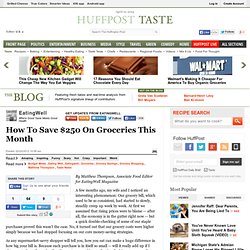 By Matthew Thompson, Associate Food Editor for EatingWell Magazine
Nancy Deville: Shopping for Real Food on a Budget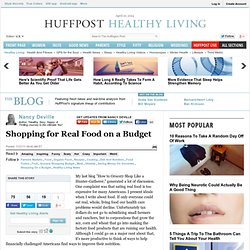 My last blog "How to Grocery Shop Like a Hunter-Gatherer," generated a lot of discussion. One complaint was that eating real food is too expensive for many Americans. I present ideals when I write about food. If only everyone could eat real, whole, living food our health care problems would decline. Unfortunately tax dollars do not go to subsidizing small farmers and ranchers, but to corporations that grow the soy, corn and wheat that go into making the factory food products that are ruining our health. Although I could go on a major rant about that, it's more productive to think of ways to help financially challenged Americans find ways to improve their nutrition.
This is a guest post by Mehdi, author of StrongLifts.com. If you enjoy this post, check out his site. Eating healthy is important.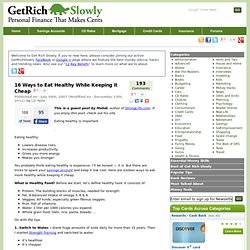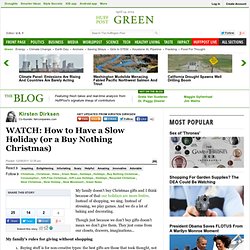 My family doesn't buy Christmas gifts and I think because of that our holidays are more festive. Instead of shopping, we sing. Instead of stressing, we play games.
Kirsten Dirksen: WATCH: How to Have a Slow Holiday (or a Buy Nothing Christmas)
Food for a Month: Week 4 | Food & Drink | Living Frugally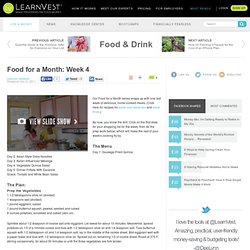 Our Food for a Month series wraps up with one last week of delicious, home-cooked meals.
10 Things to Do With 10 Bucks: $10 and Under Meals | Food & Drink | Living Frugally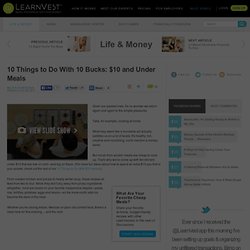 Given our packed lives, it's no wonder we return again and again to the simple pleasures. Take, for example, cooking at home.
20 Frugal Tips from Someone Who Lived Through the Great Depression | Steadfast Finances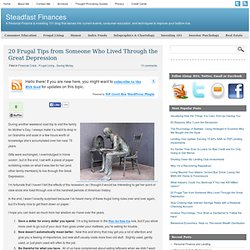 During another weekend road trip to visit the family for Mother's Day, I always make it a habit to drop in on Grandma and soak in a few hours worth of knowledge she's accumulated over her near 75 years. Gifts were exchanged, I overindulged in home cookin', but in the end, I sat with a piece of paper scribbling notes on what it was like for her (and other family members) to live through the Great Depression. I'm fortunate that I haven't felt the effects of the recession, so I thought it would be interesting to get her point of view since she lived through one of the harshest periods of American history. In the end, I wasn't exactly surprised because I've heard many of these frugal living rules over and over again, but it's finally nice to get them down on paper. I hope you can learn as much from her wisdom as I have over the years. Save a dollar for every dollar you spend.
We have what you really want...
Grocery Coupons - 1,300+ Grocery Coupons and Printable Grocery Coupons from ShopAtHome.com
Frugal Living Tips To Save Money Everyday
How To Make Your Own Laundry Detergent – And Save Big Money
I've been experimenting with making lots of cleaning supplies at home, but this one is by far the craziest – and the most successful.
It's hard to decide which is more infuriating, $4 gasoline or $4 milk, but whichever you personally find most appalling, one thing is for certain, someday a time will come where we look back with nostalgia for the good old days of $4 milk or gas. That is to say, we can count on prices always advancing. Even when they do retreat a bit, like gas has done recently, you know it won't be for long, as it's already starting back up. That's just part of the rhythm of modern life, I suppose, but we don't have to like it, and we don't have to let ourselves be billowed by every inflationary breeze that comes wafting our way. Like most anything else, there are ways to get by cheaper and better when you buy groceries. Here are forty-nine ways to get more food and spend less cash: 1.
"45 Ways to Save Money on Groceries" by Neil Shelton page one