Female identity
Divorce Rates Of 1960s And 1970s Responsible For Rise In Educated, Working Women, Study Shows. A recent working paper from NYU professors Raquel Fernandez and Joyce Cheng Wong suggests that a steady rise in divorce rates throughout the 1960s and 70s drove boomer women to increase their education and work experience.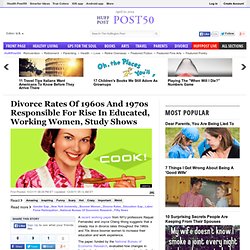 The paper, funded by the National Bureau of Economic Research, evaluated how changes in family structure, economic environment and cultural norms between 1935 and 1955 contributed to increased education and labor force participation among women born in the latter year. Between 1935 and 1955, the presence of women on university campuses rose steadily enough to virtually kill the education gender gap by the 1960s, the report says.
The Way To A Woman's Heart: 19th Century Print Attempted To Map Female Emotion. If you had to visualize your own emotional landscape, would it look anything like this?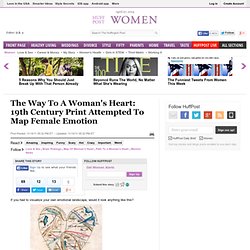 This Map of the Open Country of a Woman's Heart by D. W. Kellogg, created sometime between 1833 and 1842, part of the American Antiquarian Society's current exhibit "Beauty, Virtue & Vice: Images of Women in Nineteenth-Century America" (check out the whole exhibit here -- it's worth it) offers a sense of how women were perceived 150 years ago. Dr. Boyce Watkins: Reality TV's Role in the Creation of Young Female Bullies. I find myself consistently fascinated at how angry and ugly women can be on Vh-1 reality shows.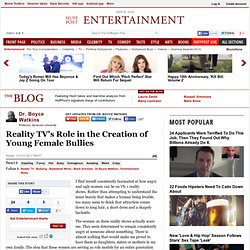 Rather than attempting to understand the inner beauty that makes a human being lovable, too many seem to think that attraction comes down to long hair, a short dress and a shapely backside. The women on these reality shows actually scare me. They seem determined to remain consistently angry at someone about something. There is almost nothing that would make me proud to have them as daughters, sisters or mothers in my own family. Old-Fashioned Homesteading Is the New Feminist Career | Current Events | Living Frugally. Following the great debate and controversy sparked by our Money Mic about whether the CARD Act hurts women, we bring you another Money Mic essay on a controversial or thought-provoking topic.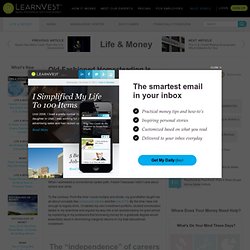 The views expressed here are those of the essayist and not the LearnVest staff, but we look forward to opening the floor to debate and discussion, so tell us what you think. Today, Shannon Hayes, author of Radical Homemakers, tells us about what it means to be a homesteader—like a stay-at-home mom of the Little House on the Prairie generation—and why she feels it gives her more independence than ever before. When I eschewed a conventional career path, it wasn't because I didn't care about dollars and cents. To the contrary: From the time I could multiply and divide, my grandfather taught me all about concepts like compound interest and the rule of 72. Andrea Blaugrund Nevins: What Punk Taught Me as a Parent. Andrea Blaugrund Nevins is writer and director of "The Other F Word," a documentary in theaters now, that explores how punk's ultimate anti-authoritarians become the ultimate authority, fathers.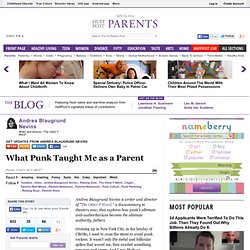 Growing up in New York City, in the heyday of CBGBs, I used to cross the street to avoid punk rockers. It wasn't only the metal and follicular spikes that scared me, they exuded something very raw and angry. And I was likely an unappealing stereotype to them: a plaid-uniformed product of an all-girls' school, my Tretorns maybe a bit too clean. Dori Hartley: It's Never Too Late to Love Your Mother. There must have been a zillion reasons as to why my mother and I stopped speaking to each other, but if you ask me now what any of those reasons were, I wouldn't be able to tell you.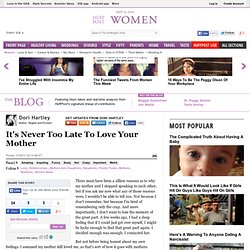 Not because I don't remember, but because I'm tired of remembering only the crap. And more importantly, I don't want to lose the memory of the great part. A few weeks ago, I had a deep feeling that if I could just get over myself, I might be lucky enough to find that great part again. I decided enough was enough. I contacted her. Kate Fridkis: Love Your Body: 8 Reasons to Feel Great About Who You Are.
These are some reasons why you should feel good about your body: 1.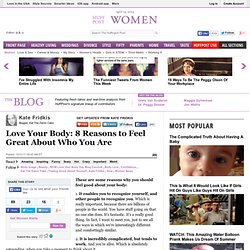 It enables you to recognize yourself, and other people to recognize you. Which is really important, because there are billions of people in the world. You have stuff going on that no one else does. It's fantastic. Adult-inspired lingerie marketed for young girls. The company's mission is to be "the first designer brand dedicated to 'loungerie' for children and teenagers.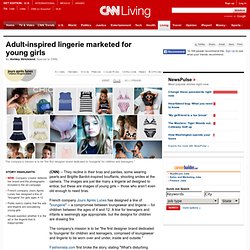 " NEW: Company creator defends her brand and the photographs included in the ad campaignFrench company Jours Après Lunes has designed a line of "loungerie" for girls ages 4-12Public outcry claims that the ads and lingerie are sexualizing young girlsPeople question whether it is the ad or the lingerie that is inappropriate (CNN) -- They recline in their bras and panties, some wearing pearls and Brigitte Bardot-inspired bouffants, shooting smiles at the camera. Why are moms dressing like their teen daughters? Jennifer Gray, right, and her daughter, Shaughnessy Chow-Domos, 18, own a boutique in British Columbia and share clothes.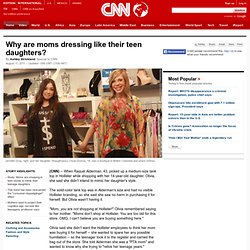 Study: Moms are shopping in teen stores to mimic their teenage daughtersThis trend has been nicknamed the "consumer doppelgänger" effectMothers want to project their cognitive age, not look like teenagers, professor says (CNN) -- When Raquel Alderman, 43, picked up a medium-size tank top in Hollister while shopping with her 14-year-old daughter, Olivia, she said she didn't intend to mimic her daughter's style. The solid-color tank top was in Alderman's size and had no visible Hollister branding, so she said she saw no harm in purchasing it for herself. But Olivia wasn't having it.
---