Entreprenurial
Heather Huhman: 7 Habits Of Highly Effective Employers. With the unemployment rate steady around 8.2 percent, many have been wondering exactly what the culprit of the situation is.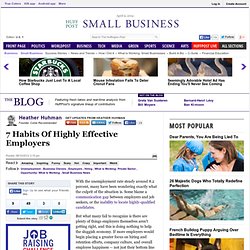 Some blame a communication gap between employers and job seekers, or the inability to locate highly-qualified candidates. But what many fail to recognize is there are plenty of things employers themselves aren't getting right, and this is doing nothing to help the sluggish economy. If more employers would begin placing a greater focus on hiring and retention efforts, company culture, and overall employee happiness -- not just their bottom line -- we may see the positive effects have an impact on the economy. So how can an employer improve its practices? Susan Bernstein: You MustHave This One Ability Before Making a Big Career Change. I know how awful it is to feel stuck in work that doesn't fit.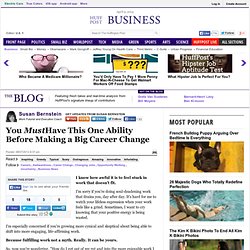 I'm sorry if you're doing soul-deadening work that drains you, day after day. It's hard for me to watch your lifeless expression when your work feels like a grind. Sometimes, I want to cry knowing that your positive energy is being wasted. I'm especially concerned if you're growing more cynical and skeptical about being able to shift into more engaging, life-affirming work. Because fulfilling work not a myth. The Value in Wowing Your Customers - Fred Reichheld. By Fred Reichheld | 1:37 PM March 13, 2012 A friend of mine in Dallas loves the local Chick-fil-A restaurant. The reason? An employee named Jose once asked my friend's three-year-old to help with the mopping — and proceeded to give the boy a ride around the restaurant on the mop. For my friend, this was a "wow!" Lola Olley: Work Experience Revisited. There's something to be said of those who go a bit unconventional and jump off that traditional corporate employee path.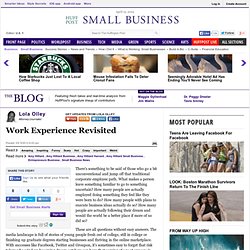 What makes a person leave something familiar to go to something uncertain? How many people are actually employed doing something they feel like they were born to do? How many people with plans to execute business ideas actually do so? How many people are actually following their dream and would the world be a better place if more of us did so? The 6 Near-Fatal Mistakes We Made In Year One, And How We Built A Company Anyway. Launching a startup is like firing off a rocket ship, then trying to hold it together with duct tape.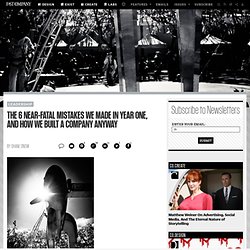 Simply surviving feels like success. The goal, in fact, of most new enterprises is to hang in until a scalable, repeatable, or comfortable path is found. How Small Business Owners Should Be Networking. Five Lessons To Do What You Love...And Succeed. Richard Tait.JPG" alt="" width="300" height="400" />Entrepreneurs come from all over the world, but most share an innate passion for questioning the constraints of ideology and discipline, and identifying practical solutions to problems by combining ingenuity, resourcefulness, and dogged determination.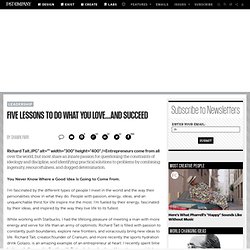 You Never Know Where a Good Idea Is Going to Come From. I'm fascinated by the different types of people I meet in the world and the way their personalities show in what they do. People with passion, energy, ideas, and an unquenchable thirst for life inspire me the most. 9 Steps To Quitting Your "Have To Have" Job And Pursuing Your Dream. Fast Company wants you to have your best year yet in 2012; click for more advice and tips on how to work smarter, manage your career, and lead a more meaningful life.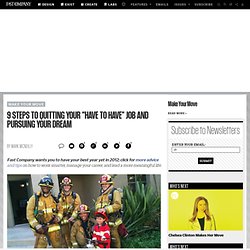 How many of us have dreamed of leaving our current jobs to do what we really want to do? And yet, not many of us have actually left the safety of what we do daily unless forced out by layoffs and downsizing. Why is that? I would argue it's due to one or more of these reasons: 10 Books Every Entrepreneur Must Read From 2010 | Under30CEO. Linchpin: Are You Indispensable?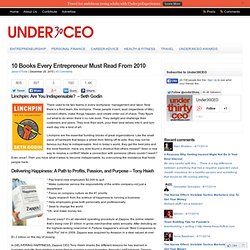 – Seth Godin There used to be two teams in every workplace: management and labor. Now there's a third team, the linchpins. These people invent, lead (regardless of title), connect others, make things happen, and create order out of chaos. They figure out what to do when there's no rule book. Helping Intrapreneurs Break Free Of The Sustainability "Ghetto" We love stories of entrepreneurs who have defied convention to build new businesses.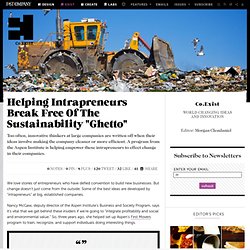 But change doesn't just come from the outside. Some of the best ideas are developed by "intrapreneurs" at big, established companies. Are jobs obsolete? Douglas Rushkoff: U.S.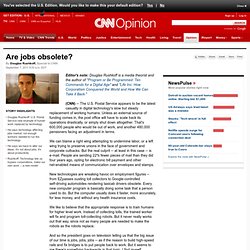 Postal Service new example of human work replaced by technologyHe says technology affecting jobs market; not enough workers needed to run the technologyHe says we have to alter our ideas: It's not about jobs, it's about productivityRushkoff: Technology lets us bypass corporations, make our own work -- a new model Editor's note: Douglas Rushkoff is a media theorist and the author of "Program or Be Programmed: Ten Commands for a Digital Age" and "Life Inc: How Corporatism Conquered the World and How We Can Take it Back.
" (CNN) -- The U.S. Postal Service appears to be the latest casualty in digital technology's slow but steady replacement of working humans. Unless an external source of funding comes in, the post office will have to scale back its operations drastically, or simply shut down altogether. Dr. Judith Rich: What to Do When You Don't Know What to Do Next. Recently, I was asked to contribute a chapter for a book called "What To Do When You Don't Know What To Do", compiled by Tendai Jordan. Her topic is very timely and important, especially now, when we humans are facing change at such an extraordinary level and pace. We're often left overwhelmed, not knowing what to do next. When I query people in the personal development seminars I lead about their purpose for attending, a majority of participants respond with some variation on the following: -I feel lost.
Good-business-card.jpg (JPEG Imagen, 1200x2600 pixels) Fast bikes, slow food, and the workplace wars. In 1974, Robert Pirsig—a Korean War veteran, a philosopher, a former writing instructor, a survivor of shock treatment, and, by all accounts, a talented author of technical manuals—published "Zen and the Art of Motorcycle Maintenance: An Inquiry Into Values." It is a novel, but only barely (Pirsig didn't bother to change the names of his friends), and it follows the narrator as he rides West with his young son, from Minneapolis to San Francisco. Readers hoping for advice about motorcycles, or about meditation, found something else entirely: picturesque anecdotes and ominous reveries, interrupted by dense seminars on the "self-defeating" nature of technophobia, the malignance of inferior workmanship, the "ugliness" of Immanuel Kant's aesthetics, and the importance of a quality called Quality.
Why Aren't You Doing What You Love? If you have a truly toxic job that causes you to question your sanity: be thankful. Eventually you'll leave that job, either because your misery will help you find the courage, or the men in little white suits will come to take you to a pleasant little asylum. Lucky you. What Women Make.
---