Dwelling Inspirations
One Pot, Two Lives. Transformed :: Mason Jar Herb Garden. Morning, everyone!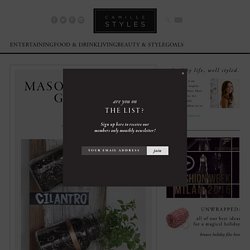 Claire here, with a weekend project that's perfect for all of you who are gearing up for lots of holiday cooking. Remember two weeks ago when I asked for your opinion on which hanging herb garden you liked best? Well, your votes weighed heavily in favor of option #1… so, using it as inspiration, I created my very own indoor herb display. So excited to share the final product…and to get cooking with my personal garden just in for guests to arrive!
Want to make your own? The Designer Pad - COMFY KNOTS. Feng Shui: Fix the Flow of Wealth in Your Home and Office | Home & Decor. We love a fresh start.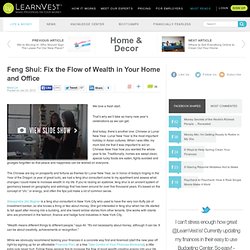 That's why we'll take as many new year's celebrations as we can get. And today, there's another one: Chinese or Lunar New Year. Lunar New Year is the most important holiday in Asian cultures. When I was little, my mom told me that it was important to act on Chinese New Year how you wanted the whole year to be. Traditionally, homes are swept clean, special lucky foods are eaten, fights avoided and grudges forgotten so that peace and happiness can be wished on everyone. Don't Throw That Old Pallet Away [35 PICS] » Mr Perswall wallpapers | PS by Dila - Your daily inspiration. Fieldstone Hill Design » Blog Archive » Pin-spiration :: my thing for olive. Old Garage turned Mini Dream Home! | Hello there!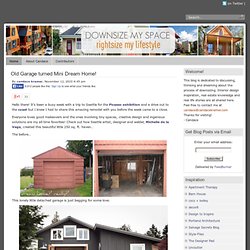 It's been a busy week with a trip to Seattle for the Picasso exhibition and a drive out to the coast but I knew I had to share this amazing remodel with you before the week came to a close. Everyone loves good makeovers and the ones involving tiny spaces, creative design and ingenious solutions are my all time favorites! Check out how Seattle artist, designer and welder, Michelle de la Vega, created this beautiful little 250 sq. ft. haven… The before… Why Less Is More When Decorating Your Home | Home & Decor | Living Frugally. As we always say, it's more important to have a few quality items than a ton of junk.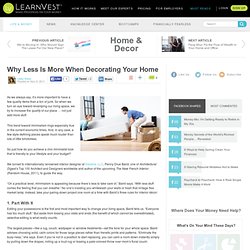 So when we turn an eye toward revamping our living space, we try to increase the quality of our place … not just add more stuff. This trend toward minimalism rings especially true in the current economic times. The Raj. Get Organized: 25 Totally Clever Storage Tips & Tricks. By Jaime Morrison Curtis | I think it was Tina Fey who said that what places like the Container Store are really selling is hope.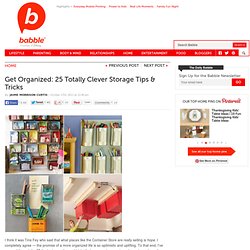 I completely agree — the promise of a more organized life is so optimistic and uplifting. To that end, I've scoured the web for 25 fresh storage tips and tricks that are easy to execute and promise a dose of satisfaction and a sense of peace in your home. Check out these 25 totally unique storage tips and tricks and let us know if any storage tidbits have changed your life for the better … nggallery id='121806′ Go Au Naturale-Beautiful Ways to Bring Nature into Your Home. Smaller Than Your Living Room: 7 Of The World's Best Nano Houses | Co. Design.
Studio-apartment dwellers may feel reasonably content living a small-scale existence.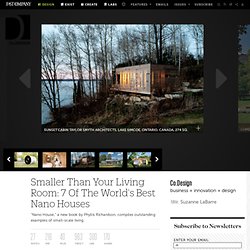 But if transplanted in the country, how many would opt for a similarly sized house? Driven by a commitment to reduce energy consumption and built space, there's a growing trend among the eco-conscious to build tiny homes. A new book, Nano House by Phyllis Richardson (Thames & Hudson), gathers 40 of the best-designed examples from around the world--all of which showcase an appreciation for the efficient use of space, materials, and resources. This Vintage Chica.
A Baker Inspired Advent Calendar. Advent calendars played a major role in my childhood.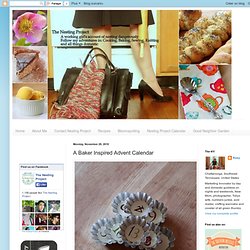 My mother would get a special chocolate Advent calendar and my sister and I would flip on who would get the even days or odd days. I would always want the even days because the 24th got the biggest chocolate...My sister who was younger than me didn't figure that out until a few years later. Since I've started blogging I've seen the most creative takes on Advent calendars. Cradle Chair: Big Basket Seat Rocks Adults Gently to Sleep. There is no escaping those innate and early-learned associations – for some, it means sleeping to gentle noises on planes, and for others, the act of rocking tilts us softly into a deep slumber.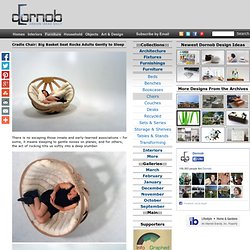 Richard Clarkson and company wanted to create a kind of low-tech, sensory-deprivation, sofa-style seat where one can curl up and forget the workaday worries of ordinary life … and perhaps even doze over before you notice you are slowly falling asleep. While there is art and craft in this object, there is science that went into its design as well. Specifically, research into autistic children and those who suffer from RMD (rhythmic moving disorder) played a crucial role in the shape and structure of the result. For all its theoretical complexity, the final form looks quite simple (and extremely comfortable). STYLE FILES: Wonderous Walls | Brock Design Group. The Designer Pad - Hanger, Hanger on The Wall. Image via apartment therapy Hanging artwork in your walls is never an easy task.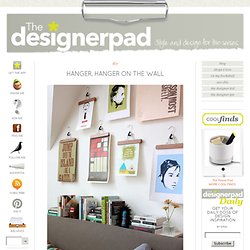 First, you need to consider how to frame your art, which in its own can be pretty daunting and expensive. Then, you start debating where and how to display your pieces. But there are fun and inexpensive alternatives that you can do and still accomplish an impactful arrangement on your walls. One clever idea, is to use wooden or metal pant hangers to display your collection of prints and posters. It's a Table, It's a Chair // Shoebox Dwelling. Here is a great example of dual function done right.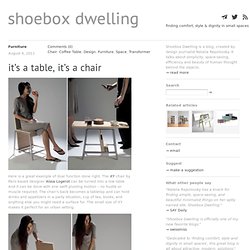 The XY chair by Paris based designer Aïssa Logerot can be turned into a low table. And it can be done with one swift pivoting motion – no hustle or muscle required. Branch Bookshelf.
---