Dwelling Inspirations
One Pot, Two Lives
Morning, everyone! Claire here, with a weekend project that's perfect for all of you who are gearing up for lots of holiday cooking.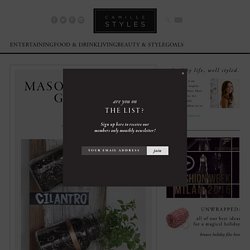 The Designer Pad - COMFY KNOTS
We love a fresh start. That's why we'll take as many new year's celebrations as we can get.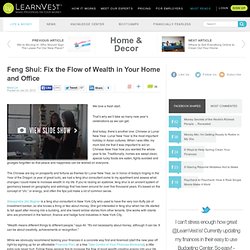 Feng Shui: Fix the Flow of Wealth in Your Home and Office | Home & Decor
» Mr Perswall wallpapers | PS by Dila - Your daily inspiration
Fieldstone Hill Design » Blog Archive » Pin-spiration :: my thing for olive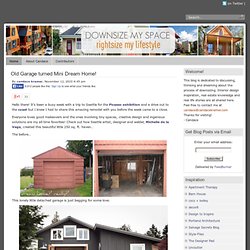 Hello there!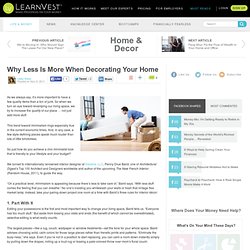 Why Less Is More When Decorating Your Home | Home & Decor | Living Frugally
As we always say, it's more important to have a few quality items than a ton of junk. So when we turn an eye toward revamping our living space, we try to increase the quality of our place … not just add more stuff. This trend toward minimalism rings especially true in the current economic times.
The Raj
By Jaime Morrison Curtis | I think it was Tina Fey who said that what places like the Container Store are really selling is hope.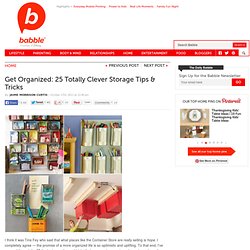 Get Organized: 25 Totally Clever Storage Tips & Tricks
Go Au Naturale-Beautiful Ways to Bring Nature into Your Home
Smaller Than Your Living Room: 7 Of The World's Best Nano Houses | Co. Design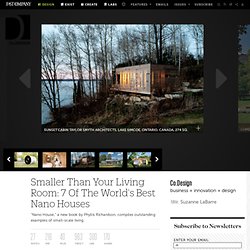 Studio-apartment dwellers may feel reasonably content living a small-scale existence.
This Vintage Chica
Advent calendars played a major role in my childhood.
A Baker Inspired Advent Calendar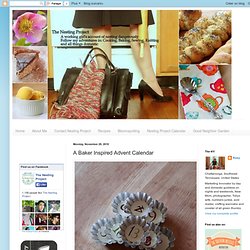 There is no escaping those innate and early-learned associations – for some, it means sleeping to gentle noises on planes, and for others, the act of rocking tilts us softly into a deep slumber. Richard Clarkson and company wanted to create a kind of low-tech, sensory-deprivation, sofa-style seat where one can curl up and forget the workaday worries of ordinary life … and perhaps even doze over before you notice you are slowly falling asleep. While there is art and craft in this object, there is science that went into its design as well.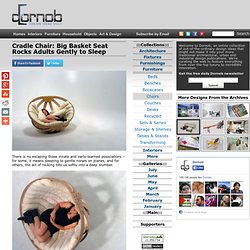 Image via apartment therapy Hanging artwork in your walls is never an easy task.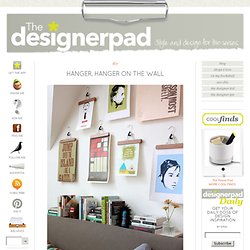 The Designer Pad - Hanger, Hanger on The Wall
It's a Table, It's a Chair // Shoebox Dwelling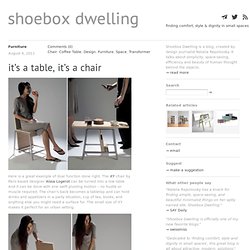 Here is a great example of dual function done right. The XY chair by Paris based designer Aïssa Logerot can be turned into a low table. And it can be done with one swift pivoting motion – no hustle or muscle required.