Cooking Reference
10 Best Foods and Drinks for Exercising. You know exercise is key if you want to stay fit.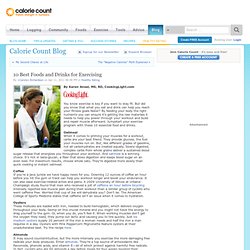 But did you know that what you eat and drink can help you reach your fitness goals faster? By feeding your body the right nutrients you can ensure it's getting the raw materials it needs to help you power through your workout and build and repair muscle afterward. Jumpstart your exercise program with these 10 essential food and drinks. Kitchen Cheat Sheet | Everest Home Improvements. Save it, Print it & Stick it on the fridge Whether you are new to cooking or an experienced chef, everyone can use a little help in the kitchen sometimes.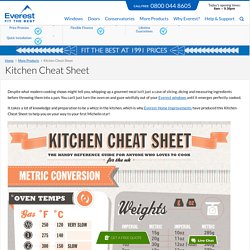 That's why we created a comprehensive kitchen cheat sheet for you to fall back on whenever you are in doubt. We find it useful and we hope you do too! 50 Amazingly Helpful Time-Tested Tips for the Kitchen | Life Hackery - StumbleUpon. You know all of those helpful kitchen-related suggestions that old-timers are so willing to share with the younger generations?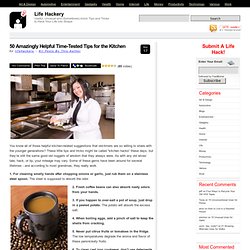 These little tips and tricks might be called "kitchen hacks" these days, but they're still the same good old nuggets of wisdom that they always were. As with any old wives' tale, hack, or tip, your mileage may vary. Some of these gems have been around for several lifetimes - and according to most grandmas, they really work. Liquor.com: Aperitifs, The Perfect Start To Dinner. EatingWell: 5 Couscous Cooking Mistakes To Avoid. When it comes to cooking a "starch" for your meal, there are few sides easier to make than couscous.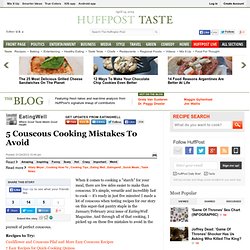 It's simple, versatile and incredibly fast to cook -- it's ready in just five minutes! I made a lot of couscous when testing recipes for our story on this super-fast pantry staple in the January/February 2012 issue of EatingWell Magazine. And through all of that cooking, I picked up on these five mistakes to avoid in the pursuit of perfect couscous. Wine & Food Pairing Guide Chart | Home Wine Bars by Barina Craft. Barina Craft'shome bar site.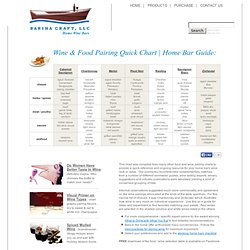 This chart was compiled from many other food and wine pairing charts to provide a quick reference and ongoing resource for your home bar's wine rack or cellar. The commonly recommended complementary matches from a number of different sommelier guides, wine tasting experts, winery suggestions and industry publications were tabulated yielding a kind of consensus grouping of lists. Informal observations suggested much more commonality and agreement on the wine pairings advocated at the ends of the taste spectrum. Wine Notes: Antica Terra was up to the challenge of 2011 harvest. View full sizeBRENT WOJAHN/THE OREGONIANAntica Terra winemaker Maggie Harrison (right), sorting grapes with Megan Iversen, says despite challenges posed by weather and locale, 2011 could end up the winery's finest yet.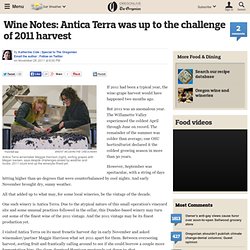 If 2011 had been a typical year, the wine-grape harvest would have happened two months ago. But 2011 was an anomalous year. The Willamette Valley experienced the coldest April through June on record. Cooking conversions. Equivalents and Measures. Recipe Calculator. The Cook's Thesaurus. Encyclopedia of Spices. Use our spice primer to learn what spices go with which foods, and how to experiment. So you've stocked your cupboard and are eager to spice up your meals.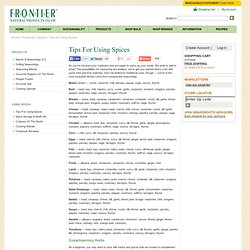 But what to add to what? The possibilities for seasoning are endless, but to get you started here's a list with some tried and true matches. Don't be limited by traditional uses, though — some of the most exquisite dishes come from unexpected seasonings. Beans (dried) — cumin, cayenne, chili, parsley, pepper, sage, savory, thyme. 6 DIY Spice Combinations to Give Home Cooking a Facelift (Recipes Included) - Planet Green. Easy Garam Masala Recipe. Aphrodisiac Herbs. The Erbe Shoppe.
---