Art & Design
Structural Graffiti: Street Art Tags Fresh Architectural Design. Structural Graffiti: Street Art Tags Fresh Architectural Design Article by Urbanist, filed under Houses & Residential in the Architecture category.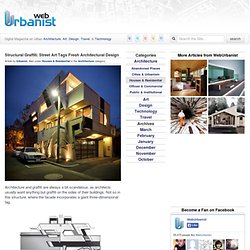 Architecture and graffiti are always a bit scandalous, as architects usually want anything but graffiti on the sides of their buildings. Not so in this structure, where the facade incorporates a giant three-dimensional tag. The complex, dubbed HIVE and built for an architect and street artist, has its title printed right into its walls, as well as other graphical elements like arrows that give the entire complex an urban dynamic. This project by ITN Architects dovetails into a tailor's shop behind it, then transitions into an interior rivaling its complex exterior – all part of a theme of "hip hop buildings" being designed by this progressive firm. SpaceCraft. Vintage Ads. NICHE Awards | 2012 Finalists - Part 10. Menu 2012 Finalists Peter Park.
Robot cleaners and the Museum of Me: Intel's vision of the future | Art and design. Over the last decade or so, the burgeoning culture industry has spawned museums at such a rate that it seems no small town or minor artist will be left unrepresented.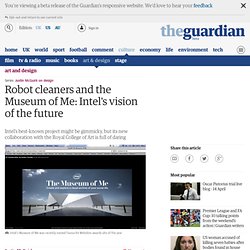 Now, social media has taken that logic to its absurd conclusion: it is not just minor artists who will get their own museum, we all will. Or so the creators of the Museum of Me would have us believe. 59 Amazing Street Art collected by @themadray | Designerscouch #thecritiquenetwork. Disjecta announces the 24 artists and artist-teams for next year's biennial, 'Portland2012' Disjecta has announced the 24 artists and artist-teams selected for its version of the Oregon Biennial, "Portland2012: A Biennial of Contemporary Art.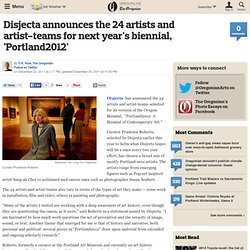 " Curator Prudence Roberts, selected by Disjecta earlier this year to helm what Disjecta hopes will be a once every two year effort, has chosen a broad mix of mostly Portland-area artists. The artists range from emerging figures such as Pop-art inspired artist Sang-ah Choi to acclaimed mid-career ones such as photographer Susan Seubert. The 24 artists and artist-teams also vary in terms of the types of art they make -- some work in installation, film and video, others in painting and photography. "Many of the artists I visited are working with a deep awareness of art history, even though they are questioning the canon, as it were," said Roberts in a statement issued by Disjecta. "I am fascinated by how much work questions the act of perception and the veracity of image, sound, or text. Designers & Books: What Iconic Designers Are Reading. By Maria Popova How to hack into the minds of the world's leading design practitioners and critics.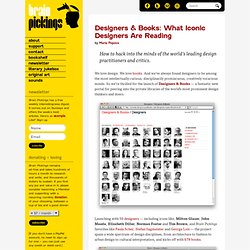 We love design. We love books. Watch A 5-Minute Primer On The Fundamentals Of Product Design | Co.Design. Take a moment and glance around.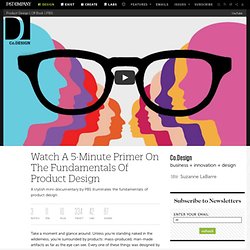 Unless you're standing naked in the wilderness, you're surrounded by products: mass-produced, man-made artifacts as far as the eye can see. Every one of these things was designed by someone (or more likely, several someones), but how often do we notice or appreciate that fact? A new short documentary from PBS's Off Book web series sheds a bit of light on the often invisible, but massively influential practice of product design. Art Movements Directory. Art history.
Where are Leonardo's lost works of art? Myths and stories attached to the great works of Leonardo da Vinci100 years since "Mona Lisa" was stolen from the Louvre, later recovered"Lost" works occasionally re-discovered, sparking hopes for othersCNN asks experts to name major lost works by the master; likelihood of them resurfacing London (CNN) -- It is 100 years since Leonardo da Vinci's "Mona Lisa" was stolen from the Louvre Museum in Paris by an Italian handyman and secreted away for two years before eventually coming to light again.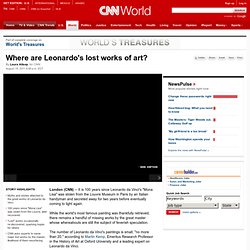 While the world's most famous painting was thankfully retrieved, there remains a handful of missing works by the great master whose whereabouts are still the subject of feverish speculation. The number of Leonardo da Vinci's paintings is small, "no more than 20," according to Martin Kemp, Emeritus Research Professor in the History of Art at Oxford University and a leading expert on Leonardo da Vinci.
Finding Leonardo da Vinci's Florence. Considered the birthplace of the Renaissance, Florence's skyline is punctuated by the iconic rooftops of historic buildings.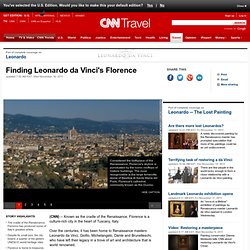 The most recognizable is the large terracotta dome of Basilica di Santa Maria del Fiore, Florence's cathedral, commonly known as the Duomo. The Duomo is situated in the Piazza del Duomo. The Medicis: money, myth and mystery | Art and design. In the Sainsbury wing of the National Gallery in London, the founding masterpieces of modern art are arrayed in all their splendour.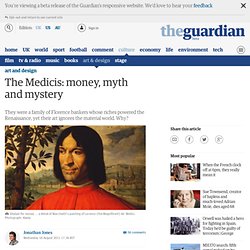 The modern idea of art – our belief that artworks deserve to be taken seriously not as mere decorations or religious icons but unique displays of imagination and intellect – began in Italy in the Renaissance. The city that was most self-conscious about this new idea of art in the 15th century was Florence, and here in the Sainsbury wing you can see some of the glories of that place and time: the Pollaiuolo brothers' Saint Sebastian, Fra Filippo Lippi's Annunciation, Sandro Botticelli's Venus and Mars. These artists had something important in common, beyond the fact that they all worked in 15th-century Florence. All of them had close ties with one family: the Medici.
The Annunciation panel by Lippi actually comes from the Medici palace, and Antonio del Pollaiuolo painted decorations for this domestic temple of the arts. Art history web resources. The Art Story: Movements and Styles in Modern Art. Bauhaus is a style and movement associated with the Bauhaus school, an extremely influential art and design school in Weimar Germany that emphasized the functionality and efficiency of design alongside its material properties.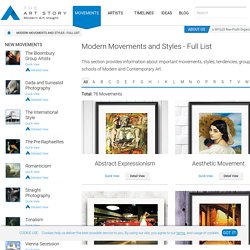 Prominent teachers include Josef Albers, Walter Gropius, Wassily Kandinsky, Ludwig Mies van der Rohe, and Paul Klee. A tendency within Abstract Expressionism, distinct from gestural abstraction, color field painting was developed by Barnett Newman, Mark Rothko, and Clyfford Still in the late 1940s, and developed further by Helen Frankenthaler and others. Art History - Art History Movements. Famous artists. Art History Resources: (Artists, Art Movements, Biographies, Artwork) The art history index of famous artists leads to imagery and indepth information such as biographies to over 22,000 artists. Over 200,000 images from museums are directly accessible via this wealth of art historical information database. Direct links to images in museum collections, links to indepth art news, general links as well as the best collection of search engine results have been compiled for over 22,000 artists.
Simply select a letter from below to start your research. Select all artists with biographies, or select by century - (12th Century - 20th Century) or select by nationality (Algerian - Welsh). Banksy wades into Catholic church sex abuse scandal with new sculpture | Art and design. Banksy has waded into the child sex abuse scandal of the Catholic church with a sculpture of a priest with his face obscured called Cardinal Sin.
The graffiti artist's piece is a replica of an 18th-century stone bust, which has had its face sawn off and replaced with a mosaic of bathroom tiles to replicate the pixellation effect used on TV to prevent identification of victims of sex crimes. Announcing his indefinite loan of the piece to the Walker Art Gallery in Liverpool, Banksy strongly implied that Cardinal Sin is a comment on the sexual abuse of children by Catholic priests. Describing the statue as a Christmas present, the artist said in a statement: "At this time of year it's easy to forget the true meaning of Christianity – the lies, the corruption, the abuse. " The bust went on public display for the first time on Thursday in the Walker's 17th Century Old Masters gallery, alongside works by old masters including Van Dyck and Poussin.
Cole Carothers :: AEQAI. As an artist ages, he or she becomes increasingly sensitive to the world and more uncertain of how to proceed. As the artist grows wiser, he or she must make the decision to continue groping for the elusive threads of memory and the constant uncertainty of personal experience. It is important for the work that the artist must stay uncomfortable. Cole Carothers has made this choice. Round Trip, Carothers's recent show in Covington, presented paintings of various sizes, shapes, and temperaments. Born Again :: AEQAI. Tawara Yusaku at the Indianapolis Museum of Art. I received a copy of Benjamin Hoff's The Tao of Pooh when I was in the seventh grade. The book, an introduction to Eastern thought in general and Taoism in particular, came as a revelation to my young mind.
Art articles of interest. Films. Architecture, Landscape & Interior Design. Scott Barry Kaufman, Ph.D.: How Our Senses Influence Creativity. Do you focus on the forest or the trees? Whether you have more of a global (holistic) or local (detail-oriented) processing style influences how you fundamentally perceive the world, and it is one of the most prominent factors influencing creative thought. Beyond your personality, however, situational factors also play a crucial role in what kind of processing style you will have on a moment-to-moment basis. Throughout the day, situational factors are constantly shifting your processing style without your awareness. Psychologists have identified lots of ways this operates.
---