E
YouTube - Creating Inspiration - TNW09 Day #2: Meet the industry
AMSTERDAM - Op The Next Web-conferentie is de startup My name is E verkozen tot de meestbelovende startup. Het bedrijf heeft een apparaat bedacht voor het fysiek uitwisselen van online contacten. Zowel de jury als het publiek (via Twitter) kozen voor My name is E. De publieksprijs ging uiteindelijk wel naar de nummer twee Yunoo, dat net Silentale voor bleef.
nu.nl/internet | My name is E uitgeroepen tot beste startup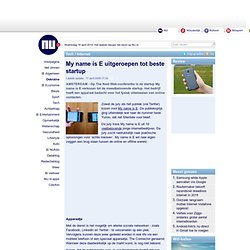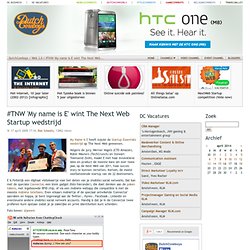 My Name Is E heeft zojuist de Startup Essentials wedstrijd op The Next Web gewonnen. Volgens de jury, Werner Vogels (CTO Amazon), Robin Wauters (TechCrunch) en Stewart Townsend (SUN), maakt E met haar innovatieve idee en product de meeste kans om over twee jaar, op de Next Web van 2011, haar succes story te kunnen vertellen. Kortom, de meest veelbelovende startup van de 22 deelnemers. E is Feitelijk een digitaal visitekaartje voor het delen van je (mobile) social networks. Dat kan met de speciale Connector, een klein gadget (foto hieronder), die doet denken aan de poken tokens, met ingebouwde RFID chip, of via een mobiele webapp die compatible is met de meeste mobiele telefoons.
#TNW 'My name is E' wint The Next Web Startup wedstrijd
Mobypicture - Hello, my name is E #tnw
Mobypicture - e #tnw (video)
The judges winner of the Rising Sun Startup Rally at TheNextWeb