ASAP Applications
Webmin is a web-based interface for system administration for Unix. Using any modern web browser, you can setup user accounts, Apache, DNS, file sharing and much more. Webmin removes the need to manually edit Unix configuration files like /etc/passwd, and lets you manage a system from the console or remotely. See the standard modules page for a list of all the functions built into Webmin, or check out the screenshots.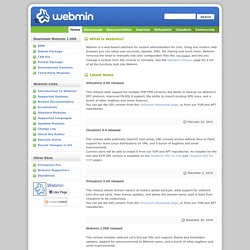 Webmin
webERP
About webERP is a complete web based accounting and business management system that requires only a web-browser and pdf reader to use. It has a wide range of features suitable for many businesses particularly distributed businesses in wholesale, distribution and manufacturing. When combined with a 3rd party interactive desktop Point Of Sale system it can also form the hub of a dispersed multi-branch retail management system. A fully integrated webSHOP is also available as a 3rd party add-on. webERP is as an open-source application and is available as a free download to use with all the PHP code written in an accessible way for you to add your own features as needed.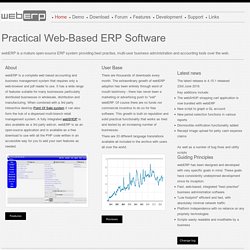 Apache Tomcat Apache Tomcat is an open source software implementation of the Java Servlet and JavaServer Pages technologies. The Java Servlet and JavaServer Pages specifications are developed under the Java Community Process. Apache Tomcat is developed in an open and participatory environment and released under the Apache License version 2. Apache Tomcat is intended to be a collaboration of the best-of-breed developers from around the world.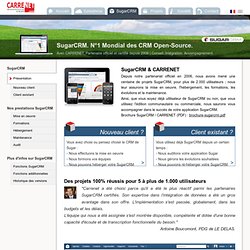 SugarCRM & CARRENET Depuis notre partenariat officiel en 2006, nous avons mené une centaine de projets SugarCRM, pour plus de 2.000 utilisateurs ; nous leur assurons la mise en oeuvre, l'hébergement, les formations, les évolutions et la maintenance.Ainsi, que vous soyez déjà utilisateur de SugarCRM ou non, que vous utilisiez l'édition communautaire ou commerciale, nous saurons vous accompagner dans le succès de votre application SugarCRM. Brochure SugarCRM / CARRENET (PDF) : brochure-sugarcrm.pdf Nouveau client ?
SugarCRM - Solutions CRM
Plugmedia - Multimedia Station
Q-Sims - metavers for QNAP NAS
From QNAPedia By AdNovea – May 2009 – version 1.0 Table of content The Q-Sims Metavers Starter Kit comes in two flavors: Q-Sims LITE Edition to implement your metavers on your NAS server and join a Public grid to become a piece of a larger metavers. Q-Sims FULL Edition to fully run and administrate your Private metavers on your NAS server or join a Public grid.The FULL Edition is not yet released to avoid confusion In both version a Q-Sims QSA (Quick Start Assistant) will guide you during the installation process up to the metavers administration management.Once Q-Sims is installed on your server, you only have to install and run a client software (Viewer) on the remote computers to enter and navigate into the metaverses. There are several viewers: Hippo and realXtend are open-source viewers running under Windows and Linux ActiveX plugins for Internet browsers are also under development (eg. 3DI is provided under license) Definitions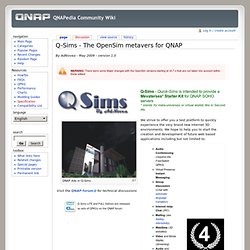 phpMyAdmin
About phpMyAdmin is a free software tool written in PHP, intended to handle the administration of MySQL over the Web. phpMyAdmin supports a wide range of operations on MySQL, MariaDB and Drizzle. Frequently used operations (managing databases, tables, columns, relations, indexes, users, permissions, etc) can be performed via the user interface, while you still have the ability to directly execute any SQL statement. phpMyAdmin comes with a wide range of documentation and users are welcome to update our wiki pages to share ideas and howtos for various operations.
OpenNMP
From QNAPedia by AdNovea - Nov 2009 Once the installation completed, log to the OpenNMP web interface with your web browser: http: //<your_nmp>:8080/ Default account is: admin/admin They are few additional options for the installer script:--force-defaults use default options for questions asked by the installer during upgrade. --force-reinstall allow to reinstall (from scratch) OpenNMP over a previous version -h --help display this help and exit -V --version output version information and exit Performances The QNAP NMP-1000 is a versatile product which offers already a great number of functionalities. Its very smart implementation has enabled the quick development of this opened source application to get even more from the product.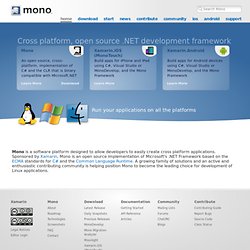 Mono is a software platform designed to allow developers to easily create cross platform applications. Sponsored by Xamarin, Mono is an open source implementation of Microsoft's .NET Framework based on the ECMA standards for C# and the Common Language Runtime. A growing family of solutions and an active and enthusiastic contributing community is helping position Mono to become the leading choice for development of Linux applications.
24 Décembre 2013 Posted in Vie de l'association L'AFUJ vous souhaites de très bonnes fêtes de Noël pour vous et tous vos proches. Que le gentil Papa Nawel vous comble de bonheur, que vos petits souliers soient remplis de tous vos souhaits... Comme vous avez été bien sage, en cette veille de Noël, le gentil petit Nicolas Papa Nawel vient vous livrer un petit cadeau en avance Il vient en effet de finir les distributions francisées de Joomla 3.2.1 qui sont donc désormais disponibles pour le téléchargement.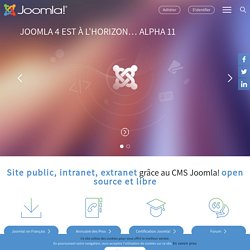 Accueil Logiciel distribué sous licence GNU/GPL Avec GLPI - Gestion Libre de Parc Informatique - Gérez votre parc informatique l'esprit libre ! Avec GLPI - Gestion Libre de Parc Informatique, gérer l'ensemble de vos composants logiciels et matériels 19 février 2014 GLPI 0.85 Beta-Test
GLPI - Gestionnaire libre de parc informatique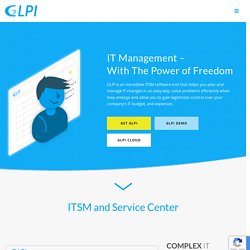 Welcome To FreeSWITCH The World's First Cross-Platform Scalable FREE Multi-Protocol Soft Switch FreeSWITCH is a scalable open source cross-platform telephony platform designed to route and interconnect popular communication protocols using audio, video, text or any other form of media. It was created in 2006 to fill the void left by proprietary commercial solutions.
Maintenance des derniers jours Soumis par Guillaume Bec le Bonjour à tous, Comme vous vous en doutez Drupalfr.org est régulièrement mis à jour par l'équipe des webmasters de l'association. Seulement voilà nous sommes humains et cette fois ça s'est vu ! Suite à une erreur de manipulation des données ont été effacées entre le 30 août et le 4 septembre et nous avons mis plusieurs jours à récupérer une partie des données manquantes.
★ 4.7 Stars (369) 2,805 Downloads (This Week) Last Update: Download Latest Stable 5.0.4 Browse All Files Pydio is the mature open source alternative to dropbox and box.com, for the enterprise.
AjaXplorer | Free Security & Utilities software downloads at SourceForge
mg.applanix - Lodging apps