Unsorted_Bookmarks 1
Borsalino hats. Fedora Hat Index. Vegan Vegetable Soup Recipes. iTunes: How to create a Smart Playlist. Learn how to automatically create a playlist from specific songs in your iTunes library using Smart Playlists.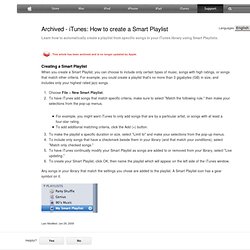 This article has been archived and is no longer updated by Apple. Creating a Smart Playlist When you create a Smart Playlist, you can choose to include only certain types of music, songs with high ratings, or songs that match other criteria. Psydewalk Markets : manifesting dreams: Home: Zazzle.com Store. The Details | I'm Just Walkin' Why I'm Doing It: The Short Answer Many people ask me the following questions when they hear about my walk: Am I raising money for a cause?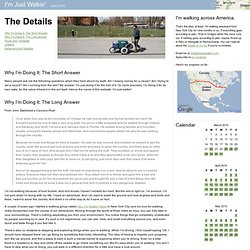 Am I trying to set a record? Am I running from the law? BooWhy - Custom made, colorful, asian influenced paper cutting style t-shirts. Ethics alert: PR firm busted for social media deception. The FTC just busted Reverb Communications for lying in social media.
Their employees were pretending to be consumers, posting fake reviews, and failing to disclose that they were paid. Full details here. John Perry Barlow 2.0. John Perry Barlow is one of those fascinating figures that American culture regularly produces to our great benefit and occasional consternation.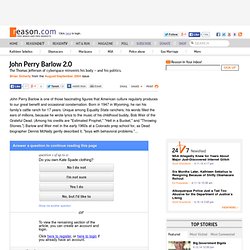 Born in 1947 in Wyoming, he ran his family's cattle ranch for 17 years. Unique among Equality State ranchers, his words filled the ears of millions, because he wrote lyrics to the music of his childhood buddy, Bob Weir of the Grateful Dead. (Among his credits are "Estimated Prophet," "Hell in a Bucket," and "Throwing Stones. ") Barlow and Weir met in the early 1960s at a Colorado prep school for, as Dead biographer Dennis McNally gently described it, "boys with behavioral problems.
"... Bicycle South - Gear You Need - Rainwear. Beltrami - HOME PAGE. Beltrami Accordions are pleased to announce a new addition to its already vast range of French-system button accordions.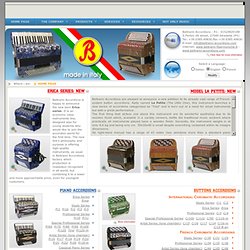 Aptly named La Petite (The Little One), this instrument launches a new series of accordions categorised as "Trad" and is born out of a need for small instruments but with a great performance.The first thing that strikes one about this instrument are its wonderful aesthetics due to its wooden finish which, available in a variety veneers, befits the traditional music ambient where practically all instruments played have a wooden finish. Secondly, the instrument weighs in at only 8.6 kg and being only cm. 35x20x40 is small despite everything contained within its meagre dimensions.Its right-hand manual has a range of 43 notes (two semitone more than a standard piano accordion!)
With a five row stepped button-board. Its 3 sets of reeds range from G below middle C to A# three octaves above with its 2 sets of middle (8 foot) reeds. November 2007. Today was pretty cool.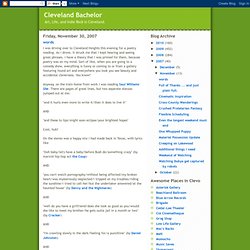 Actually, as it is quarter to 1 AM as I type this, I should say yesterday was pretty cool. I was somewhat concerned it wouldn't be cool, what with having to go in to the office on my day off to attend some bullshit curriculum meeting. You might find some fools at your doorstep | a free man. I was at the gym this morning.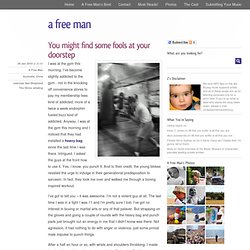 I've become slightly addicted to the gym - not in the knocking off convenience stores to pay my membership fees kind of addicted, more of a twice a week endorphin fueled buzz kind of addicted. Anyway, I was at the gym this morning and I noticed that they had installed a heavy bag since the last time I was there. Intrigued, I asked the guys at the front how to use it. Yes, I know, you punch it. And to their credit, the young blokes resisted the urge to indulge in their generational predisposition to sarcasm.
Computer & Tech Tips from the Great Lakes Geek. By now you've undoubtedly heard that Daylight Saving Time (DST) has been extended in the US starting this year.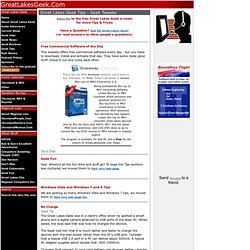 DST will start on March 11, 2007, three weeks earlier than usual, and it will end on November 4, 2007, one week later than usual. So we get 4 extra weeks of DST. Since most of our PCs automatically update for DST based on rules that were established before this extension became law, there will be errors in time, calendar and scheduling unless you do some patching. There are 2 areas to be concerned with: Your Operating System and your Applications. JWH-018 Toxicology | Synchronium. Since my last post about the spice behind Spice (and other smoking mix­tures such as Smoke, Serenity Now, K2, Sence, etc), it has been brought to my atten­tion that some initial tox­ic­o­logy testing has been done on the syn­thetic can­nabinoid JWH-​​018.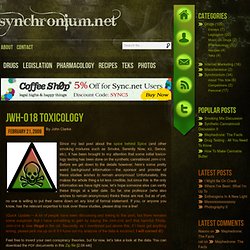 Before we get down to the details however, here's some pretty weird back­ground inform­a­tion — the sponsor and pro­vider of these studies wishes to remain anonymous! Unfor­tu­nately, this makes the whole thing a lot less cred­ible, but since this is the only inform­a­tion we have right now, let's hope someone else can verify these things at a later date. So far, one pro­fessor (who also wishes to remain anonymous) thinks these are real, but as of yet, no one is willing to put their name down on any kind of formal state­ment. If you, or anyone you know, has the rel­evant expertise to look over these studies, please drop me a line!
The Lucifer Effect by Philip Zimbardo. Prepared by Philip Zimbardo and Cindy X.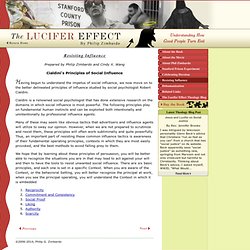 Wang Cialdini's Principles of Social Influence. Burning Man pics. Chronology of Production of Italian Accordions by Beniamino BugiolacchiCRONOLOGIA DELLA PRODUZIONE DELLA FISARMONICA IN ITALIA. Fountain Pens by Richard Binder. April 2009. "Why would anyone want to hear us do King Bee when they can hear Slim Harpo's version"-- Mick Jagger. " Like a lot of Americans of my generation, I discovered the blues via the Rolling Stones.
My grandparents bought me the first Stones album for Christmas in 1964 (I was five), and the first song on side two was a note-for-note cover of Slim Harpo's I'm A King Bee. It quickly became my favorite song. Lamy 27 – a review of a little gem « lady dandelion. If I hadn't had the the opportunity to try the Lamy 27 in real life I'd probably not realized the greatness of this non-blingy little pen. It is hard to capture its greatness in photos – this is a pen that must be seen and held. Click on photos to view them in a bigger size Designed in the beginning of the 50s with a classic – yet slightly futuristic – Bauhaus touch; classical streamlined shape, rounded peep holes for checking the ink level – making it look like a mini rocket – and a semi-hooded 14 k gold nib.
The shape is a forebode of the space age – as many other things designed during the 1950s and 1960s. The rounded corners of the ink windows gives it a both playful and futuristic look. An Interview With Vintage Fountain Pen Collector Jim Mamoulides. Jim Mamoulides talks about collecting vintage fountain pens, and the various models and styles produced by manufacturers including Sheaffer, Parker, Montblanc, Waterman, and others over the years. Jim can be reached via his website, PenHero.com, which is a member of our Hall of Fame. When I got my first job out of college, I did what a lot of people do: I ran out and bought myself a Montblanc pen and fountain pen set.
Parker Pens Penography: GOLDEN ARROW/VACUUM FILLER/VACUMATIC. He streamlined Standard pen was discontinued in 1940 and the Major filled the gap. (The Major is in fact referred to as the "Standard" by many collectors). The Slender was also discontinued and replaced by the Debutante, it was very much like the Junior Debutante but was fitted with the Blue Diamond and had the two-tone nib. The Maxima was appropriately renamed Slender Maxima but stayed unchanged. Palak Dal Spinach and Lentils Recipe. An Indian-spiced lentil dish.
Serve with a pita or rice for a complete meal. Prep Time: 10 minutes Cook Time: 1 hour, 15 minutes Total Time: 1 hour, 25 minutes. Recipes - Pat Chapman's Curry Club. Parker Pen Company « Fountain Pen Restoration. Caps 41 to 55. Photo Gallery. _ Business Services - Startup Kit. Liv Due (Livi) - Norwegian sculptor - Bronze sculptures - Stone sculptures - Grass & Peat sculptures - Watercolors - Metal figurines - Gravestones.
---