Hotels
Discovery Map International - Home
Who is Discovery Map International, Inc.? Headquartered in the Green Mountains of Vermont Discovery Map International, Inc. (DMI) has been creating and publishing beautifully illustrated, hand-drawn alternative advertising maps for over 30 years. We love our New England roots and are proud to be based in Waitsfield, nestled in the center of Vermont's gorgeous Mad River Valley. In 1993 we were predominantly a Northeastern operation, but due to increasing demand and success, DMI (at that time called Resort Maps) expanded its reach by developing a franchise model for individual ownership and distribution of its maps of resort towns, vacation destinations and cities all over the U.S. and beyond. Today, that network of franchises has grown to 125 Discovery Map® maps in publication in the US, the UK, Puerto Rico and Costa Rica, with several more in the process of being published.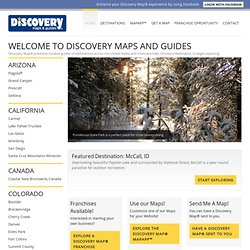 The Savvy Traveler Web Site
This may be old to some, new to others, but new productions of The Savvy Traveler radio show have ended. This is unhappy news for all of us, but we want to assure you that Minnesota Public Radio went the extra mile to find a way to support the program. Despite the sincere and constant effort of our committed production staff, after nearly seven years of trying, The Savvy Traveler failed to attract sufficient underwriting support to continue. This was due to the economy in general, and the travel economy in particular -- especially in the post 9/11 period. We'd like to thank our talented staff including Host Diana Nyad, Contributor and former host Rudy Maxa, Producer Ben Adair, Associate Producer Jim Gates, Assistant Producer Kelly Markham and Technical Director Ravi Carman for their unflagging efforts to produce a new memorable program week after week.
City of Pittsburgh Home Page