Handy Apps for Mac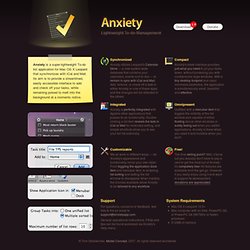 Interested in donating? Great! While Anxiety is free, donations are highly appreciated. Donating helps support future improvements to Anxiety, and is the greatest way for you to contribute to the development of the application.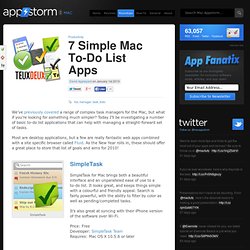 7 Simple Mac To-Do List Apps
We've previously covered a range of complex task managers for the Mac, but what if you're looking for something much simpler? Today I'll be investigating a number of basic to-do list applications that can help with managing a straight-forward set of tasks. Most are desktop applications, but a few are really fantastic web apps combined with a site specific browser called Fluid. As the New Year rolls in, these should offer a great place to store that list of goals and aims for 2010!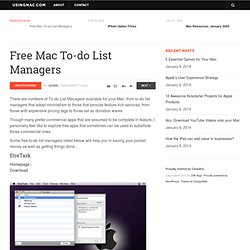 There are numbers of To-do List Managers available for your Mac: from to-do list managers that adopt minimalism to those that provide feature-rich services, from those with expensive pricing tags to those set as donation wares. Though many prefer commercial apps that are assumed to be complete in feature, I personally feel like to explore free apps that sometimes can be used to substitute those commercial ones. Some free to-do list managers listed below will help you in saving your pocket money as well as getting things done… EtreTask
Mac Tricks and Tips, Wallpapers and Applications for Mac Users
To Do Widget (for Mac OS X)