Fashion & Beauty
Hey, Nice Nails! Water Marble Tutorial.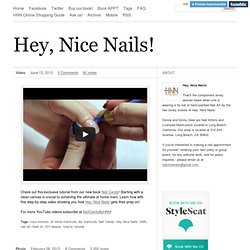 Supplies: orange stick or toothpick, shot glass or cup (the smaller the circumference, the less polish you end up wasting), room temp. water, nail polish, tape (optional, but it helps with the clean up) I like to begin by prepping my nails with base coat and one coat of polish. Here I used China Glaze Innocence for a nice neutral base.
Steps: THE LONG + THE SHORT OF IT - thebeautydepartment.com. Photos: justin coit + thebeautydepartment.com post designed by kristin ess Remember when Lauren's go-to hairstyle was the bang braid?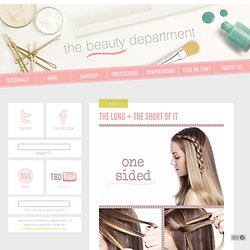 Well, lately this little lady's had a new favorite. Check out this gem. It works on literally any hair type – short, long, curly, pin straight, anything! It's so great for those mornings when you're in a rush, but need something to pull your look together. The Best Eyeshadow Colors For You. People often ask "What are the best eyeshadow colors for me?"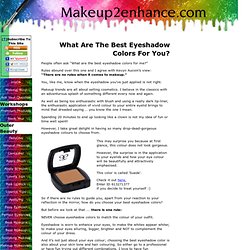 Rules abound over this one and I agree with Kevyn Aucoin's view:"There are no rules when it comes to makeup." You, like me, know when the eyeshadow you've just applied is not right. Makeup trends are all about selling cosmetics. I believe in the classics with an adventurous splash of something different every now and again. As well as being too enthusiastic with blush and using a really dark lip-liner, the enthusiastic application of vivid colour to your entire eyelid brings to mind that dreaded saying … you know the one I mean. The Color Wheel: How to Combine Colors in your Wardrobe.
Ever wonder how some of your favorite fashionistas put colors together to create eye-catching and fabulously colorful outfits?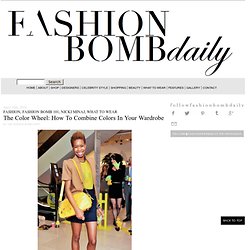 Well so does Fashion Bombshell Kendra who wrote in asking, "As a recessionista engineer, I cannot afford to buy a new wardrobe for the spring/summer. I have great pieces in my wardrobe already so I want to know how to make the most of my wardrobe by playing around with different color combinations. My mom gave me a color wheel as a gift. Unfortunately, I can't seem to get it right…" "…Can you please provide tips on how to combine colors for clothes?
---