Books
The Book Seer | What should I read next. CHAPTER 41 – DOMESTIC SERVANTS | Mrs Beeton's Book of Household Management. 2153.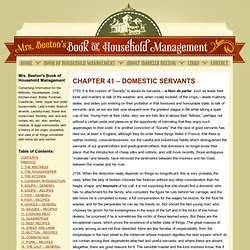 It is the custom of "Society" to abuse its servants,—a faon de parler, such as leads their lords and masters to talk of the weather, and, when rurally inclined, of the crops,—leads matronly ladies, and ladies just entering on their probation in that honoured and honourable state, to talk of servants, and, as we are told, wax eloquent over the greatest plague in life while taking a quiet cup of tea. Young men at their clubs, also, we are told, like to abuse their "fellows," perhaps not without a certain pride and pleasure at the opportunity of intimating that they enjoy such appendages to their state.
Crossword.in: Online Shopping India : Buy Online Books, Crossword Gift Certificate, Fiction books, Non Fiction books, Children books, Business books, great prices online books, free shipping online books, faster delivery online books - Crossword.in. Health Tips, Food and Recipes, Funny Jokes and Cartoons, and Sweepstakes | Reader's Digest. Living The Secret :: Official Web Site of The Secret and The Power. Whichbook. Share Book Recommendations With Your Friends, Join Book Clubs, Answer Trivia.
---