Blogs
Posted by Joe Fahmy on September 15th, 2011 1) When you don't need to rely on anyone else's opinion and you stop asking others: "What do you think of the market?" Have conviction in your ideas and don't be easily influenced by others. You shouldn't have to rely on other opinions because YOU should know yourself. 2) When you stop feeling the need to pound your chest every time you make 30 cents on a stock. "Act like you've been there before!"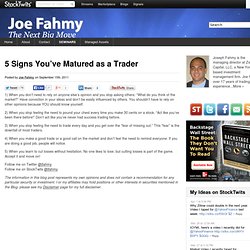 5 Signs You've Matured as a Trader | Joe Fahmy The Next Big Move
I think it's time for an ACH (click for an introduction to ACH) on the much discussed tapering issue, more so, as it looks likely to be announced at the December 17-18 meeting (by tapering I also mean the communication that precedes the actual slowdown in QE). So the hypotheses are: H1 - the Fed will taper at the December meeting; H2 - the Fed will not taper at the December meeting. Here is a matrix with a score measuringmy judgement on how much each piece of evidence invalidates each hypothesis. Evidence H1 H2 --------------------------------------------------------------------------------------------------------------------------------- E1 - the economic indicators have been strong lately and the Fed wanted to start tapering in September + -0.75 E2 - the latest GDP report has been strong but only due to rising inventory -0.25 +
Trading the S&P500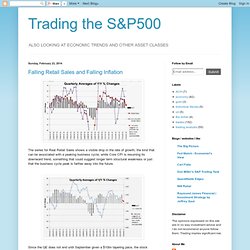 Next week will be extremely busy on the earnings front with no less than 550 companies set to report their first quarter numbers. Below is a list of some of the largest and most widely followed companies set to report. For each stock, we provide its report date and time along with some key statistics collected from our Interactive Earnings Report Database (available to Bespoke Institutional members). On Monday morning we'll hear from Halliburton (HAL), while Netflix (NFLX) is set to report Monday afternoon. NFLX has gotten slammed over the last few weeks, and traders will be anxious to see if the sellers are proven right or wrong. Tuesday morning brings reports from United Tech (UTX) and McDonald's (MCD), while AT&T (T), Gilead (GILD), Amgen (AMGN) and Intuitive Surgical (ISRG) are set for Tuesday after the close.

Carl Futia
June S&P E-mini Futures: Today's range estimate is 1840-1858. The midpoint of the drop from 1892.50 is 1848. If the ES spends most of a day session above that level I would conclude that the market is headed to new highs.
Briefing Room :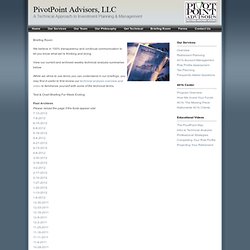 Briefing Room We believe in 100% transparency and continual communication to let you know what we're thinking and doing. View our current and archived weekly technical analysis summaries below. While we strive to use terms you can understand in our briefings, you may find it useful to first review our technical analysis overview and video to familiarize yourself with some of the technical terms. Text & Chart Briefing For Week Ending:
"The Russians Are Coming"April 7, 2014 The Russians Are Coming, The Russians Are Coming is a 1966 American comedy film directed by Norman Jewison and based on Nathaniel Benchley's book The Off-Islanders. The movie tells the Cold War story of the comedic chaos that happens when a Soviet submarine runs aground closely offshore a small island town near New England and the crew is forced to come ashore. At the time I saw the movie I was summering at my family's home on Nantucket Island, which really brought home the ambiance of the movie since the landscape looked remarkably similar to places on Nantucket. Last Friday, however, rumors that the "Russians are coming" swirled down the canyons of Wall Street, causing a late Friday Fade that left the S&P 500 (SPX/1865.09) down an eye-popping 24 points.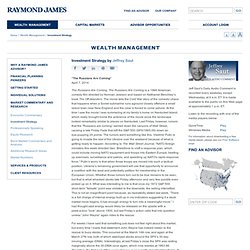 Raymond James Financial | Investment Strategy by Jeffrey Saut
Joe Romm draws our attention to the third slice of the latest IPCC report on climate change, on the costs of mitigation; the panel finds that these costs aren't that big — a few percent of GDP even by the end of the century, which means only a trivial hit to the growth rate. At one level this shouldn't be considered news. It has been apparent for quite a while that given the right incentives we could maintain economic growth even while greatly reducing greenhouse gas emissions. But there is, in fact, some news that greatly strengthens the case that saving the planet would be quite cheap. First, a word about the general principle here. Actually, for once I get to play "balanced" journalist, and bash both left and right.