Blogs
Posted by Joe Fahmy on September 15th, 2011 1) When you don't need to rely on anyone else's opinion and you stop asking others: "What do you think of the market?" Have conviction in your ideas and don't be easily influenced by others. You shouldn't have to rely on other opinions because YOU should know yourself. 2) When you stop feeling the need to pound your chest every time you make 30 cents on a stock. "Act like you've been there before!"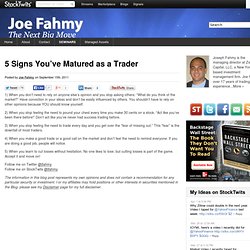 5 Signs You've Matured as a Trader | Joe Fahmy The Next Big Move
I think it's time for an ACH (click for an introduction to ACH) on the much discussed tapering issue, more so, as it looks likely to be announced at the December 17-18 meeting (by tapering I also mean the communication that precedes the actual slowdown in QE). So the hypotheses are: H1 - the Fed will taper at the December meeting; H2 - the Fed will not taper at the December meeting. Here is a matrix with a score measuringmy judgement on how much each piece of evidence invalidates each hypothesis. Evidence H1 H2 --------------------------------------------------------------------------------------------------------------------------------- E1 - the economic indicators have been strong lately and the Fed wanted to start tapering in September + -0.75 E2 - the latest GDP report has been strong but only due to rising inventory -0.25 +
Trading the S&P500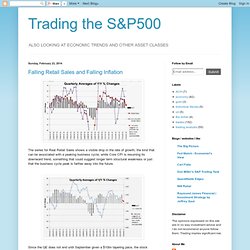 This chart crossed our Twitter feed more than a couple of times over the last few days and didn't make much sense to us, so we decided to look into it. The argument implied is that when Wall Street blows up on the big screen, a market crash can't be far away. Looking at the above chart, it seems like every new movie featuring the financial world has been the harbinger of doom, and a massive bear market has been just around the corner. Think of it as a Hollywood version of The Skyscraper Index. A closer look at the timing of the movies indicates that this just isn't the case. Below is a chart of the S&P 500 dating back to 1985.

Carl Futia
Here are daily charts of my three favorite stock market trend indicators. Despite pervasive bullish sentiment not one shows any sign of weakness. All three are above rising 50 day and 200 day moving averages (green and red wavy lines in each chart).
Briefing Room :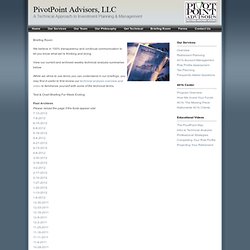 Briefing Room We believe in 100% transparency and continual communication to let you know what we're thinking and doing. View our current and archived weekly technical analysis summaries below. While we strive to use terms you can understand in our briefings, you may find it useful to first review our technical analysis overview and video to familiarize yourself with some of the technical terms. Text & Chart Briefing For Week Ending:
"The Russians Are Coming"April 7, 2014 The Russians Are Coming, The Russians Are Coming is a 1966 American comedy film directed by Norman Jewison and based on Nathaniel Benchley's book The Off-Islanders. The movie tells the Cold War story of the comedic chaos that happens when a Soviet submarine runs aground closely offshore a small island town near New England and the crew is forced to come ashore. At the time I saw the movie I was summering at my family's home on Nantucket Island, which really brought home the ambiance of the movie since the landscape looked remarkably similar to places on Nantucket. Last Friday, however, rumors that the "Russians are coming" swirled down the canyons of Wall Street, causing a late Friday Fade that left the S&P 500 (SPX/1865.09) down an eye-popping 24 points.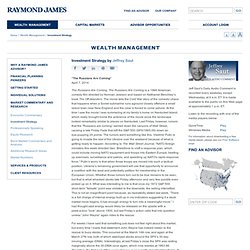 Raymond James Financial | Investment Strategy by Jeffrey Saut
The other day someone — I don't remember who or where — asked an interesting question: when did it become so common to disparage anyone who hasn't made it big, hasn't gotten rich, as a "loser"? Well, that's actually a question we can answer, using Google Ngrams, which track the frequency with which words or phrases are used in books: Sure enough, the term "losers" has become much more common since the 1960s. And I think this word usage reflects something real — a growing contempt for the little people. This contempt surely isn't limited to Republican politicians. Still, it's striking how unable they are to show any empathy for people who are just doing their best to make a modest living.