Organizing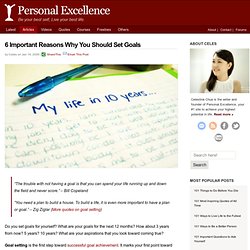 6 Important Reasons Why You Should Set Goals
by Celes on Jan 19, 2009 | ShareThis Email This Post "The trouble with not having a goal is that you can spend your life running up and down the field and never score." – Bill Copeland"You need a plan to build a house. To build a life, it is even more important to have a plan or goal." – Zig Ziglar (More quotes on goal setting) Do you set goals for yourself?
Organize Your Tasks. Use folders, tags, contexts, subtasks and more to organize, search and sort through your tasks. Improve Your Productivity. Toodledo's hotlist, customizable alarms, and sortable online to-do list will help you remember to complete tasks on-time.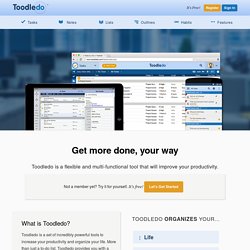 Knowledge management (KM) is the process of capturing, developing, sharing, and effectively using organisational knowledge.[1] It refers to a multi-disciplined approach to achieving organisational objectives by making the best use of knowledge.[2] An established discipline since 1991 (see Nonaka 1991), KM includes courses taught in the fields of business administration, information systems, management, and library and information sciences (Alavi & Leidner 1999).[3][4] More recently, other fields have started contributing to KM research; these include information and media, computer science, public health, and public policy.[5] Columbia University and Kent State University offer dedicated Master of Science degrees in Knowledge Management.[6][7]