Recipes
Recipe Loop. Sips and Spoonfuls. Hosting a Brunch. Key West Grilled Chicken | Dirt Cheap Recipes. The following content was Provided by www.GroceryBudget101.com "We're Not Penny Pinching, We're Benji Pinching!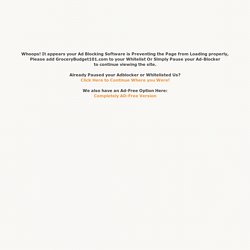 " This time of year fresh limes are fairly easy to get inexpensively and this particular recipe combines the flavors of fresh lime, zesty soy sauce, garlic and just the right amount of honey to make a fabulous marinade. You'll Need: * 3 tablespoons soy sauce * 2 Tbs. honey * 1 tablespoon vegetable oil * Juice of 1 Lime * 1 teaspoon minced garlic * 4 skinless, boneless chicken breast halves. WHOLE FOODS April 2012 Menu. Want access to recipe cards, grocery lists, step-by-step cooking day instructions and labels complete with freezing directions and customizable serving sizes?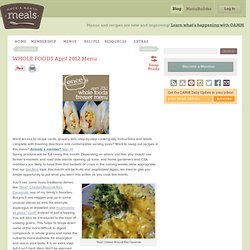 Want to swap out recipes in this menu? Already a member? Sign in! Spring produce will be full swing this month. Recipes.
---