Ideas, Insights, Resources
How the CIA define problems & plan solutions: The Phoenix Checklist
In a recent BBH Labs post ( Wind Tunnel Marketing, The Sequel: On the Need for Divergent Insight ) that talked about the need for divergent thinking and stimulus in approaching problem solving (& creative ideation), Chaz Wigley, the Chairman of BBH in Asia Pacific, mentioned how the CIA 's (I've always wanted to link to the CIA) Problem Definition Checklist provoked precisely this kind of approach; rounded, many-faceted, flexible. These questions are known as "context-free questions" and are designed "to encourage agents to look at a challenge from many different angles. Using Phoenix is like holding your challenge in your hand.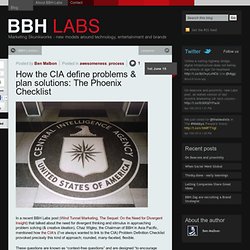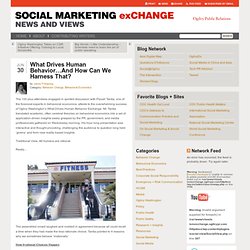 The 100 plus attendees engaged in spirited discussion with Piyush Tantia, one of the foremost experts in behavioral economics, attests to the overwhelming success of Ogilvy Washington's What Drives Human Behavior Exchange.
What Drives Human Behavior…And How Can We Harness That? | Social Marketing exChange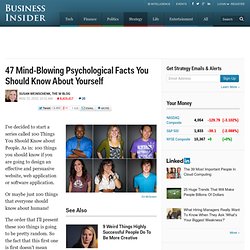 WHAT YOU ARE ABOUT TO READ IN THE NEXT PARAGRAPH IS COMMONLY BELIEVED, BUT NOT TRUE – You read by recognizing the shapes of words and groups of words.
47 Mind-Blowing Psychology-Proven Facts You Should Know About Yourself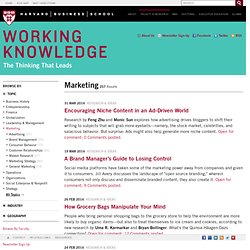 General Information Academic Programs
Articles About Marketing
Ad blogs & and blogging about advertisings, creative, agencies & brands - Campaign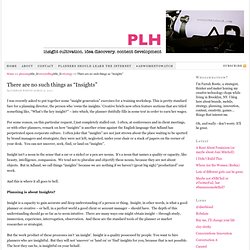 There are no such things as "Insights"
I was recently asked to put together some "insight generation" exercises for a training workshop.
The Pixel Report
10 presentations to help you become a digital planning genius
What makes a good online media planner?
Would You Like This Article More If You Had To "Like" It On Facebook Before Reading?
Many of the world's most powerful brands are doubling down on Facebook, from President Obama to The New Yorker . The powerful, hidden psychology of a fan page might just make this a worthwhile bet. Psychologists have long known that tiny, voluntary actions can cause sweeping changes in our opinions, transforming luke-warm attitudes into concrete beliefs.
Cognitive Edge- Resources - Articles by Dave Snowden
Northern Planner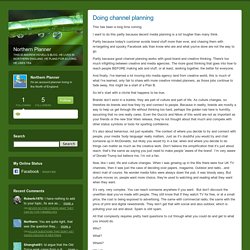 If I'm not swimming or doing other painful stuff on bikes, treadmills or rowers, or reading, watching a film or playing with the kids; you're likely to find me cooking. I love it.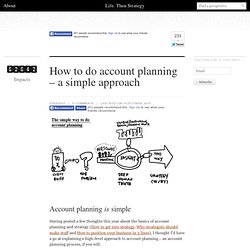 How to do account planning – a simple approach | Life. Then strategy
Strategy | Comments | Last built on 14 October, 2010
Contact
Advice for the next-generation planner part 6: Merry Baskin - The Planning Lab
(Some Rather Bossy) Advice for the next generation of (student) planners Read. Feed your Head.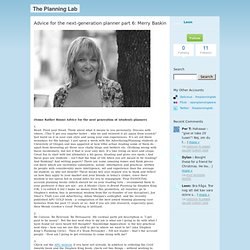 What Makes A Great Junior Planner? | The Juggling Planner
The wiki for account planning, strategy and insight - now on twitter
plannersphere / FrontPage
Plannersphere Top 20 - December 2010 - MisEntropy
Strategy Can Do Better - Umair Haque
For too long, boardrooms have practiced strategy as theater. But those days are over. To explain, consider the sad case of Pontiac.
MisEntropy Plannersphere Search Engine - MisEntropy
Posted by admin on July 9, 2010 Strategic Planning is a misunderstood and often misused term, lacking a well-defined and widely agreed upon definition. Strategy, and the planning associated with it, has origins dating back to its military usage as early as the 6th century.
Strategic Planning Definition | Corporate Strategy Defined | Strategic Plans Explained | Strategic Planning Consulting Companies | Strategic Planning Consulting Firms
Planningness Presentations aka 907 Slides of Resources + Goodness - Thinkdoer
This is a small thought, but one I'm finding increasingly useful.
brand new: Take me to the bridge