Digit pub
www.aptaracorp.com/assets/resources/Aptara_Context_June_2012.pdf?jujrtyghfud111231a669994a68a579a988
There are many reasons to be bullish for ebooks. On the device side, the iPad set the standard (rather high) and triggered an intense competition among manufacturers and operating systems providers. On the people side, just take New York's subway, or a high-speed train in Europe.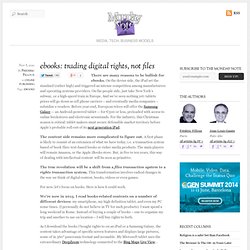 ebooks: trading digital rights, not files
College Publishing Comes of Age: Highlights of the BISG Higher Education Conference - By Eugene G. Schwartz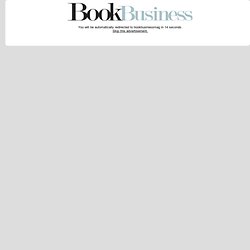 By Eugene G. Schwartz | Posted on February 10, 2012 In 1913, Richard P. Ettinger and Charles W. Gerstenberg , two NYU professors who had been producing their own monographs for classroom use, founded the business book publisher Prentice Hall (using their mothers' maiden names). By doing so, they also planted the seeds from which the modern college text book publishing and marketing model grew.
It was just five years ago when both NBCUniversal and News Corp stopped complaining about YouTube and decided to actually do something about it. They formed what is today known as Hulu. It's gone from being a skeletal ad-supported video streaming service to one with content YouTube can't match and a premium tier that has over 1.5 million subscribers and prospects of future growth.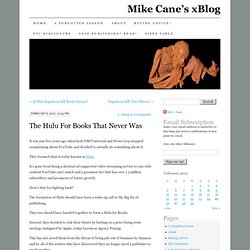 The Hulu For Books That Never Was
The scholarly open access journal movement seems to be getting quite a bit of momentum behind it, and one instance of this is Impactstory, "a nonprofit, open-source webapp that helps scientists discover and share the full impact of their research." Now Impactstory has just shared a detailed breakdown of the case in favor of the "online-only, open access journals that cover many subjects and publish content based only on whether it is scientifically sound" - megajournals, in Impacstory's terminology. However, while all for the argument that megajournals "offer a path to a more efficient, faster, more open scholarly publishing world,"...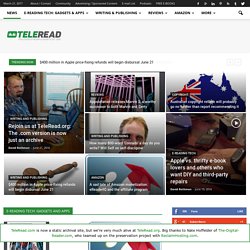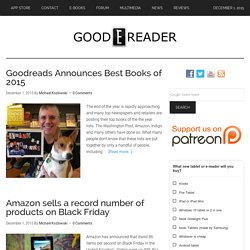 This week Dropbox updated their main app and released a new photo and email client. Family Guy unveiled their Simpsons Tapped Out competitor and many other great new games were released. Iron Force – Take part in epic, explosive multiplayer tank battles in Iron Force.
29.11.11 | Tom Tivnan and Bookseller Staff If there is one thing we can count on in The Bookseller 100, it is change. This is our third annual list of the top movers and shakers in the book trade, and for the second year in a row there are a number of new faces—37 in 2011 (and four re-entries), up from 36 new names in 2010. It is a difficult process because we have so many to choose from.
The Bookseller 100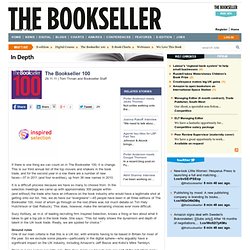 Dan Blank: Publishing, Innovation & the Web —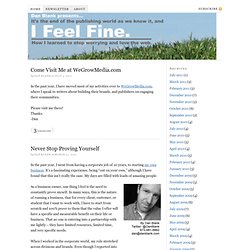 I watched the movie The Social Network again the other night, and found myself considering Facebook's success. As the movie depicts it, there was a certain amount of ruthlessness involved to ensure it succeeded. At first, many considered the movie to be character assassination, targeted at Mark Zuckerberg.
CCC's Beyond the Book | A Resource on the Business of Writing and Publishing