Digit pub
Www.aptaracorp.com/assets/resources/Aptara_Context_June_2012.pdf?jujrtyghfud111231a669994a68a579a988. Ebooks: trading digital rights, not files. There are many reasons to be bullish for ebooks.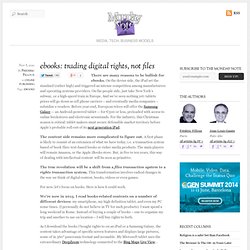 On the device side, the iPad set the standard (rather high) and triggered an intense competition among manufacturers and operating systems providers. On the people side, just take New York's subway, or a high-speed train in Europe. College Publishing Comes of Age: Highlights of the BISG Higher Education Conference - By Eugene G. Schwartz. By Eugene G.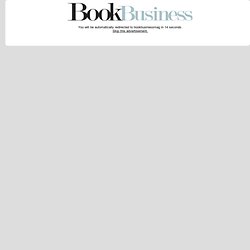 Schwartz | Posted on February 10, 2012 In 1913, Richard P. Ettinger and Charles W. Gerstenberg , two NYU professors who had been producing their own monographs for classroom use, founded the business book publisher Prentice Hall (using their mothers' maiden names). By doing so, they also planted the seeds from which the modern college text book publishing and marketing model grew. The Hulu For Books That Never Was. It was just five years ago when both NBCUniversal and News Corp stopped complaining about YouTube and decided to actually do something about it.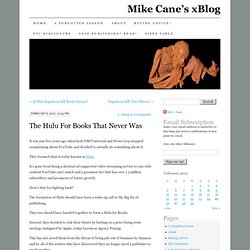 They formed what is today known as Hulu. It's gone from being a skeletal ad-supported video streaming service to one with content YouTube can't match and a premium tier that has over 1.5 million subscribers and prospects of future growth. TeleRead: News and views on e-books, libraries, publishing and related topics. Good E-Reader - eReader & Tablet PC, eBooks, and Digital Publishing News. eBookNewser - The First Word on Digital Publishing.
The Bookseller. The Bookseller 100. 29.11.11 | Tom Tivnan and Bookseller Staff If there is one thing we can count on in The Bookseller 100, it is change.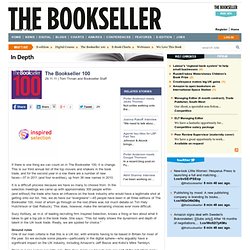 This is our third annual list of the top movers and shakers in the book trade, and for the second year in a row there are a number of new faces—37 in 2011 (and four re-entries), up from 36 new names in 2010. It is a difficult process because we have so many to choose from. Dan Blank: Publishing, Innovation & the Web — CCC's Beyond the Book | A Resource on the Business of Writing and Publishing.