Adamskiptwomeloumarasco
Adam Skiptwomeloumarasco
****PRIVACY NOTICE: Warning--any person and/or institution and/or Agent and/or Agency of any governmental structure including but not limited to the United States Federal Government also using or monitoring/using this website or any of its associated websites, you do NOT have my permission to utilize any of my profile information nor any of the content contained herein including, but not limited to my photos, and/ or the comments made about my photo's or any other "picture" art posted on my profile. You are hereby notified that you are strictly prohibited from disclosing, copying, distributing, disseminating, or taking any other action against me with regard to this profile and the contents herein. The foregoing prohibitions also apply to your employee(s), agent(s), student(s) or any personnel under your direction or control. The contents of this profile are private and legally privileged and confidential information, and the violation of my personal privacy is punishable by law. It is recommended that other members post a similar notice to this or you may copy and paste this one. All good things come to those who stay true.. Still me till they kill me, Hollar if ya hear me..
Booknoise.net | Bottlemania: How Water Went on Sale and Why We Bought It. General Information About Drinking Water From the Environmental Protection Agency on tap water: General information (www.epa.gov/safewater) and a FAQ (www.epa.gov/OGWDW/faq/faq.html) And from the Centers for Disease Control and Prevention: www.cdc.gov/health/water.htm.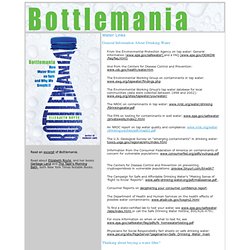 Wolfram|Alpha: Computational Knowledge Engine. Wolfram Demonstrations Project. The Language of Demons and Angels: Cornelius Agrippa's Occult Philosophy. Heinrich Cornelius Agrippa von Nettesheim (1486-1535), as befits a great magician, left behind him a number of mysteries for posterity.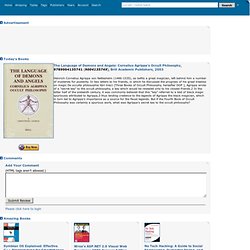 In two letters to his friends, in which he discussed the progress of his great treatise on magic De occulta philosophia libri tres1 [Three Books of Occult Philosophy, hereafter DOP ], Agrippa wrote of a "secret key" to the occult philosophy, a key which would be revealed only to his closest friends.2 In the latter half of the sixteenth century, it was commonly believed that this "key" referred to a text of black magic spuriously attributed to Agrippa,3 thus lending credence to the legends of Agrippa the black magician, which in turn led to Agrippa's importance as a source for the Faust legends.
But if the Fourth Book of Occult Philosophy was certainly a spurious work, what was Agrippa's secret key to the occult philosophy?
Free eBooks by Project Gutenberg. One Stop Downloads - Join us and get instant access to all of ou. WOWIO: Free Ebooks, Comics and Graphic Novels | Free Books + Fre. The Pirate Bay - The galaxy's most resilient bittorrent site. Rockefellermedic00browrich.pdf (application/pdf Object) Endocrine_system-pdf.pdf (application/pdf Object)
---