DIY
What's better than sitting around a campfire in the summer evenings? A beautiful summer evening with a backyard fire pit is the perfect gathering spot for family and friends. How does it look this place ? Materials: 6- Bags of Sacreete (or Quickcreete – whatever you call it) one for each upright. 6- 6x6x10′s (for the uprights) 6- 6x6x8′s for the top sections 6- 2x6x8′s for the stabilizers that go kitty corner on top of 6×6′s (for strength) 24- 3/8′s x 8″ lags for laggin the top horizontal pieces to the uprights (countersunk) 24- 4″ Deck screws for screwing the top pieces together horizontally before lagging them. 24 – 3″ Deck screws for screwing the top 2×6 stabilizers to the 6×6′s 10- 3/8×8″ eyebolts with nuts and washers for hanging the swings
Awesome Fire Pit Swing Set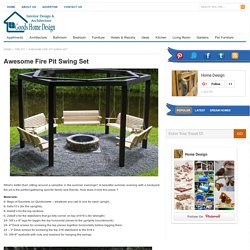 How to Make a Soup Can Forge
Wasp Trap « Do It And How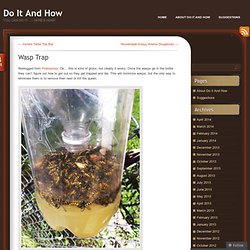 Reblogged from Prairiestory. Ok… this is kind of gross, but clearly it works. Once the wasps go in the bottle they can't figure out how to get out so they get trapped and die. This will minimize wasps, but the only way to eliminate them is to remove their nest or kill the queen.
Survival Bow Making Instructions
By Jason Knight The following bow making instructions will help you construct an effective bow in a relatively short amount of time. A quickie bow is a fast-made bow for immediate use in a survival situation. It is carved from a sapling or branch of a tree. The reason it is called a "quickie" bow is because it is made at the time the wood is harvested, rather than waiting a year or more for the wood to season (as is typical for regular bow construction).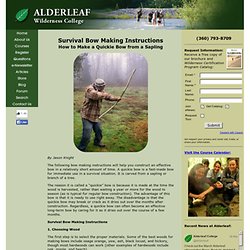 By MH Staff - Posted on 25th August 2011 Warning: this stunt involves sharp edges, breaking glass and fire. But if you're careful, it could also involve fun. Pick a brand with a sturdy but attractive bottle. (Try Grolsch or Darling Brew's dumpie-style bottle.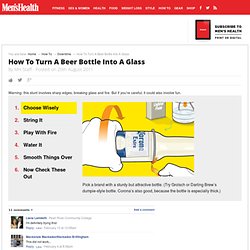 How To Turn A Beer Bottle Into A Glass | Men's Health
In the Philippines, to bring sustainable lighting to homes in impoverished communities, empty plastic bottles are being installed in ceilings. Filled with water and bleach, they refract sunlight, and provide light equivalent to a 55watt light bulb. - Almo
Top 10 Sites for Do It Yourself Projects : Planet Green
Open a Master Padlock With a Beer Can
Brewery Construction
How to Develop a Photographic Memory
jungle-survival-3.jpg (400×400)
So you've decided you want to drop off the map and leave Big Brother behind. It's harder than ever in our always-connected world, but if you're ready to plan your big vanishing act, here are a few tips to get you started. If this looks familiar, you're not crazy. Our guide to dropping off the map is a perennial Evil Week favorite. Who hasn't thought about how nice it would be to start fresh somewhere new, preferably with nicer weather and cheaper drinks? Whatever your reasons for wanting to disappear—maybe you just want to get The Man off your back—with enough diligence and planning you can vanish and start anew somewhere else.
How to Ditch Big Brother and Disappear Forever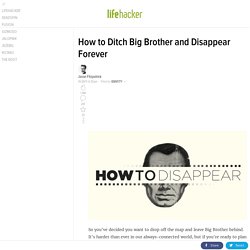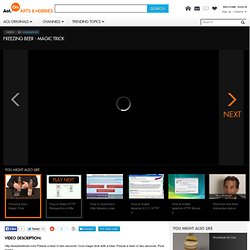 Freezing beer - Magic Trick Video
[Music Playing] Welcome to a video presentation from easybartricks.com. In this video I will show you how you can freeze a beer in just a few seconds. As you can see I have two beers in front of me, so let us try off one of those. As you can see the beer is fluid.
Build Your OWN DIY AC! « WillWalker.com
clean sweep assessment
Are you ready to clean up your life? The Clean Sweep Program is a checklist of 100 items which, when completed, give one complete personal freedom. These 100 items are grouped in 4 areas of life with 25 in each group: Physical Environment, Well-being, Money and Relationships. These 4 areas are the cornerstone for a strong and healthy life and the program helps a person to clean up, restore and polish virtually every aspect of his/her life. The program takes between 6 - 24 months to complete.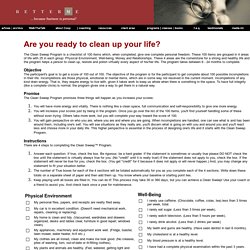 The 30 Day Movie Challenge « Theater Thoughts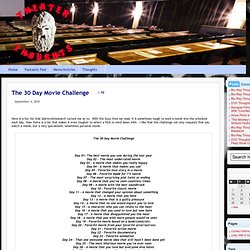 Here is a fun list that @drmrsthmonarch turned me on to. With the busy lives we lead, it is sometimes tough to work a movie into the schedule each day. Now there is a list that makes it even tougher to select a flick to wind down with. I like that the challenge not only requests that you watch a movie, but a very specialized, sometimes personal movie.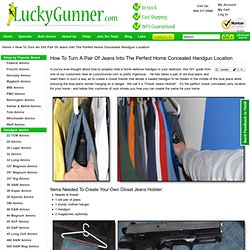 If you've ever thought about how to properly hide a home defense handgun in your bedroom, this DIY guide from one of our customers here at LuckyGunner.com is pretty ingenious. He has taken a pair of old blue jeans and sewn them in such a way as to create a closet holster that allows a loaded handgun to be hidden in the middle of the blue jeans while ensuring the blue jeans remain hanging on a hanger. We call it a "Closet Jeans Holster". It's the perfect closet concealed carry location for your home - and below this customer of ours shows you how you can create the same for your home. Items Needed To Create Your Own Closet Jeans Holster: Needle & thread1 old pair of jeans1 sturdy clothes hanger1 handgun2 magazines (optional)
How To Turn An Old Pair Of Jeans Into The Perfect Home Concealed Handgun Location
www.textfiles.com/drugs/lsdnfo.txt
The $40 Hidden Inside a 12V Battery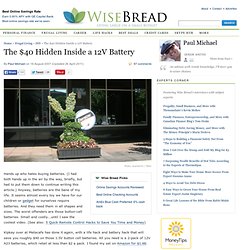 Wise Bread Picks Hands up who hates buying batteries. (I had both hands up in the air by the way, briefly, but had to put them down to continue writing this article.) Anyway, batteries are the bane of my life. It seems almost every toy we have for our children or gadget for ourselves require batteries.
You should all know by now that we are all about stacking bracelets on our wrists. The more, the better. In fact . . . the most, the best!
DIY Wrap Bracelet
Automotive 1. Handle a blowout2. Drive in snow3.
100 Skills Every Man Should Know: 2008's Ultimate DIY List
Cool paper toy
————————————— [www.tradekay.com] our company streetcandy is a professional exporting company dealing with name brand footwear, such as Nike etc. All of the products are exported to America, Europe, Middle-east and Southeast Asian [countries.and] honor with a gooddevelop the market with you.
Most Popular DIY Projects of 2009
Your Guide to 21 Awesome DIY Projects | Magazine
Make: Projects How-to Projects Library — Electronics, Arduino, Crafts, Solar, Robots
Instructables - Make, How To, and DIY
Free Woodworking Plans, Projects and Patterns at WoodworkersWorkshop
Pringles Can Antenna Turns 10
How to Make Beer - Making Beer at Home
Perpetual Energy? - Video
Extreme Treehouses
Easy Cd Case ....NO Glue .... For Everybody.... - Video
15 Different Ways To Tie Your Sneakers Pictures
The Document Which Was Formerly Called The MIT Guide to Lockpicking
what can you learn on youtube? - Teh uber1337 Soup