XBMC
Movie Sets. XBMC Movie Scrapers include support for sorting your movies into sets for better organization.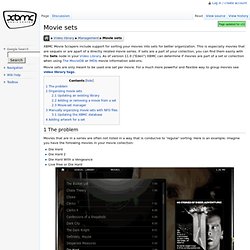 This is especially movies that are sequels or are apart of a directly related movie series. If sets are a part of your collection, you can find them easily with the Sets node in your Video Library. As of version 11.0 ("Eden") XBMC can determine if movies are part of a set or collection when using The MovieDB or IMDb movie information add-ons. Movie sets are only meant to be used one set per movie. Video Library. This section covers topics and guides covering playing videos, the video library, video management, scanning content in, playing video content off the internet, and more.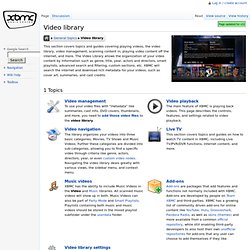 The Video Library allows the organization of your video content by information such as genre, title, year, actors and directors, smart playlists, advanced search and filtering, custom sections, etc. XBMC will search the internet and download rich metadata for your videos, such as cover art, summaries, and cast credits. Quick Start Guide. Congratulations, new user, in your choice of media center software: XBMC!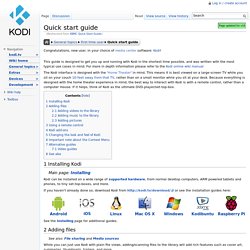 This guide is designed to get you up and running with XBMC in the shortest time possible, and was written with the most typical use cases in mind. For more in depth information please refer to the XBMC online wiki manual. Adding Media Sources. Media Sources are virtual links to the content you wish XBMC to use.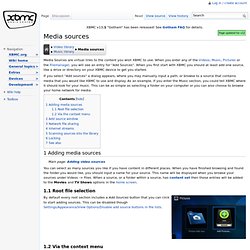 When you enter any of the Videos, Music, Pictures or the Filemanager, you will see an entry for "Add Sources". When you first start with XBMC you should at least add one source, like a drive or directory on your XBMC device to get you started. If you select "Add sources" a dialog appears, where you may manually input a path, or browse to a source that contains media that you would like XBMC to use and display. As an example, if you enter the Music section, you could tell XBMC where it should look for your music. This can be as simple as selecting a folder on your computer or you can also choose to browse your home network for media.
Comparison of skin features.
---