jQuery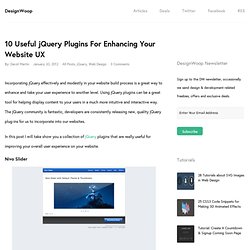 10 Useful jQuery Plugins For Enhancing Your Website UX
Incorporating jQuery effectively and modestly in your website build process is a great way to enhance and take your user experience to another level.
10 Useful jQuery Plugins For Enhancing Your Website UX
With traditional drop downs i.e. using <select><option></option></select> you are limited to only text and value.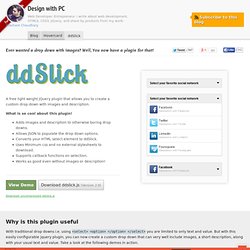 ddSlick - a jQuery plugin for custom drop down with images
Like the article? Be sure to subscribe to our RSS feed and follow us on Twitter to stay up on recent content. jQuery Plugins to work with Data Grid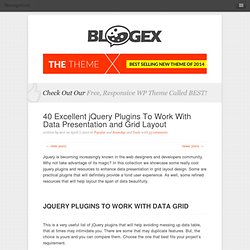 jQuery Grid & Data Presentation Plugins
jQuery Grid & Data Presentation Plugins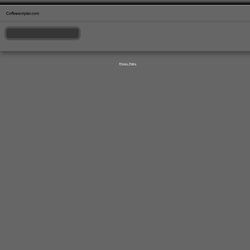 A highly customizable gallery/showcase plugin for jQuery.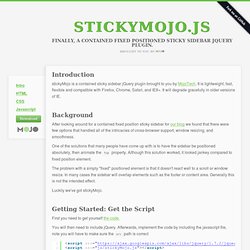 stickyMojo contained fixed position sticky sidebar jquery plugin
stickyMojo is a contained sticky sidebar jQuery plugin brought to you by MojoTech .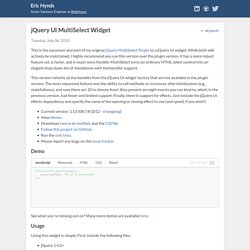 This is the successor and port of my original jQuery MultiSelect Plugin to a jQuery UI widget. While both will actively be maintained, I highly recommend you use this version over the plugin version. It has a more robust feature set, is faster, and is much more flexible. MultiSelect turns an ordinary HTML select control into an elegant drop down list of checkboxes with themeroller support. This version inherits all the benefits from the jQuery UI widget factory that are not available in the plugin version.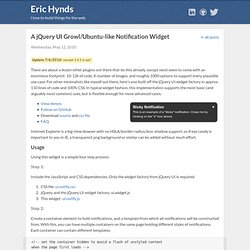 A jQuery UI Growl/Ubuntu-like Notification Plugin | Eric Hynds
Update 7/6/2010: version 1.4.1 is out! There are about a dozen other plugins out there that do this already, except most seem to come with an enormous footprint: 10-12k of code, X-number of images, and roughly 1000 options to support every plausible use case. For other minimalists like myself out there, here's one built off the jQuery UI widget factory in approx. 110 lines of code and 100% CSS.