My wishlist
Momantai-design. Masterpieces - Pattern Sheet 'Masterpieces; pattern sheet' - rely on your own creativity, result assured; the masters preceded you.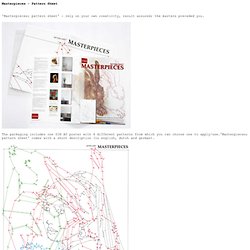 The packaging includes one DIN A0 poster with 4 different patterns from which you can choose one to apply/use.' Masterpieces; pattern sheet' comes with a short description (in english, dutch and german). 1. Choose your favourite artwork, find a suitable spot and attach the pattern sheet there to the wall or to a board with appropriate dimensions. 2. Eames Plastic Armchair : At Home. Here you can download the product fact sheet of Plastic Armchair .: Eames Plastic Side Chair Armchair Instruction for use EPA on stretcher Ecology Information EN EPA Ecology Information EN EPA Ecology Information DE Care instruction for use Eames Plastic Armchair Factsheet DE Eames Plastic Armchair Factsheet EN Eames Plastic Armchair Factsheet ES Eames Plastic Armchair Factsheet FR Eames Plastic Armchair Factsheet IT Eames Plastic Armchair Factsheet NL Seat shell: dyed-through polypropylene.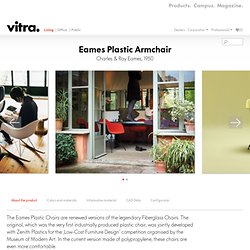 All models (except RAR) are available with a seat cushion (screwed to the seat shell) or full upholstery. The fully upholstered version has moulded polyurethane foam padding covered in Hopsak fabric, attached to the shell with a welted edge. Covers available in all Hopsak fabric colours. Different shell and upholstery colours and various bases provide a multitude of possible combinations.Options: the Eames Plastic Armchair is available as a visitor, dining, swivel or rocking chair. REK coffee table « Reinier de Jong. REK is a coffee table that grows with your coffee needs.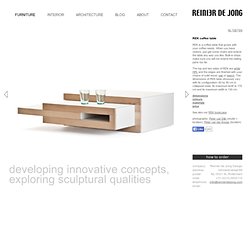 When you have visitors, just get some chairs and extend the table any way you like. Built-in stops make sure you will not extend the sliding parts too far. The top and two sides of REK are white HPL and the edges are finished with your choice of solid wood: oak or beech. The dimensions of REK table obviously vary with its configuration: 60 by 80 cm in collapsed state, its maximum lenth is 170 cm and its maximum width is 130 cm. dimensions colours materialsprice. Black + blum - Official website and shop. - fuzzy.is - gærukollurinn. Home//News : njustudio.
---