Curation
Seven Cool Ways to Use Pinterest. Have you joined Pinterest yet?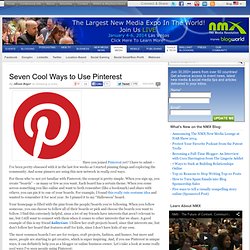 I have to admit – I've been pretty obsessed with it in the last few weeks as I started pinning things and exploring the community. And some pinners are using this new network in really cool ways. For those who've not yet familiar with Pinterest, the concept is pretty simple. When you sign up, you create "boards" – as many or few as you want. Editor's Picks: Content Curation Tools. Content curation is the collection of content created by others, then filtered through one's own point of refer­ence.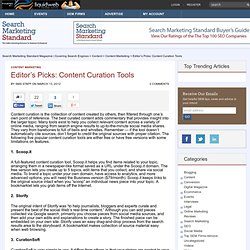 The best curated content adds commentary that provides insight into the larger topic. Many tools exist to help you collect relevant content across a variety of online media, ranging from search engine results to up-to-the-minute social media shares. They vary from bare­bones to full of bells and whistles. Remember — if the tool doesn't automatically cite sources, don't forget to credit the original sources with proper citation. The fol­lowing five popular content curation tools are either free or have free versions with some limitations on features. Thoughts on Curation.
Content Curation 101: What You Need To Know | Kurat. One of the things that Social Media peeps battle on a regular basis is content creation, which is the ideal way to extend your brand identity, expand your network and potentially created avenues of opportunity to meet clients.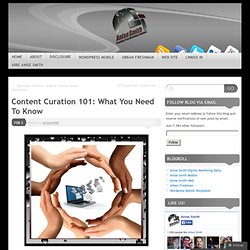 This is one of the reasons that content is king! We all know that social media can be very time consuming if done properly and worse if not done properly. Either way social media can take a great portion of allocated time so there is always a quest to find ways to continue providing great content while managing time effectively. Can you say Content Curation?? Content Curation Is Listening and Engaging.
Content curation is the organizing, filtering and "making sense of" information on the web and sharing the very best pieces of content that you've cherry picked with your network.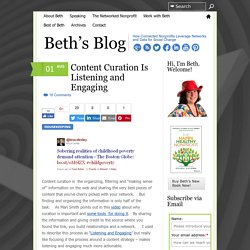 But finding and organizing the information is only half of the task. As Mari Smith points out in this video about why curation is important and some tools for doing it. By sharing the information and giving credit to the source where you found the link, you build relationships and a network. I used to describe this process as "Listening and Engaging" but really like focusing it the process around a content strategy – makes listening and engaging much more actionable.
Content curation: How to master information overload to become a great curator « Interactive marketing, PR and social media services in Northern Virginia. Content curation: How to master information overload to become a great curator Author: Mayra Ruiz-McPherson Content curation – the act of gather relevant, useful resources, information and online content to share on a consistent basis with interested readers interested in a given topic — is one of the fundamentals of today's digital content marketing.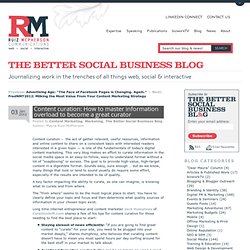 On Social Media, curate people, not just information. Let's take Twitter as an example.
Your Twitter account is like a library. Every link you've ever tweeted is like a book in that library. The 5 types of stories that make good Storifys. While covering Occupy Wall Street, many news sites have used Storify to capture on-the-ground reports from journalists and protesters.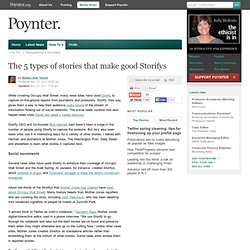 Storify, they say, gives them a way to help their audience make sense of the stream of information flowing out of social networks. The social news curation tool also helped news sites thwart last week's media blackout. Storify CEO and Co-founder Burt Herman said there's been a surge in the number of people using Storify to capture the protests. But he's also seen news sites use it in interesting ways for a variety of other stories.
Curatr allows you to build compelling Social Learning experiences for learners of all ages. How To Curate Learning Paths and Engage Students: Curatr. I'm seeing more Scoopit links in my Twitter stream and I'm not crazy about it.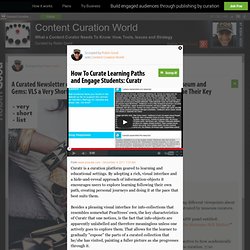 Sure it's quick and easy to share with Scoopit. But it not quick and easy to consume. For me it's all about the econ... How to curate content to reach your readers | Insights & Ingenuity. Good content is an essential element to any digital marketing strategy.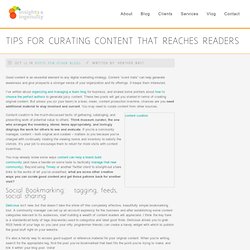 Content "scent trails" can help generate awareness and give prospects a stronger sense of your organization and its offerings. It keeps them interested. I've written about organizing and managing a team blog for business, and shared some pointers about how to choose the perfect authors to generate juicy content. What is Content Curation and How to Curate Web Content? In this era of Information Technology and Social Media , its so easy to keep you up to date with the latest happenings across the Globe.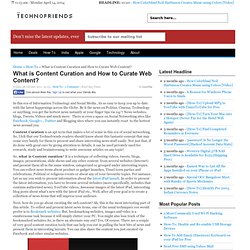 Be it the news on Politics, Cinema, Technology or anything, you get the hottest news instantly at your finger tips via 24/7 News websites, blogs, Tweets, Videos and much more. There is even a space on Social Networking sites like Facebook, Google+ , Twitter and Blogging sites where you can instantly react to the hottest news around you. Content Curation is an apt term that makes a lot of sense in this era of social networking. How To Curate Conversations With Storify › SoMe Information Technology. By admin I want to tell you about one of my favorite things on the Internet. Storify is the best way to gather tweets, comments, snippets and images from all around the Web and put them into one post. It's a new way of blogging that lets all your Internet friends participate. How To Be An Effective Content Curator | Social Amateur. Social Media – How To Curate Content Well. Over the past 12 months the social media space has been engrossed in the need for brands and organisations to curate content for their audiences.
Curation can be an effective way to build you up as a supplier of filtered content, saving people time when it comes to dredging through the quite frankly bewildering levels of content that is thrown our way on a daily basis. Time is money right? Think you can help people save time? How are you connecting the dots? - Game Changer. Connecting the dots. It's all about connecting the dots. And it's never been more important and more relevant than it is today in this information overload world we live in. Or is it?
How to distill content curation for real impact. How to Curate a Blog. Content curation is the act of creating a website that serves as an organized collection of content found online. Curating a blog involves finding the content your audience will find most interesting, organizing it in a way that allows visitors to find information quickly and crafting summaries that add value to the content you present. Select a Topic. How to Curate Like a RockstarScoop. Whether you've been curating on Scoop.it for a while or you're just joining us, we want to provide you with some great ways to reach everyone's ultimate goal: to be a rockstar curator! Here are some of our best tips: 1. Content curation: How to master information overload to become a great curator « Interactive marketing, PR and social media services in Northern Virginia.
Curation Nation: How to turn information overload to your advantage. Types of Curation.
---