New York Times
On l'annonçait mort en 2009, mais le New York Times a survécu à la crise de la presse. Mieux, le titre semble avoir trouvé un modèle économique durable grâce à sa version en ligne. Tous les matins, la Une du New York Times est plus prompte que n'importe quelle autre source d'information à déterminer quelles vont être les informations majeures dans les prochaines vingt-quatre heures. Seth Mnookin n'a pas toujours été un défenseur du Times mais il connaît l'importance du journal.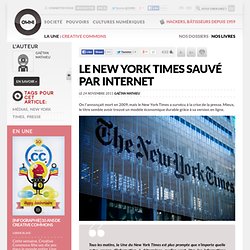 New York Times Plans Staff Reductions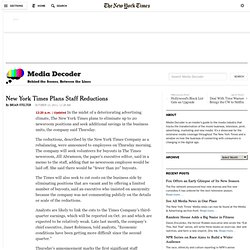 12:20 p.m. | Updated In the midst of a deteriorating advertising climate, The New York Times plans to eliminate up to 20 newsroom positions and seek additional savings in the business units, the company said Thursday. The reductions, described by the New York Times Company as a rebalancing, were announced to employees on Thursday morning. The company will seek volunteers for buyouts in The Times newsroom, Jill Abramson, the paper's executive editor, said in a memo to the staff, adding that no newsroom employee would be laid off. She said there would be "fewer than 20" buyouts. The Times will also seek to cut costs on the business side by eliminating positions that are vacant and by offering a limited number of buyouts, said an executive who insisted on anonymity because the company was not commenting publicly on the details or scale of the reductions.
The NYT employs some of the smartest and ablest users and analysts of social media: it's probably the most sophisticated newspaper in America on that front. And then it has dinosaurs like Bill Keller and Arthur Brisbane, whose respective columns this weekend betray the fact that the people with the bully pulpits are stuck in a completely different world, seemingly ignorant of some of the biggest stories in social media. Brisbane is the NYT's ombudsman, and today he describes the way that the paper broke the news of Osama Bin Laden's death.
The hermetic and arrogant New York Times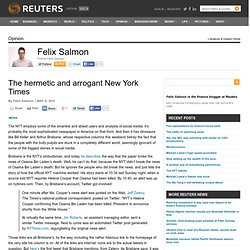 Traffic Down at Post-Paywall New York Times [STATS]
At the end of March, The New York Times finally activated the paywall that it had announced a year earlier. The publication took a "porous" approach to charging users, letting readers access up to 20 articles a month for free and allowing for links from social networks like Facebook or Twitter to pass through without counting. Still, onlookers have wondered what the effect of the wall would be on the site. According to Web traffic measurement firm Hitwise, the numbers are in and traffic has certainly dipped in the nearly two weeks since the wall was put in place. Hitwise examined traffic to the New York Times website according to two metrics, visits and pageviews, by comparing the 12 days prior to the pay wall to the 12 days after.
New York Times to Impose Fees for Web Readers on March 28
Beginning March 28, visitors to NYTimes.com will be able to read 20 articles a month without paying, a limit that company executives said was intended to draw in subscription revenue from the most loyal readers while not driving away the casual visitors who make up the vast majority of the site's traffic. Once readers click on their 21st article, they will have the option of buying one of three digital news packages — $15 every four weeks for access to the Web site and a mobile phone app (or $195 for a full year), $20 for Web access and an app ($260 a year) or $35 for an all-access plan ($455 a year). All subscribers who take home delivery of the paper will have free and unlimited access across all Times digital platforms except, for now, e-readers like the and the Nook. Subscribers to The International Herald Tribune, which is The Times's global edition, will also have free digital access.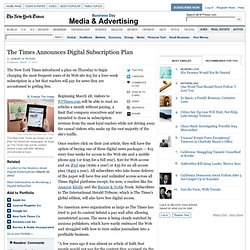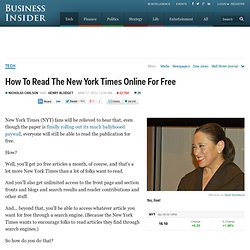 New York Times: How To Read NYT Online For Free
New York Times (NYT) fans will be relieved to hear that, even though the paper is finally rolling out its much ballyhooed paywall, everyone will still be able to read the publication for free. How? Well, you'll get 20 free articles a month, of course, and that's a lot more New York Times than a lot of folks want to read. And you'll also get unlimited access to the front page and section fronts and blogs and search results and reader contributions and other stuff.
The Easiest Way to Cheat the New York Times Paywall Still Works - Business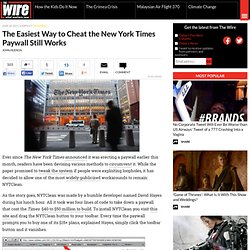 Ever since The New York Times announced it was erecting a paywall earlier this month, readers have been devising various methods to circumvent it. While the paper promised to tweak the system if people were exploiting loopholes, it has decided to allow one of the most widely-publicized workarounds to remain: NYTClean. As the story goes, NYTClean was made by a humble developer named David Hayes during his lunch hour. All it took was four lines of code to take down a paywall that cost the Times $40 to $50 million to build. To install NYTClean you visit this site and drag the NYTClean button to your toolbar.
#ijf11: Lessons in data journalism from the New York Times | Journalism.co.uk Editors' Blog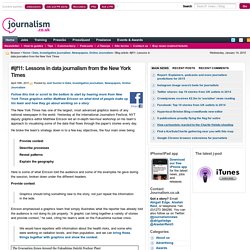 Follow this link or scroll to the bottom to start by hearing more from New York Times graphics editor Matthew Ericson on what kind of people make up his team and how they go about working on a story The New York Times has one of the largest, most advanced graphics teams of any national newspaper in the world. Yesterday at the International Journalism Festival, NYT deputy graphics editor Matthew Ericson led an in-depth two-hour workshop on his team's approach to visualising some of the data that flows through the paper's stories every day. He broke the team's strategy down in to a few key objectives, the four main ones being: Provide contextDescribe processesReveal patternsExplain the geography