Europe
1. EU policy wise distribution of budget/ expenditure 2. How much does enquirer's country contributed to this policy wise 3.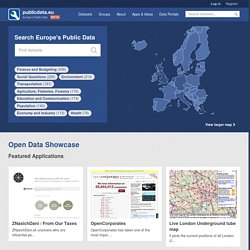 Energie, Agriculture, Environnement, Cartographie..etc
Démocratie & Gouvernement, #opengov
The Europe Roundup: Open Data in Progress
l'appel à projets européens « OpenData Proxima Mobile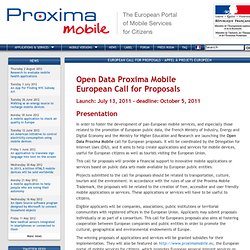 cfp | Proxima Mobile: The European Portal of Mobile Services for Citizens
Open Data Proxima MobileEuropean Call for Proposals Launch: July 13, 2011 - deadline: October 5, 2011 Presentation In order to foster the development of pan-European mobile services, and especially those related to the promotion of European public data, the French Ministry of Industry, Energy and Digital Economy and the Ministry for Higher Education and Research are launching the Open Data Proxima Mobile call for European proposals.
Stratégie numérique: valoriser les données des administrations publiques
European Commission - Press release Digital Agenda: Turning government data into gold Brussels, 12 December 2011 – The Commission has launched an Open Data Strategy for Europe, which is expected to deliver a €40 billion boost to the EU's economy each year. Europe's public administrations are sitting on a goldmine of unrealised economic potential: the large volumes of information collected by numerous public authorities and services. Member States such as the United Kingdom and France are already demonstrating this value. The strategy to lift performance EU-wide is three-fold: firstly the Commission will lead by example, opening its vaults of information to the public for free through a new data portal.
Neelie Kroes Vice President European Commission responsible for the Digital Agenda Opening up Europe: from Common Standards to Open Data OpenForum Europe Summit 2011, Brussels 22nd September 2011 Ladies and gentlemen,
Neelie Kroes Vice President European Commission responsible for the Digital Agenda Opening up Europe: from Common Standards to Open Data OpenForum Europe Summit 2011, Brussels 22nd September 2011