GTD
That's a quote from one of our customers — and it's something we hear a lot. Your business runs on time. It's the fuel your team uses to start, create, finish projects for yourselves and your clients. You've got to make sure every minute counts… and can be counted: Does your team have the availability for this new client?Which clients are good to you, and which abuse your time?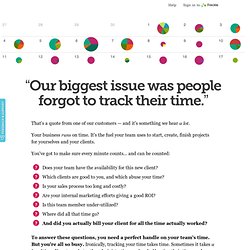 プロジェクトごとにTODOを管理しタグ付けもできるサイト「Flow」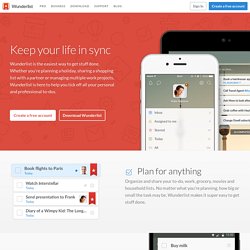 Recurring to-dos Capture your daily, weekly and monthly to-dos. Subtasks Break big tasks intosmaller achievable goals. Share
進捗度合いを段階的に指定できるタスク管理ツール「managewith.us」
Action Method Online :: Tour
Tasks Made Easy Sign up for free and manage your everyday business and personal tasks from anywhere. 42tasks revolutionizes the way tasks are managed. Manage and Share Projects A real collaboration with new "Projects" feature.
42tasks: Task Management and Collaboration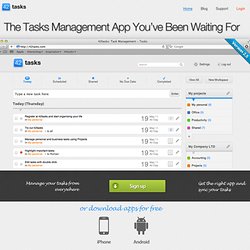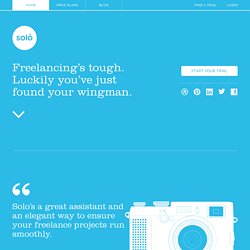 For regular news, articles, promos & discount codes join our mailing list With one-click timing and the ability to create projects, tasks and work types from within the timer, it's never been easier to quickly and accurately track working hours. With flexible quotes and automated invoicing, Solo takes the pain out of your day-to-day paperwork. Clients can then settle payment online using Paypal. Solo's centered around projects, so it's more flexible than other project management tools - manage expenses, deadlines, milestones and more directly from the UI. Solo simply and elegantly presents your business data in an easily digestible form, helping you make informed decisions about your business and future.
Apollo is project and contact management done right. Using Apollo, you will realise that it's built to help you get things done, quickly and efficiently. With Apollo, you will always know where your projects, your contacts and your life are at and you will feel on top of everything — regardless of how hectic your schedule is. Use it anywhere Use Apollo on the road, from your hotel's Internet terminal, your netbook, or from your friends' PC.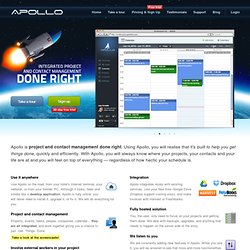 Optimized for iOS 7 The new miCal is the redevelopment of the award winning bestseller for iOS 7. The interface now fits perfectly into iOS 7 and uses a lot of performance-advantages of the new operating system. 7 views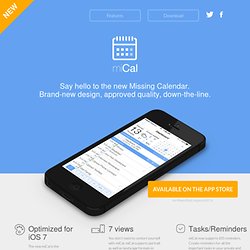 miCal - The missing calendar for the iPhone and the iPod touch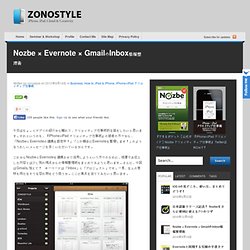 Nozbe × Evernote × GmailのInbox情報整理術 - ZONOSTYLE
今日はちょっとアプリの紹介から離れて、クリエイティブ仕事術的な話をしたいと思います。それというのも、『iPhone×iPad クリエイティブ仕事術』の読者の方々から、「NozbeとEvernoteの連携を設定中!」「この機会にEvernoteを整理します!」
GTD : David Allen's way in Japanese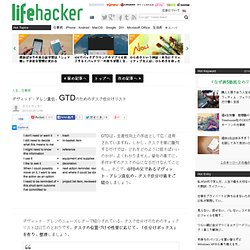 デヴィット・アレンのニュースレターで紹介されている、タスク仕分けのためのチェックリストは以下のとおりです。タスクの位置づけや性質に応じて、「仕分けボックス」を作り、整理しましょう。 必要ないし、やりたくない=「ごみ箱」その意義をもう少し考えるべき=「保留」もう少し情報が必要=「参照」これを使う=「ツール」見てみたい=「デコレーション」もう少し進めば、選択肢のひとつになるかも=「次のアクション用リマインダー」短期的な成果を振り返るべき=「プロジェクトリスト」(週次レビュー要)プロジェクトをやる上で必要なもの=「サポートアイテム」将来、やってみたいかも=「いつか/たぶん」ある前提条件をクリアしたら、やってみたいかも=「予定」(レビュー日を事前に定めておく)より大きな成果を出したい=「ビジョン・目標」(より長い期間をおいて成果をレビュー)自分が気になることで、ほかの人がやること=「待機」(最低でも週次でレビュー)繰り返しの作業のとき考えるべきこと=「要チェック」 このような仕分け法を参考に、自分仕様のオリジナルな仕分け基準を作り、これに従って日々のタスクを整理する習慣をつけると、玉石混交のTo Doリストで「いったい何から手をつけていいのかわからない...」とパニックに陥ることも減り、GTDに役立つことでしょう。ぜひお試しを。 GTD Checklist [Kyle Pott]
[ウェブサービスレビュー]スケジュール管理機能を兼ね備えた高機能タスク管理ツール「HiTask」
「HiTask」は強力なスケジュール管理機能を持ったタスク管理ツールだ。タスクの優先順位や所要時間の設定、各種条件による並び替えなど、「Remember The Milk」や「Nozbe」といったタスク管理サービスに匹敵する機能を持つ。 サイトはAjaxが多用されており、設定画面などを除いて画面遷移はほとんどない。画面の左側にはカレンダーと一日のタイムチャート、画面中央にはタスクリストが並ぶ。各タスクには優先度や所要時間が設定でき、画面左のタイムチャートにそれらの予定をドラッグ&ドロップして、一日のスケジュールを組み立てる。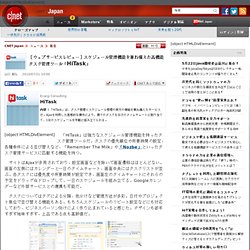 編集部注:この記事はEvernoteのCEO、Phil Libinの寄稿。Evernoteは現在Mac App Storeでダウンロード数で5位に入っている。またこのアプリはAppleが目立つところに置いている点も特筆もの。 EvernoteがMac App Storeに登場してからちょうど1週間が経った。Evernoteの歴史でももっとも重要な1週間だった。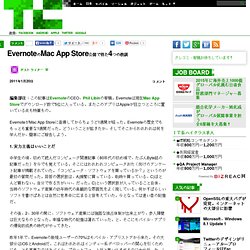 EvernoteのMac App Store公開で得た4つの教訓
Editor's note: The following guest post is written by Phil Libin, CEO of Evernote, which is currently the No. 5 app in the Mac App Store. It also didn't hurt that the app has been prominently featured by Apple. We just finished our first week on the Mac App Store and it might have been the most important week in Evernote's history. Here's how it went and what we learned:
Four Lessons From Evernote's First Week On The Mac App Store