Exemples de MOOC
How to navigate in here? The side bar on the right contains all of the links to the pages of suggested activities and resources for each topic that you need for the exploration of e-portfolios based on our model. Some activities have more than one page attached to them; be sure to click the arrows next to each to expand the menu. Visit the MOOC Planning Visuals page for more details about our model.
epcop_learnspace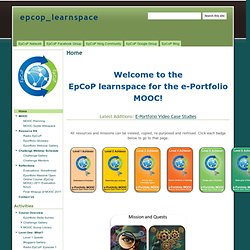 Teach the web
Language Teaching MOOC | A collaborative experience to improve language teaching
OCTEL | Open Course in Technology Enhanced Learning
Mooc Institut Mines-Telecom
Creativity & Multicultural Communication
Welcome To Creativity and Multicultural Communication CMC11 is an open online course that over 13 weeks explores the domain of Creativity and global communication in multidisciplinary venues. Participation is open to everyone and there are no fees or subscriptions required.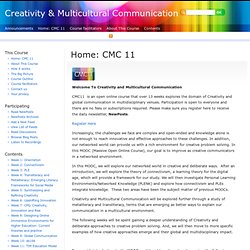 Welcome to the open course on open education. This open course runs over seven weeks and is focused around the subject of openness in education. It brings together students who are studying the Open University Masters-level course H817 Openness and innovation in elearning 59 [ Tip: hold Ctrl and click a link to open it in a new tab. ( Hide tip 60 ) ] (of which this is one of four blocks) and open, informal learners. The course operates an activity-based pedagogy, so within each week there will be approximately four activities: in these you will typically be expected to read some material (or view some other media), perform an activity and create a short blog post. It is through the process of sharing the outputs of these activities through blogs and forums, and reflecting on the experience of other learners that learning occurs for much of this course.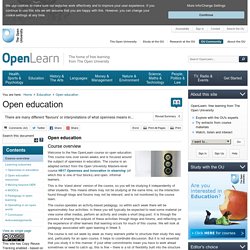 Welcome to Ireland's first MOOC! The Irish Prime Minister, An Taoiseach, Enda Kenny presents IT Sligo President Terri Scott with a Public Service Excellence Award for our online courses. IT Sligo's first MOOC (Massive Open Online Course), will launch this September and will take the form of a free, six-week online course in Lean Sigma Quality. This MOOC is completely free and, as well as allowing you to learn about Lean Six Sigma, will give you a glimpse of what online learning from IT Sligo is like. What does this course cover?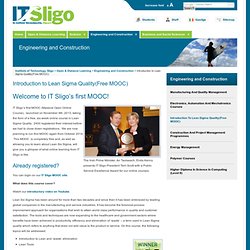 Open & Distance Learning » Introduction to Lean Sigma Quality(Free MOOC)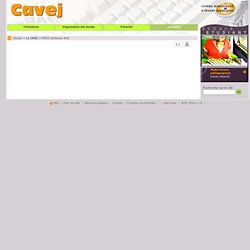 Thème : Le droit des sociétés français - les structures de l'entreprise Durée : 6 semaines - démarrage le mercredi 18 septembre 2013 Semaine 1 - Le contrat de société / la société unipersonnelle / les autres statuts (auto-entrepreneur, EIRL, association, etc.) Semaine 2 - Les règles fondamentales La personnalité morale, les droits des associés, la situation des salariés Semaine 3 - Les grands mouvements du droit des sociétés L'intérêt de l'entreprise, le statut des dirigeants, la responsabilité sociale et environnementale (RSE) Semaine 4 - Les grands types de sociétés : sociétés de personnes et sociétés de capitaux SARL - SA - SAS - SCI - Coopératives - autres types de sociétés
L'UNIGE intègre l'univers des MOOCs - SERVICE DE COMMUNICATION
Investie dans l'enseignement en ligne depuis plus de 10 ans, l'UNIGE se lance aujourd'hui dans la production de "MOOCs". Ces "Massive Open Online Courses" sont des cours en ligne gratuits destinés à une très large audience. Faisant appel à la participation des étudiants, ils utilisent des outils au service d'une pédagogie participative (exercices, quizz en ligne, évaluation par les pairs, forum). Ainsi, la charge de travail du côté de l'enseignant n'est pas proportionnelle au nombre d'étudiants.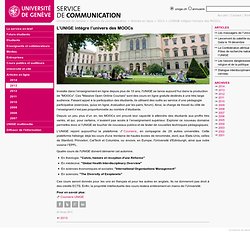 La première édition du MOOC est complète, avec 3600 étudiants, nous avons atteint le maximum technique de la plateforme. Mais en vous pré-inscrivant ici vous serez premier informé(e) d'une prochaine édition. .. ou, pour en savoir plus voici la réponse aux questions les plus fréquentes : Qui délivrera le certificat de réussite ? L'École Centrale de Lille, grande école d'ingénieurs généraliste, établie en 1854. Il s'agit d'un certificat, pas d'un diplôme.
Knight Center for Journalism in the Americas
MOOC Emprendimiento
The Summer of Learning | Aquent/Vitamin T
We're doing a MOOC! To be more specific, we're doing a . A MOOC is a based on the learning theory of connectivism.
Blog Archive » Games Based Learning MOOC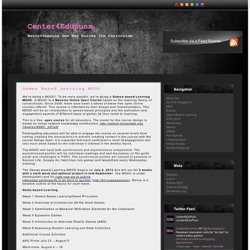 Current/Future State of Higher Education - An Open Online Course
The project will design, deliver and evaluate an 8-10 week Open Learning Design Studio MOOC (Massive Open Online Course) focusing on the theme of curriculum design with OERs, to be held in early 2013. Open to individual educators from across the UK HE , FE , and community and skills sectors, the MOOC will aim: to increase the uptake of OERs through embedding the use of curriculum design tools, practices and approaches in individual practice and design team culture; to empower practitioners to become change agents in their local contexts; and to produce a collection of CC-licensed OER resources for wider use after the MOOC ends. Weekly activities will feature a range of presenters with a focus on foregrounding successful JISC and HEA funded UK projects and giving UK practitioners access to (and opportunity to learn from) some of the best of European initiatives.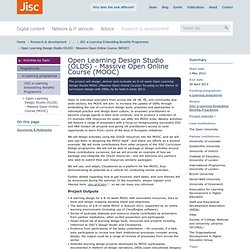 Open Learning Design Studio (OLDS) - Massive Open Online Course (MOOC)
MOOC catalog
Course: bonkopen2012: Instructional Ideas and Technology Tools for Online Success
So I have found my way to the end of the course. Below are the links to my blog postings for this course. I have loved this course from the moment I was sent the link to it. The syllabus promised an interesting mix between theory and practical.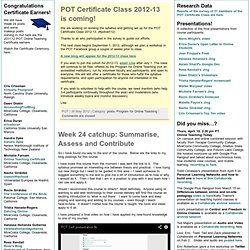 Pedagogy First!
First Steps into Learning & Teaching in Higher Education: 21 May – 22 June '12 | #fslt12 The Open Line mooc – HEA/JISC/Oxford Brookes University
Read the final report here (pdf) . Also available on the HEA project website . Dissemination outputs for the project can be found here . First Steps will run again as an Open Online Course from 8 May – 14 June 2013.
This is the P2PU Archive. If you want the current site, go to www.p2pu.org! Managing Election Campaigns - Mar 2010 Members Summary
Managing Election Campaigns - Mar 2010
The Georgia Tech MOOC | A Massive Open Online Course
EpCoP MOOC - network space for the eportfolios massive open online course