Couleurs
Liste des couleurs Pantone et de leurs équivalents RVB, Hexadécimal et LAB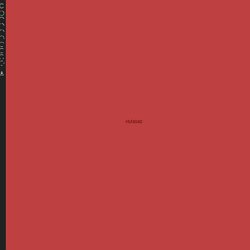 Die Nutzung unserer Webseite ist in der Regel ohne Angabe personenbezogener Daten möglich. Soweit auf unseren Seiten personenbezogene Daten (beispielsweise Name, Anschrift oder eMail-Adressen) erhoben werden, erfolgt dies, soweit möglich, stets auf freiwilliger Basis. Diese Daten werden ohne Ihre ausdrückliche Zustimmung nicht an Dritte weitergegeben. Wir weisen darauf hin, dass die Datenübertragung im Internet (z.B. bei der Kommunikation per E-Mail) Sicherheitslücken aufweisen kann. Ein lückenloser Schutz der Daten vor dem Zugriff durch Dritte ist nicht möglich.
. Sur la demande de plusieurs clients et stagiaires, les consultants-rédacteurs de Trinity Advise se sont mobilisés pour vous proposer un dossier complet sur les codes couleurs web et la signification des couleurs pour Internet. Vecteurs de cohérence graphique, les couleurs dictent de nombreux comportements à l'inconscient de l'internaute. Elle génèrent des réactions et des émotions que nous ne savons pas concrètement évaluer et chiffrer en e-marketing, sauf avec les nouveaux outils de test d'ergonomie web (eye tracking, mouse tracking, neuromarketing). Comment sont perçues les couleurs sur Internet, quel est leur impact sur la navigation et comment influencent-elles les internautes dans le tunnel d'achat ? Voici quelques explications issues de nos travaux de recherche, qui permettront d'apporter des éclaircissements sur ce sujet..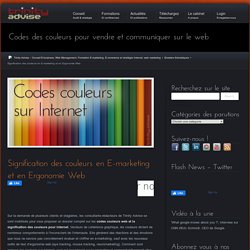 Signification Couleurs Internet : codes couleurs web et contrastes - Outil de sélection de couleurs - Trinity Advise
4096 Couleurs · 4096 Couleurs · 4096 Couleurs · 4096 Couleurs · 4096 Couleurs · 4096 Couleurs · 4096 Couleurs · 4096 Couleurs · 4096 Couleurs · 4096 Couleurs · 4096 Couleurs affiche la liste | cache la liste Survolez le carré pour changer la saturation (de gauche à droite) et la luminosité (de haut en bas) de votre teinte. Avec le clavier, faites tourner la roue chromatique :j doucement, dans le sens antihoraire,k vite, dans le sens antihoraire, etl doucement, dans le sens horaire.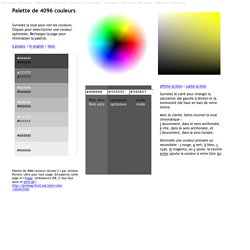 Color Palette Generator
Color Palette Generator URL of image: Make color schemes.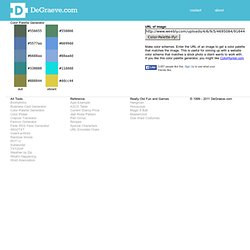 #860f0f color hex
It is a tool for checking foreground and background color combinations of all DOM elements and determining if they provide sufficient contrast when viewed by someone having color deficits. All the tests are based on the algorithms suggested by the World Wide Web Consortium (W3C). Read more...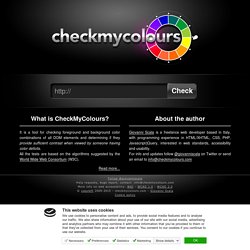 This color schemer is a simple tool to help you experiment with various color schemes for your next web or print project. Click around within the shaded box to set the saturation and brightness, or within the rainbow to set the hue. You can also enter a particular value directly into one of the boxes.