FEEDBACK
Get feedback/support queries and conduct short targeted surveys from visitors on your website - WebEngage. Choose A Plan That Fits Your Needs. Chat Agents are members of your team who can chat with your visitors.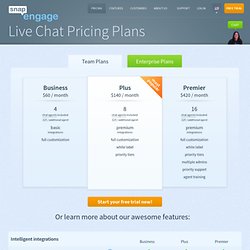 Each agent account is associated with an email address. Extra agents are $25 per month per additional agent, and there's no limit! So add as many as you need. With a click of a button, (okay, two buttons) transfer a chat to another agent, support tier, or department. Choose an appropriate plan. / UserEcho. How does the 15-day free trial work?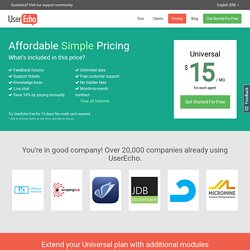 The 15-day trial provides you with a test any of our paid service plan. The 15-day trial is absolutely free - no billing information is required. At the end of the 15-day period, we will automatically limit your subscription to the free package, unless you've made payment to stay with the paid plan. Special offer. Up to 45% of leads convert! - Kampyle. Concept Feedback | Get Expert Website Feedback and Increase Conversions. Get Satisfaction | Customer Community Software - Love your Customers.
UserVoice - Customer Feedback and Helpdesk Solutions. Help Desk Software | Support Ticket System | Zendesk.com. Tirez parti de votre capital client avec notre suite SocialCRM. Génération SaaS Applications robustes en mode SaaS, pour supporter la relation client dont vous avez besoin et évoluer avec votre mode d'organisation.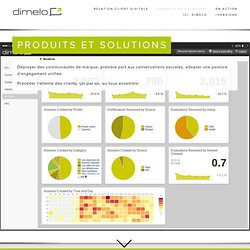 Engagement de performance. SuggestionBox.com — Customer Feedback Management Solution & Community Collaboration Platform.
---