French
Du lundi au vendredi, Jean-François Coulomb des Arts décrypte pour vous toute l'actualité SNCF et invite un ou plusieurs experts à commenter les sujets à la Une. Cette émission, entièrement conçue en mode « talk », fait également intervenir les correspondants en région sur des questions de fonctionnement de SNCF, ses services, le règlement des incidents, ou encore la régulation du trafic ferroviaire. Sans oublier le point détaillé du trafic sur l'ensemble du réseau SNCF, toutes les 5 minutes.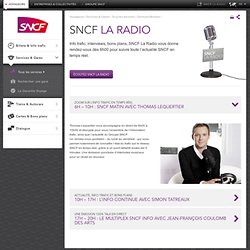 la radio
French expressions you won't learn at school -- Expressions françaises en Anglais
Learn to speak a new language (English, Spanish, Italian, Chinese...)
French Proverbs Dictionary | Language Realm
French proverbs offer insight into French culture, history, and society, and are often used in speech and writing. There is no substitute for knowing them, and if you can use them in yourself, so much the better.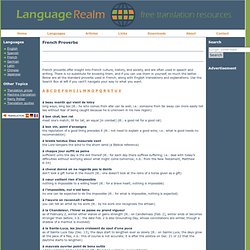 French