French
Restez informés sur vos conditions de voyage, même en situation de mobilité. SNCF La Radio diffuse des flashs régionaux sur l'état du trafic SNCF toutes les 15 mn, une programmation musicale éclectique, et des chroniques. Vous avez envie de détente et d'évasion?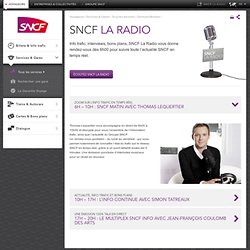 la radio
French Proverbs Dictionary | Language Realm
French proverbs offer insight into French culture, history, and society, and are often used in speech and writing. There is no substitute for knowing them, and if you can use them in yourself, so much the better.