RADIO
Podcast. Here & Now. Home - Studio 360. Welcome To My World | A radio show by and for people with disabilities. Welcome to our blog! Fragile Freedoms. NCRA. 95.7FM - THE RIDE. Canadian Sound & Story Workshop | A community for independent audio storytellers and producers. Public Radio Exchange. Atlantic Public Media. Third Coast International Audio Festival :: Library. Story Workshop Fall 2011: Pieces. December 7th, 2011 For seven weeks, students from all over the US (plus Canada and Australia) came to Woods Hole to immerse themselves in radio.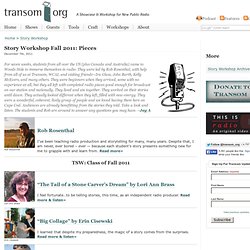 They were led by Rob Rosenthal, with help from all of us at Transom, WCAI, and visiting friends—Ira Glass, John Barth, Kelly McEvers, and many others. They were beginners when they arrived, some with no experience at all, but they all left with completed radio pieces good enough for broadcast on our station and nationally. They lived and ate together. They worked on their stories until dawn. New York Festivals Awards - International Radio Programs and Promotions. Independentmedia.ca: a directory of non-corporate journalism. World Cafe. The Takeaway. RadioWest. Human Media. The Link Africa. Hearing Voices. Home - Radiolab. Little Atoms. KPFK 90.7 FM. CKDU 88.1 FM. KEXP. Radio Regent - Home.
Evanov Radio Group. Seaside FM - Halifax. The Coast 89.7 FM - Home of the VIP. News 889. Saint John, NB. You're Tuned to Battery Radio. CKUA Radio Network. Mushroom FM - The home of the Fun guys. Canadian Web Radio. CBC. Ideas. Out of Their Minds. Kuchenbecker / Russo The largest organ on the human body is the skin.
And yet, for some reason, our sense of touch is often overlooked. In this episode we meet two forward-thinking inventors, who are working to make better use of the sensory receptors in our skin Dr. SOUNDPRINT Media Center, Inc. Homelands Productions :: Chris Brookes. Chris Brookes is an independent radio producer whose programs have been heard in the US, Ireland, Australia, New Zealand, England, The Netherlands, and Canada.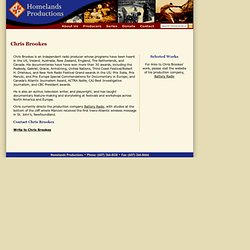 His documentaries have have won more than 30 awards, including the Peabody, Gabriel, Gracie, Armstrong, United Nations, Third Coast Festival/Robert H. Driehaus, and New York Radio Festival Grand awards in the US; Prix Italia, Prix Marulic, and Prix Europa Special Commendations for Documentary in Europe; and Canada's Atlantic Journalism Award, ACTRA Nellie, CAJ Best Investigative Journalism, and CBC President awards. He is also an author, television writer, and playwright, and has taught documentary feature-making and storytelling at festivals and workshops across North America and Europe.
Chris currently directs the production company Battery Radio, with studios at the bottom of the cliff where Marconi received the first trans-Atlantic wireless message in St. Terry O'Reilly. Tasting Room Radio | Terry David Mulligan. This American Life. Coast to Coast AM.
---