RADIO
New Thinking On Women And Alcohol There's a growing school of thought that there are problem drinkers who can cut back, as opposed to severely dependent drinkers who must cut out drinking altogether. 'Brutal Massacre' Of Civilians Unsettles Western Agencies In Afghanistan International workers in Afghanistan are wondering if it's safe to stay on in the country, after a suicide bomb targeting foreign civilians killed 13 people, including two Americans. Syrian-American Rapper Focuses On Violence In Syria Omar Offendum, the 31-year-old Syrian-American rapper who made a song about the Arab Spring called #Jan25, is now focusing his music on his parents' home country of Syria.
Here & Now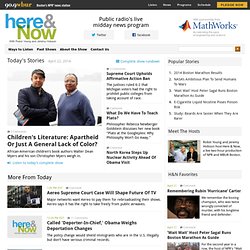 Welcome To My World | A radio show by and for people with disabilities. Welcome to our blog!
Fragile Freedoms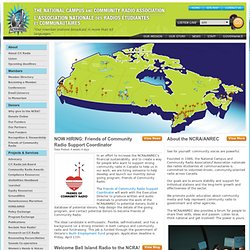 NCRA
The founding of the NCRA's latest member, Radio Bell Island, is something to compare to a beautiful love story. The overwhelming success of a one week special broadcast in 2011 effected the community so much, and in such a positive way, that it was decided this way to share stories, news, music, and more, had to stay. In March 2012 another special broadcast occurred that was even more successful than the last, thus firmly cementing Radio Bell Islands' roots in the community. Shortly after it was licensed by the CRTC, fundraised and built a station, and officially began broadcasting on January 28th, 2013. For the full story, click on the title of this post.
95.7FM - THE RIDE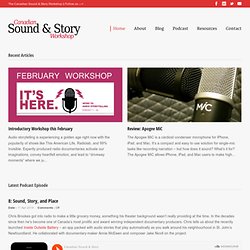 Canadian Sound & Story Workshop | A community for independent audio storytellers and producers.
This episode of Sound Sausage features a piece about a male nude model named Buck. Hosts Kelly Jones and Sean Rasmussen speak with guest producer Andrew Norton about the making of the piece, and about his experience at the Transom Story Workshop in Cape Cod. We also talk about working with editors, voicing, and finding stories. Andrew Norton is a multimedia producer from Toronto. He has produced radio for places like 99% Invisible, NPR and makes a monthly podcast for Greenpeace Canada where he is also the full-time audio/video guy.
Atlantic Public Media
Third Coast International Audio Festival :: Library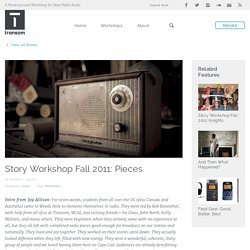 December 7th, 2011 For seven weeks, students from all over the US (plus Canada and Australia) came to Woods Hole to immerse themselves in radio. They were led by Rob Rosenthal, with help from all of us at Transom, WCAI, and visiting friends—Ira Glass, John Barth, Kelly McEvers, and many others.
Story Workshop Fall 2011: Pieces
New York Festivals Awards - International Radio Programs and Promotions
independentmedia.ca: a directory of non-corporate journalism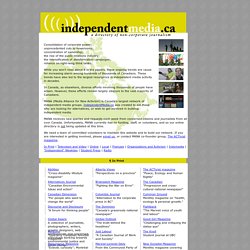 Consolidation of corporate power; unprecedented cuts to newsrooms; concentration of ownership;the rise of the public relations industry; the intensification of disinformation campaigns; reliance on right-wing think tanks. While you won't read about it in the papers, these ongoing trends are cause for increasing alarm among hundreds of thousands of Canadians. These trends have also led to the largest resurgence in independent media activity in decades. In Canada, as elsewhere, diverse efforts involving thousands of people have arisen.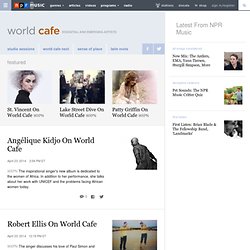 World Cafe
WXPNA five-piece band from Brooklyn, Lucius is led by two singers, Jess Wolfe and Holly Laessig, who met at Berklee College of Music in Boston. They crafted their unique vocal sound over the decade they've worked together, and now even dress alike. WXPNThe band's debut album is full of stately folk-pop music. But its arrangements also owe a lot to songwriter Ellis Ludwig-Leone's classical roots, as well as his work with arranger Nico Muhly.
Edit Bucket Wednesday, January 15, 2014 The End of Equal Internet Access? A federal appeals court has invalidated key provisions of the government's net neutrality rules. In a 3-0 decision, the court ruled that the FCC overstepped its regulatory authority in issuing a 2010 order that barred broadband carriers from blocking or slowing certain websites.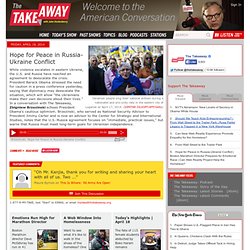 The Takeaway
For most of her life, NPR correspondent Margot Adler didn't give much thought to vampires. She'd read a couple books and seen a couple movies. But it wasn't until her husband was diagnosed with terminal cancer that Adler became obsessed with vampires. Adler has now read hundreds of vampire novels and is regarded as something of an expert on the subject.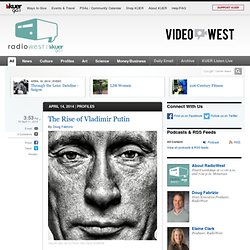 RadioWest
Human Media
Simangele Mabena. Earlier this week, Awa Dlodlo introduced us to a Canadian grant recipient who hopes to influence policy makers in Africa. Today, she joins Marc Montgomery to talk about another achiever, a young South African woman who won a prestigious Sauvé Scholarship. http://www.sauvescholars.org/en The Africa Initiative has awarded 15 research grants to Canadians and Africans. The research will focus on solving challenging issues faced by African countries including conflict resolution, energy, food security, health and migration, and climate change. Our Link Africa reporter, Awa Dlodlo spoke with one of the grant recipients.
The Link Africa
Hearing Voices
Little Atoms
KPFK 90.7 FM
CKDU 88.1 FM
KEXP Features 14th Annual Expansions MLK Unity Party On Sunday, January 19th, join KEXP's Expansions crew, DJ Riz, Masa and Kid Hops for the 14th Annual Expansions Martin Luther King Unity Party at Columbia City Theater. 21+ Tickets on sale now. \\\ MORE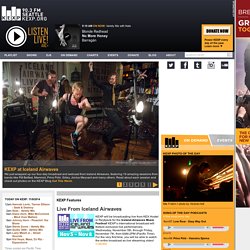 Radio Regent - Home
November 28, 2013 As an increasing effort to better the station and to resolve server downtimes, Radio Regent has moved to a new reliable linux server on Shoutcast. Radio Regent will soon be found on internet streaming directors across the web. Those listening via mobile using the TuneIn app: please stay tuned we shall have you reconnected shortly. November 26, 2013
Evanov Radio Group
Seaside FM - Halifax
Seaside-FM is a community based not-for-profit radio station based in Eastern Passage, Nova Scotia, staffed by volunteers. The Seaside broadcast crew boasts both those from the professional broadcast industry and members from within our community. We feature a wonderful selection of easy listening favourites from yesterday and today, as well as, an enviable collection of music from some of Atlantic Canada's existing and rising musical stars.
The Coast 89.7 FM - Home of the VIP
News 889. Saint John, NB
You're Tuned to Battery Radio
CKUA Radio Network
Mushroom FM - The home of the Fun guys
Canadian Web Radio
Ideas
Out of Their Minds
SOUNDPRINT Media Center, Inc.
Homelands Productions :: Chris Brookes
Terry O'Reilly
Tasting Room Radio | Terry David Mulligan