MY NEWS
MercatorNet: promoting human dignity. News - Frank151 - A Distinctive Mix of Exclusive and Unvarnished Content. BORGEN - Humanity, Politics & You. Television News Archive. Capitalbay Information Portal - Social Portal for Top News & World News. Welcome to Examiner.com | Examiner.com. Dispatch Online. RSA - Enriching society through ideas & action. Family Matters. Media Co-op | HLFX VAN MONTR TOR. The Province | Latest Breaking News | Business | Sports | Canada Daily News. The Moose's Mouth. OUR TIMES | Canada's Independent Labour Magazine. Gothamist: New York City. Scottish Left Review - Current Issue. The Greanville Post. The Times Of India. China Digital Times. Mondoweiss | The War of Ideas in the Middle East. Amauta | La Revista Independiente de Costa Rica. Baltimore's Good News. The New York Times - Breaking News, World News & Multimedia. NY: The Village Voice. CharlotteObserver. The Nation.
Transition Culture. Retro Report | The truth now about the big stories then. ALJAZEERA. Rio de Janeiro, Brazil - The songs of the Yawanawa tribe have an honesty that seems to penetrate the soul.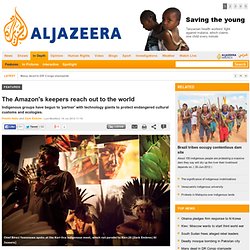 Adorned in impressive head dresses, the tribal leaders who arrived from Acre, in the Amazon rainforest, home to the world's richest ecosystems, ushered in the spirits to commence the tribe's annual festival. It is a rare occurrence to witness Yawanawa rituals in the modern metropolis of Rio, thousands of miles away from the home of the tribe - a parallel universe to the burgeoning metropolis. But over the final days of June, a few members of the remote community led the celebration in the outskirts of Rio on a piece of open land with rich foliage, which came close to resembling their ancestral home.
The Onion. The Consumerist. MadCow Morning News. Common Dreams. Truthdig: Drilling Beneath the Headlines. Veracity Stew. OpEd News. The Real News Network. Independent Media Center. - 19 May 2012 A BUILDING IS NOT ENOUGH: Occupying a Skyscraper for Art Hundreds of people are blocking a street in Milano protesting for the eviction of a skyscraper of 32 floors they were occupying. Torre Galfa, near Stazione Centrale, has been taken the 5 of May by Macao , a group of artists, video makers, journalists, immaterial workers to make a new arts center, to strengthen relationships between art and society and protest against abandoned buildings. The tower, quite new, was abandoned since 1996 in a town were many new skyscrapers are built for the Expo 2015 and nobody knows if they will ever be used. For 8 days thousands of people came in Torre Galfa, a huge space freed for performances, lectures, workshops, ideas, and also where everybody restlessly worked to make the place safe and warm.
WHO WHY WHAT. Cryptome. The Raw Story. Truthout. Alter Net. Orange news.
---