BLOGS
The Hooded Utilitarian. Sheep Gal. Let me tell you about lambing season.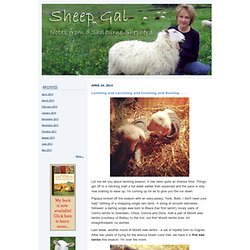 It has been quite an intense time. Things got off to a rolicking start a full week earlier than expected and the pace is only now starting to ease up. I'm coming up for air to give you the run down. Papaya kicked off the season with an easy-peasy, "look, Barb, I don't need your help" birthing of a strapping single ram lamb. Danah boyd | apophenia. Last week, I wrote a provocative opinion piece for Quartz called "Is the Oculus Rift sexist?"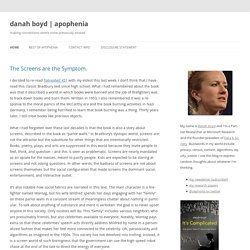 I'm reposting it on my blog for posterity, but also because I want to address some of the critiques that I received. First, the piece itself: Is the Oculus Rift sexist? In the fall of 1997, my university built a CAVE (Cave Automatic Virtual Environment) to help scientists, artists, and archeologists embrace 3D immersion to advance the state of those fields. Ecstatic at seeing a real-life instantiation of the Metaverse, the virtual world imagined in Neal Stephenson's Snow Crash, I donned a set of goggles and jumped inside. Robert's Sister: Articles. Saturated Canary. Gone with the Family. One of the things that I love about Instagram is scrolling through photos of quirky things that people stumble upon.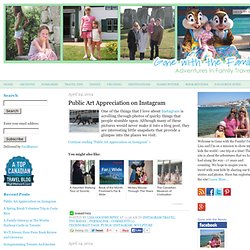 Although many of these pictures would never make it into a blog post, they are interesting little snapshots that provide a glimpse into the places we visit. Continue reading "Public Art Appreciation on Instagram" » This is a guest post by my 17 year-old daughter, Katie Prestage (with editorial assistance from her teacher Ms. Christy Meagher), about her spring break volunteer trip to Costa Rica. Kerry Callen's Blog! Understanding Society. Permanent Culture Now | The Funambulist | architectural narratives. Tomorrow started | a visual collective outlet of inspiration. The Stories | Canadian Ultimate Ride. Vlog 4.0 [a blog about vogs] | video blogging, et al. A common scenario witnessed this week in classes with media students.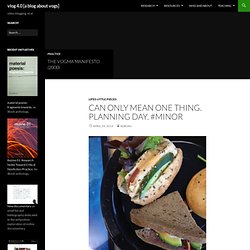 They add stuff to a new project in Korsakow, add keywords, do lots of building, and then go to save their project. The program doesn't like that. Auxiliary Memory | Things I want to remember – James Wallace Harris. My Website | Just another WordPress site. In My Skin. View all images These images are from a project called In My Skin about young people under 25 in the UK who are challenging their body image.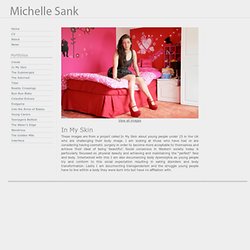 I am looking at those who have had or are considering having cosmetic surgery in order to become more acceptable to themselves and achieve their ideal of being 'beautiful'. Social consensus in Western society today is particularly focussed on physical beauty and achieving and maintaining the "perfect" face and body. Intertwined with this I am also documenting body dysmorphia as young people try and conform to this social expectation resulting in eating disorders and body transformation. Lastly I am documenting transgenderism and the struggle young people have to live within a body they were born into but have no affiliation with. Power, privilege, and everyday life. A Town Square | Conversations About Where We Live. Guys With Fancy Lady Hair. ...others are temporary and afternoon altering and reveal the sweet juxtaposition of a perfect chignon against the unkempt neck hair of a dude.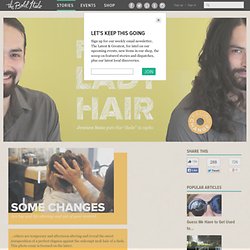 This photo essay is focused on the latter. So many men spend years getting their manes all long and for what? To be occasionally bundled into a low ponytail? The Stories | Canadian Ultimate Ride. St. John's Wort - Pointlessly Aggravating British Beer Writers Since August 2013. The Wooden Spoon - my blog about vegetarian food and yoga. Documenting Delight - The Wooden Spoon - my blog about vegetarian food and yoga. Greenfroggyfae | Just another WordPress.com site. A Private Hiking Wedding: Jordan & Michael. Jordan & Michael wanted a wedding that truely reflected them and the things they love, so they grabbed their children and were married in private on top of a mountain in Canada.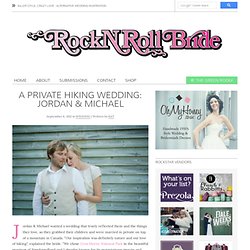 "Our inspiration was definitely nature and our love of hiking", explained the bride. "We chose Gros Morne National Park in the beautiful province of Newfoundland and Labrador known for its mountainous terrain and unbelievable views. Boys Clubs. Everyone involved with Boombotix, which recently tried to apologize for making a fat-shaming ad about an overweight cyclist. 10:41 pm • 14 April 2014 • 11 notes The National Council and Board of the New Zealand Automobile Association. 6:54 am • 4 April 2014 • 8 notes All the members of PEERS Network, a philanthropic group with "some of the most exceptional business and community leaders in the Southern California area."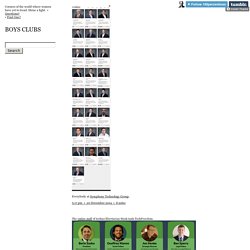 Mother of a Hubbard - Gluten Free, Four Season Gardening. Brittany, Herself. This Can't Be Happening. The Ultimate London Blog. TwistedSifter. TinkerbellaUSF. Get A Life, Vivienne Westwood. Two Eyes in the Mirror. Thoughtsontheatre. Not Without Salt - recipes, photographs and projects for joyful living. Eat. Laugh. Love.
I've been asked the question: "if you could only eat one food for the rest of your life, what would it be?"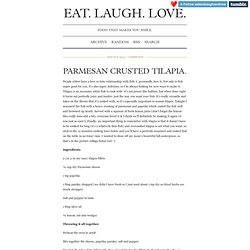 Many times, and my answer is always pizza. When you add pretty much any topping to dough, tomato sauce and cheese I feel like you really can't go wrong. I wanted to do something a little different with this pizza, but nothing too crazy because I knew I was cooking for the fam & they aren't too big on adventurous eats (no blue cheese or honey drizzle here). Not Your Average Gift Shop Indian. Catherinecronin. Kerry Callen's Blog! Contradictory Youth. Me and my imagination. The art of dawn rogal. Fighting Fuck Toy Blog | Just another WordPress.com site. Penny Red.
Nikki Doughnuts. Kate or die! Partofanunbalancedbreakfast: fantasticgirlreadscomics: Once upon a time Matt and Chip made a beautiful cover for the 4th printing of issue #1 of Sex Criminals.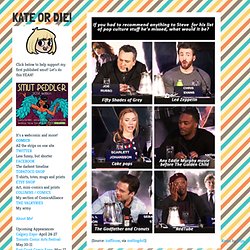 This beautiful cover captured the imagination of brimpers everywhere, including myself and my lovely coworker Heather (@girlblunders). The situation has since escalated nicely.Welcome to Brimpception! This is beautiful, and I hope that fourth picture becomes a future Sex Criminals cover someday. Bliss. Sang Bleu. The life academic. Littleyellowdoor. Kristin & Kayla | A photo journal of 2 sisters. The Hindsight Letters. Certified Doula | Ness Fraser. You look fabulous my dear! NO NO COCO. Ozetta | handmade. Liberty London Girl. About A Beautiful Mess. Welcome to A Beautiful Mess! We're Elsie Larson and Emma Chapman. We're sisters. Together we own A Beautiful Mess, a women's lifestyle company focused on creating happiness every day through a homemade lifestyle. On this blog we share home decor projects, recipes, and crafts, as well as bits of our life here in Missouri.
In addition to writing A Beautiful Mess, we created a bestselling photo editing app (also called A Beautiful Mess) and we teach online classes at Shop A Beautiful Mess. Thoughts on zizecology - 2. There are two primary axes of political conflict in Kim Stanley Robinson's incomparable Mars trilogy: first, the expected (almost generically required) question of independence vs. interdependence with regard to the mother planet, Earth, which is really a question about Utopia and enclavism that is concretized in the fierce battles over the space elevator; and second and more relevant for my purposes today is the fierce break between the Red Martians and the Green Martians. The Greens believe the planet should be terraformed so as to inhabitable by humans without mechanical assistance, a technical problem that clumps around issues of surface temperature, atmospheric composition and density, and unpredictable climactic feedback mechanisms; the Reds believe the planet should be left as pristine as possible, whether because this is the only way it can be properly studied or because the otherwise dead rock is seen by some Reds to have a kind of mystical vitality all its own.
Love the Pudge. Sad Stuff on the Street. Tattoo Confidential. Born This Way: Telling Childhood Photos from Gay and Lesbian Adults -... Meet my mug. Sundaysmile. ROMANCE BLOG. SpaGoddess Speaks. Unhealthy Vegan. An Apology (with pictures) « Italy in Food. Food.music.life. Oh She Glows. Say No to Trash | Attempting to eliminate our household garbage production. Refuse refuse! Your Trash Goes Here. Empire of Scrounge. Survival Blog. All About Cities. Our Downsizing Story. Buy Nothing Year | A life experiment in not buying shit. LYNETTE BLOG « The World As I See It, My Life As It Happens. Activist Teacher. Phenotypic Expression. Brandi's Blog...c'est une vraie histoire. And everywhere in between. The Next Chapter - Jessica Randall.
Michelle Leudy - Photography. GABIFRESH. Lockett's Eyes | Showing others What I See. Thomas.stewart.photography | It's photography. By Thomas Stewart. ::: The Travel Photographer ::: Loving the Lack - Blog. Jane Against The World. D i a p s a l m a t a - WHITTNEY TRETTIEN. Soulumination. ZEN HABITS. Copyranter. Vacant ponderings | Where the weird has a name and refuses to be called Betty…
---