Down
Big Fluffy Curls. Prom Hairstyle Ideas - How Should I Wear My Hair for Prom. How to Get the Look:Step 1: Mist your hair all over with a heat-protectant spray while it's damp, then blow-dry it and part it on your right side.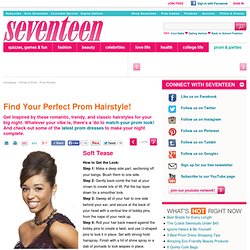 Step 2: Separate a three-inch section of hair one inch back from your hairline, and crimp it from root to ends (closing the iron for four seconds each time). Step 3: Pull your hair back, and loosely secure it with an elastic. Wrap your hair around itself, then pull is through the elastic again. Step 4: Mist your style from 10 inches away with a high-hold aerosol hairspray to set it. Prom Hairstyle Ideas - How Should I Wear My Hair for Prom. How To Style a Fishtail Braid. We love the look of fishtail braids!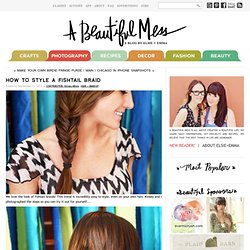 This trend is incredibly easy to style, even on your own hair. Kinsey and I photographed the steps so you can try it out for yourself... Here's how to style a fishtail braid... 1. Part your hair into two even sections. 2. Hair Tutorial: The Perfect Mermaid Curls. Although "perfect" is a relative term, this method for curling hair is pretty much perfect by my standards, mostly because it isn't fussy.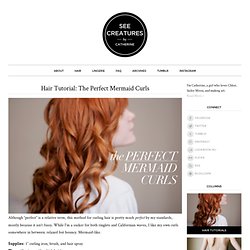 While I'm a sucker for both ringlets and Californian waves, I like my own curls somewhere in between: relaxed but bouncy. Mermaid-like. Supplies: 1″ curling iron, brush, and hair sprayTime: 45 minutes (for thick hair) All of the magic happens with Revlon's "Helen of Troy" ceramic 1″ curling iron. For those who have long, thick hair like me, you might find that larger curling barrels produce the most pathetic excuse for "waves" that fall out within the hour, regardless of the amount of hair spray.
---