Software
Pageflip flash gratuit en ligne | technologies
Microsoft Office Online - Word, Excel, and Powe
Free Office Software, Kingsoft Free Office Suite 2012
Kingsoft Office Suite Free 2012 is an alternative for Microsoft Office | technologies
Sleep Preventer 1.3 - Windows | technologies
XtLearn.net - Welcome to XtLearn
From an experienced travel.. That get's easier. Obviously your american iPhone (presumption) will be locked to AT&T or have a crazy ridiculous CDMA setup. But if you find yourself in a foreign country more than twice a year.. grab yourself a pay and go 3g wifi thing to keep in your backpack thing.. Pay local rates for data, and still use voip or roaming to call home.
Vocre Turns Your iPhone Into a Near-Instant Universal Speech Translator
Upload & Share PowerPoint presentations and documents | technologies
Triptico Desktop Resources
Video – Voting Resource | Triptico
New Voting Resource | Triptico
Student Selector – Update | Triptico
Train and Teach with Game Show Presenter PLUS
Game Show Presenter PLUS makes it even more fun to pay attention! It makes your training sessions, classroom reviews and presentations more effective because it motivates people to pay attention. It has more quiz formats. More music and character options. And more flexibility to support learning in a fun format.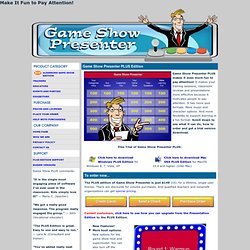 SLOOH Space Camera - Live Events | technologies
PDF to Flash
Online Stopwatch
Nitro PDF Reader
Nitro PDF Software has released version 2.0 of the popular free PDF editor/creator software, Nitro PDF Reader. Available in separate 32-bit and 64-bit builds; Note: previous 1.x versions were classed as beta. PDF Reader 2.0 offers PDF... conversion; creation; and editing tools in addition to its basic viewing capabilities.
Nitro pdf gets even better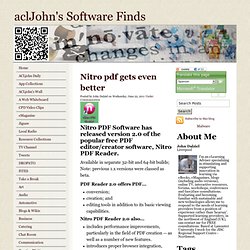 New Feature Log | Prezi Learn Center
Multimedia Learning Resources - Educaplay | technologies
Higher education is jumping into the cloud with both feet. According to a new report by the Campus Computing Project , 89% of higher ed currently uses or is actively consider cloud services. I found that figure quite startling as I hadn't thought that many schools were moving into the cloud just yet.
Higher Ed's Ultimate Guide To Cloud Computing
Google Swiffy | technologies
GCompris
Free Flash Resources for Teachers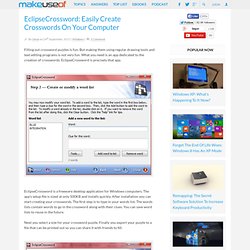 Filling out crossword puzzles is fun. But making them using regular drawing tools and text editing programs is not very fun.
EclipseCrossword
CourseSites
Compendium Institute Mindmap+
calmCounter