Software
Pageflip flash gratuit en ligne | technologies
Microsoft Office Online - Word, Excel, and Powe
Free Office Software, Kingsoft Free Office Suite 2012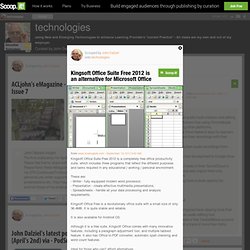 Kingsoft Office Suite Free 2012 is an alternative for Microsoft Office | technologies
Kingsoft Office Suite Free 2012 is a completely free office productivity suite, which includes three programs that reflect the different purposes and tasks required in any educational / working / personal environment. These are:- Writer - fully equipped modern word processor;- Presentation - create effective multimedia presentations;- Spreadsheets - handle all your data processing and analysis requirements. Kingsoft Office Free is a revolutionary office suite with a small size of only 36.4MB. It is quite stable and reliable. It is also available for Andriod OS. Although it is a free suite, Kingsoft Office comes with many innovative features, including a paragraph adjustment tool, and multiple tabbed feature.
Sleep Preventer 1.3 - Windows | technologies
You will know how annoying it is when, in the middle of a presentation or showing a video clip, the computer goes to sleep or hibernates because it has been inactive for a while. SleepPreventer is a simple piece of software that can help prevent a PC from going to sleep or hibernating, no matter how long you leave it inactive for. It also prevents a PC from dimming the display and/or starting the screensaver. Once installed, click on the "Prevent Sleep" icon, it overrides whatever default settings your PC may have. Choose it to prevent sleep for a specific period of time like 5 minutes, 1 hour, 2 hours or for infinity.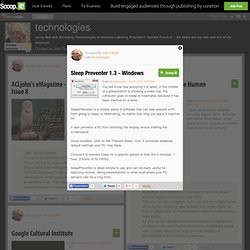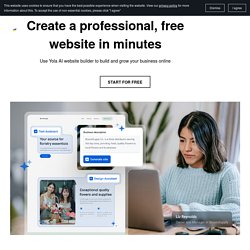 Easy to Use No technical experience required! Make your free website with our easy drag & drop functionality. Everything you need is at your fingertips. Publish Everywhere Expand your reach by publishing your website to mobile phones, Facebook, and the web. Edit in one place, and publish everywhere.
XtLearn.net - Welcome to XtLearn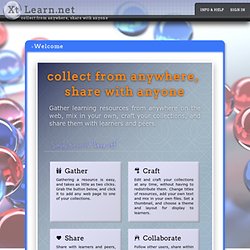 Help for Safari Can't see the bookmarks bar? Just click the View menu, and choose View Bookmarks Bar. Drag and drop the button onto the bookmarks bar You'll then be asked to name it - choose anything you like, such as "Add to XtLearn" or simply "XtAdd". Help for Internet Explorer 17
Vocre Turns Your iPhone Into a Near-Instant Universal Speech Translator
Upload & Share PowerPoint presentations and documents | technologies
Triptico Desktop Resources
Video – Voting Resource | Triptico
New Voting Resource | Triptico
Student Selector – Update | Triptico
Train and Teach with Game Show Presenter PLUS
Game Show Presenter PLUS makes it even more fun to pay attention! It makes your training sessions, classroom reviews and presentations more effective because it motivates people to pay attention. It has more quiz formats. More music and character options. And more flexibility to support learning in a fun format.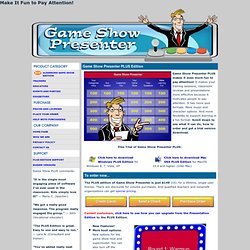 SLOOH Space Camera - Live Events | technologies
PDF to Flash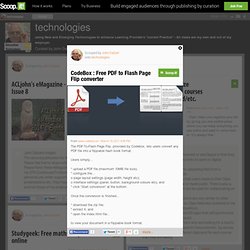 The PDF-To-Flash Page Flip, provided by Codebox, lets users convert any PDF file into a flippable flash book format. Users simply... * upload a PDF file (maximum 10MB file size); * configure the... o page layout settings (page width, height etc); o interface settings (panel, button, background colours etc); and * click "Start conversion" at the bottom. Once the conversion is finished... * download the zip file; * extract it; and * open the index.html file... to view your document in a flippable book format.
Online Stopwatch
Nitro PDF Reader
Nitro PDF Software has released version 2.0 of the popular free PDF editor/creator software, Nitro PDF Reader. Available in separate 32-bit and 64-bit builds; Note: previous 1.x versions were classed as beta. PDF Reader 2.0 offers PDF... conversion; creation; and editing tools in addition to its basic viewing capabilities.
Nitro pdf gets even better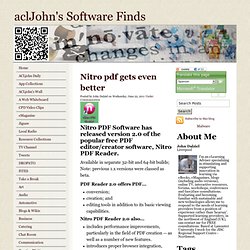 New Feature Log | Prezi Learn Center
Multimedia Learning Resources - Educaplay | technologies
Higher education is jumping into the cloud with both feet. According to a new report by the Campus Computing Project, 89% of higher ed currently uses or is actively consider cloud services. I found that figure quite startling as I hadn't thought that many schools were moving into the cloud just yet. Apparently I was mistaken. Drilling down a bit more, Google has revealed that more than half of those schools involved with cloud computing are either using or considering Google Apps.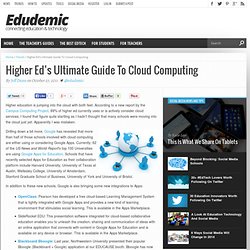 Higher Ed's Ultimate Guide To Cloud Computing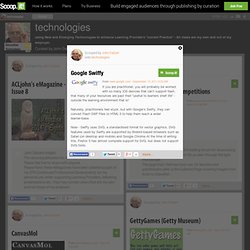 Google Swiffy | technologies
If you are practitioner, you will probably be worried, with so many iOS devices that can't support flash, that many of your resources are past their "usefull to learners shelf life" - outside the learning environment that is! Naturally, practitioners feel stuck, but with Google's Swiffy, they can convert Flash SWF Files to HTML 5 to help them reach a wider learner-base. Note - Swiffy uses SVG, a standardised format for vector graphics. SVG features used by Swiffy are supported by Webkit-based browsers such as Safari (on desktop and mobile) and Google Chrome.At the time of writing this, Firefox 5 has almost complete support for SVG, but does not support SVG fonts.
GCompris is an open source educational games and software suite ideal for Initial Teacher Training (ITT) and Family Learning Practitioners; it contains a wide range of activities aimed at the 2 to 10 year age group. GCompris comprises of over 100 individual games offering various activities such as...- the functioning of the computer,- using the mouse and keyboard,- general learning,- reading,- writing,- foreign languages,- algebra,...as well as various activities such as memory and logic games, scientific experiments etc.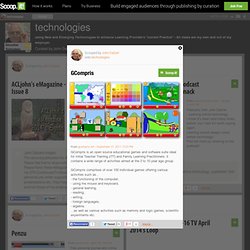 GCompris
Free Flash Resources for Teachers
Looking for some useful Flash resources that can be used on an Interactive Whiteboard. Sandfields School has produced some including clocks and timers plus games such as Who Wants to be a Millionaire. These come as... - downloadable Flash files which can be run offline; and
Filling out crossword puzzles is fun. But making them using regular drawing tools and text editing programs is not very fun. What you need is an app dedicated to the creation of crosswords. EclipseCrossword is precisely that app. EclipseCrossword is a freeware desktop application for Windows computers. The app's setup file is sized at only 500KB and installs quickly.
EclipseCrossword
CourseSites
Want the tools to engage and assess learners-at no cost? CourseSites is a free, hosted online course creation and facilitation service that empowers individual practitioners to add a web-based component to their courses, or even host an entire course on the Internet. Choose a personal URL, so learners can find the page(s) easily. CourseSites provides an interactive course website that allows practitioners to... * post and update course material, * interact with students, * promote collaboration, * assess and improve performance...anytime, anywhere, 24/7. This, with some planning, could be an affordable, solution to "online learning & teaching" for Work-Based Learning Providers, Adult & Community Learning Providers, Voluntary Sector Learning Providers, Individual Practitioners, etc.
Compendium Institute Mindmap+
calmCounter