JISC RSC-NW
Unlimited access to 33,000 video resources now available to UK educators | Jisc
Jisc Digital Media announces spring workshop lineup
Jisc Digital Media | Blog
Jisc Digital Media | Blog
Putting the student at the centre of their learning
Learning technology for English and Maths: an invitation
Social Media for Business and Community Engagement Webinar
Netskills announces Summer workshops
CoLRiC best practice awards
Judging the use of technology in lessons: A tick box or formalized criteria
Announcement for FES-DRP funding
Jisc Digital Festival
Jisc TechDis launch ambassador programme | Jisc
05 Mar 2014 Bookings will soon close for Janet's annual technical conference – Networkshop24. The event takes place between 1-3 April 2014 at the University of Leeds. It gives delegates the opportunity to network with peers, explore developing technologies, meet experts and find out more about Janet services. The varied programme deals with topics addressing the key challenges for the sector.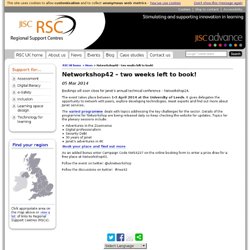 Networkshop42 – two weeks left to book!
Jisc Digital Festival 2014 online programme announced | Jisc
With just one week to go, today Jisc is announcing details of how to follow its Jisc Digital Festival 2014 online. The Jisc Digital Festival, which will be held in the ICC in Birmingham on the 11-12 March 2014, will bring you its highlights, showcasing innovations in higher education (HE), further education (FE) and skills, as well as exploring the future of digital technology from the comfort of your office, home, or on the move. Online participants will be able to follow the event online thanks to Sonic Foundry's Mediasite software which will stream the keynote speakers and expert presentations from the festival's 'Hangout' area.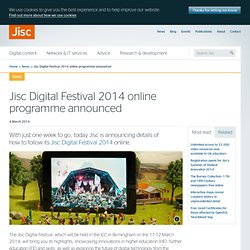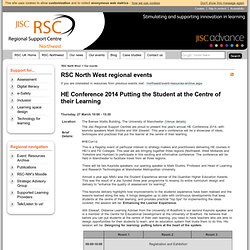 JISC RSC > RSC North West regional events
This is a flagship event of particular interest to strategy makers and practitioners delivering HE courses in HEI's and FE Colleges. This year we are bringing together three regions (Northwest, West Midlands and Yorkshire and Humber) to participate in this exciting and informative conference. The conference will be held in Manchester to facilitate travel from all three regions. There will be two Keynote speakers; our opening speaker is Mark Stubbs, Professor and Head of Learning and Research Technologies at Manchester Metropolitan University. Almost a year ago MMU was the Student Experience winner of the Guardian Higher Education Awards.
JISC RSC > RSC North West regional events
JISC RSC > RSC North West regional events
26 Feb 2014 The Enable project is celebrating and rewarding the use of information and communication technologies (ICT) to support lifelong learning by disabled adults in order to overcome barriers and increase opportunities. There are three different categories and prizes. Disabled person using ICT to support disabled adult learners.Teacher who uses ICT in innovative ways to support disabled adult learners.Developer of new ICT to support disabled adult learners. Read more about the awards and download the nomination form The nomination deadline is 31st March.
Nominations for Enable Awards 2014
26 Feb 2014 Mimas is appealing to learning providers for feedback from users of the Hairdressing Training service The new hairdressing training survey provides you the chance to feedback and provide information on areas you feel need improvement, or simply love about the service. The survey, which will remain open until the13th April should take no longer than 10 minutes, and will really help to make continual updates based on your comments. Complete the survey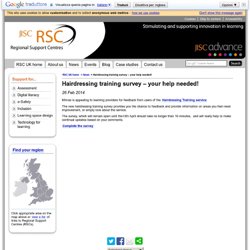 Hairdressing training survey – your help needed!
24 Feb 2014 Jisc Legal has recently published two new documents, Social Media for Staff Legal Checklist, and Social Media Top Tips as part of their continued guidance on the use of social media. The checklist is a short reference guide for universities, colleges and learning providers to ensure risks are recognised and managed appropriately, and the essential top tips will assist institutions manage the use of social media effectively. This accompanies the Social Media for Staff Policy Template, which is already available.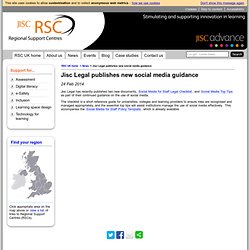 Jisc Legal publishes new social media guidance
Join the conversation: technology in teaching and learning
24 Feb 2014 Whatever your starting point your views are needed about how the technology skills of the learning and skills workforce can be developed. Coralesce Ltd, on behalf of the Education & Training Foundation, invites learning and skills practitioners, technical support staff, managers and governors to join the BIG CONVERSATION about technology in teaching and learning. You can take part by either: Attending one of the focus group events taking place countrywide from 4th -19th MarchSigning up for one of the webinars on 20th MarchCompleting a questionnaire on Survey MonkeyJoining the Twitter chatroom #edufechat The aim of this strategic consultation is to inform the Foundation on this agenda as it develops its Strategic Plan for the next 3 years.
Registration opens for Jisc's Summer of Student Innovation 2014 | Jisc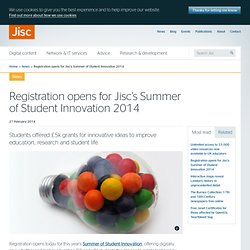 Students offered £5k grants for innovative ideas to improve education, research and student life. Registration opens today for this year's Summer of Student Innovation, offering digitally savvy further and higher education (FE and HE) students the chance to create technology solutions that could change the education landscape forever. The Summer of Student Innovation is a Jisc co-design programme with RLUK; RUGIT; SCONUL; UCISA and ALT. Successful entrants will receive a £5,000 grant from Jisc to develop their ideas further, with the aim of improving students' creative design, research, entrepreneurial and project management skills. The successful entrants will be announced in July and given opportunities to join networking workshops with fellow students and experts to further their ideas. Volunteer education organisations will trial the technology developed and those products that are successful will be provided to other interested parties through sustainable routes.
JISC RSC > RSC North West regional events
For over a decade Jisc funded Cetis to promote and support the uptake of educational technology specifications and standards for the benefit of UK Universities and Colleges. Today we can announce that Jisc has commissioned Cetis to undertake a new package of work that combines activities to secure value from Jisc's previous investment with other activities intended to identify opportunities for Jisc in the future. Adam Cooper, Cetis co-director said: We are heartened that Jisc continues to have interoperability and open standards on its agenda and very happy to be working with Jisc's Digital Futures team again. I am particularly looking forward to collaborating with them to develop ideas for the future, both the in respect of technical areas and ways in which we can bring along our expertise in co-development in both the design and adoption of interoperability specifications and standards.
Jisc commissions Cetis to undertake educational technology standards work | Cetis - expert advice on educational technology and standards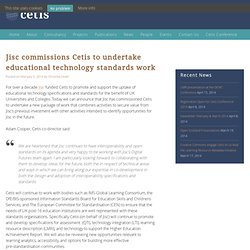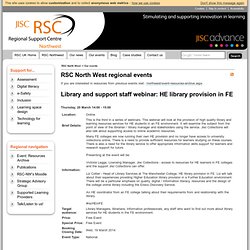 Many FE colleges are now running their own HE provision and no longer have access to university collections online. There is a need to provide sufficient resources for learners studying on these courses. There is also a need for the library service to offer appropriate information skills support for learners and research support for tutors.Presenting at the event will be:Victoria Legge, Licensing Manager, Jisc Collections - access to resources for HE learners in FE colleges and the support Jisc Collections can offer. Liz Collier - Head of Library Services at The Manchester College.
JISC RSC > RSC North West regional events
Sponsored by Do you know a digital practitioner who has, through the use of technology: made learning more inclusive orwidened participation in learning ormade learning more engaging ordelivered learning in a different way? If they went beyond the call of duty to implement innovation or technology the result was a positive and inspiring impact on learners, then you should nominate them for this years "Digital Practitioner Awards", sponsored by Jisc. Nominations are now open.
Digital Practitioner Awards 2013
JISC RSC > RSC Wales regional events
Jisc Legal has published a BYOD toolkit in response to the rise in learners and employees using their personal computing devices (typically smart phones and tablets) in the work and learning environment. The toolkit includes a variety of resources: 1. Your Staff, Mobile Devices, Law and Liability To some extent bring your own device (BYOD) is already happening in your institution.
BYOD Toolkit (1 May 2013
JISC RSC SouthEast: Login to the site
JISC Advance signs memorandum of understanding with NIACE
JISC Advance is furthering its work with adult learning providers by signing a memorandum of understanding with The National Institute of Adult Continuing Education (NIACE). The memorandum sets out how the two organisations will work together to raise the quality of learning experiences for adults across the UK. Guy Lambert, Managing Director of JISC Advance, said: "It is particularly important for JISC Advance to work in a complementary manner with membership organisations. Combining our expertise in technology with NIACE's deep understanding of adult learning provides a unique capability to support learning providers and learners to get the best results from their endeavours."
JISC Advance :: themes
RSC-NW Moodle
RSC Northwest's Post-16 TV
Conference 2011 - Delegate Feedback
JISC RSC Northwest Annual Event 2011 - Manchester : un album