JISC RSC-NW
Monthly E-Bulletin. We bring to you a summer bumper edition of the Learning, Teaching and Professional Skills e-bulletin from Mimas.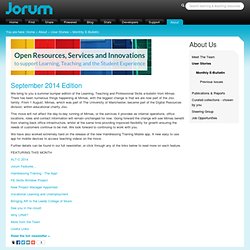 There has been numerous things happening at Mimas, with the biggest change is that we are now part of the Jisc family. From 1 August, Mimas, which was part of The University of Manchester, became part of the Digital Resources division, within educational charity Jisc. This move will not affect the day-to-day running of Mimas, or the services it provides as internal operations, office locations, roles and contact information will remain unchanged for now.
UK research secures new national data centre. Research in the UK has been given a boost this week as specialist data centre provider, Infinity, has secured a five year framework agreement with Janet, the UK's national research and education network, provided by Jisc.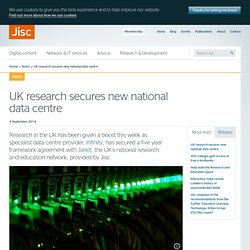 The deal sees the creation of a Jisc data centre to support the requirements for academic research and will be the first shared data centre for medical and academic research in the UK. The funding of approximately £900,000 to make the facility happen has been provided by the Higher Education Funding Council for England (HEFCE). Help build the Research and Education Space. The BBC calls on developers, publishers, digital agencies and startups to help students, teachers and researchers get the most out of online educational resources.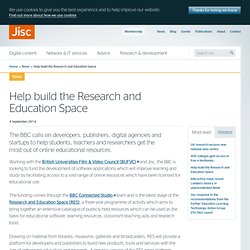 Working with the British Universities Film & Video Council (BUFVC) and Jisc, the BBC is looking to fund the development of software applications which will improve learning and study by facilitating access to a vast range of online resources which have been licensed for educational use. The funding comes through the BBC Connected Studio team and is the latest stage of the Research and Education Space (RES), a three-year programme of activity which aims to bring together an extensive catalogue of publicly held resources which can be used as the basis for educational software, learning resources, classroom teaching aids and research tools. 400 colleges gain access to free e-textbooks. Jisc offers over 400 colleges free access to a new collection of curriculum focused e-textbooks through e-books for FE.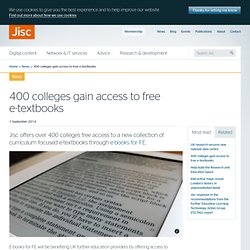 E-books for FE will be benefiting UK further education providers by offering access to additional new suite of 162 e-textbooks. These books will supplement over 200 other e-textbooks previously acquired. The new collection has been chosen using feedback from customers to ensure the new books are of the highest possible value to their users and focus in supporting the curriculum across a variety of subjects. E-books for FE provides further education colleges in the UK with access to a collection of e-textbooks on a platform that offers functionality suitable for the needs of the community.
The new collection will be available to colleges free of charge for another two years from 1 September 2014 until 31 August 2016. Towards a new-look customer service function for Jisc. Putting customers at the heart of what we do: it's a commitment that many organisations are making, from e-commerce to education.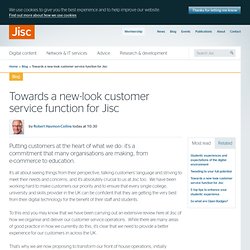 It's all about seeing things from their perspective, talking customers' language and striving to meet their needs and concerns, and it's absolutely crucial to us at Jisc too. We have been working hard to make customers our priority and to ensure that every single college, university and skills provider in the UK can be confident that they are getting the very best from their digital technology for the benefit of their staff and students. To this end you may know that we have been carrying out an extensive review here at Jisc of how we organise and deliver our customer service operations. While there are many areas of good practice in how we currently do this, it's clear that we need to provide a better experience for our customers in across the UK. Jisc FE and Skills Window Project Survey. 17 Jun 2014 Jisc provides a variety of high quality digital content services to the FE and Skills sector, such as Hairdressing Training which tailors its content to curriculum and qualifications.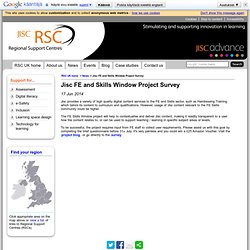 However, usage of Jisc content relevant to the FE Skills community could be higher. The FE Skills Window project will help to contextualise and deliver Jisc content, making it readily transparent to a user how the content relates to, or can be used to support teaching / learning in specific subject areas or levels. Student innovators scoop grants to develop fresh ideas. The 20 winners of this year's Summer of Student Innovation competition have been announced today.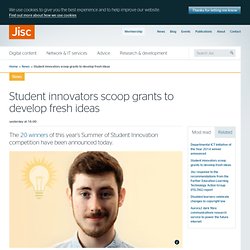 Winning teams will develop digital technologies to improve every aspect of students' experience, from work-planning and making sure they eat well to improving exam performance and boosting employability. The winning students will each receive an award of £5,000 from Jisc to develop their ideas into tools that can be used by fellow students, colleges and universities. They'll also attend a series of summer schools to help them develop their project management and entrepreneurial skills and give them an opportunity to learn from experts in digital technology. Still time for the education and research sector to beat powerful malware threats. Jisc and the National Crime Agency (NCA) are today reminding UK computer users that there is still time to protect themselves from the GoZeuS and CryptoLocker malicious software (malware) threats.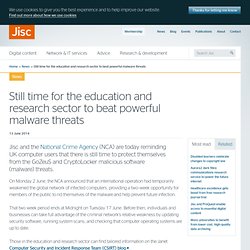 On Monday 2 June, the NCA announced that an international operation had temporarily weakened the global network of infected computers, providing a two–week opportunity for members of the public to rid themselves of the malware and help prevent future infection. That two week period ends at Midnight on Tuesday 17 June. Before then, individuals and businesses can take full advantage of the criminal network's relative weakness by updating security software, running system scans, and checking that computer operating systems are up to date. Cess and identity management. The issue Education providers must provide staff and students with a username and password so they can access online systems or content securely.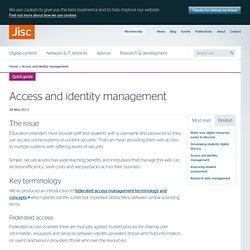 That can mean providing them with access to multiple systems with differing levels of security. Simple, secure access has wide-reaching benefits and institutions that manage this well can increase efficiency, save costs and see paybacks across their business. Key terminology We've produced an introduction to federated access management terminology and concepts which points out the subtle but important distinctions between similar-sounding terms. Funding opportunity: learning technologies - design for impact.
20 May 2014 The Technology Strategy Board (TSB) has announced a £1.1m competition to stimulate innovation in education technology used for learning.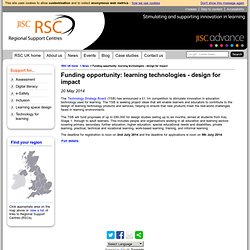 The TSB is seeking project ideas that will enable learners and educators to contribute to the design of learning technology products and services, helping to ensure that new products meet the real-world challenges faced in learning environments. Evaluating digital services. Don't show this message again This site uses cookies to allow customisation and to collect anonymous web metrics - how we use cookies Support for... Find your region Click appropriate area on the map above or view a list of links to Regional Support Centres (RSCs). Evaluating digital services. Be part of the change in vocational learning. 22 May 2014 Digital technologies offer us a great opportunity to transform how we engage students and get better results in vocational learning.
Understanding when and how they can contribute to the blend is a key part of this. Last chance to register for the Summer of Student Innovation 2014. Light bulb moment? Apply by 30 May 2014 for £5k to develop your digital technology idea to improve student life. 17 further and higher education (FE and HE) student teams are already registered for this year's Summer of Student Innovation, hoping for the chance to create technology solutions that could change the education landscape forever.
Jisc and ProQuest enable access to essential digital content. Providing access to almost 25,000 rare and often unique books, Early European Books is a key resource for those with a strong research interest in the period from 1450 – 1700, delivering a wide variety of primary sources from one of the most fascinating and influential periods in Western history and has been developed in collaboration with a range of major European libraries. Very few libraries have access to such a large corpus of works as Early European Books offers and researchers and students will now be able to view this material wherever and whenever they choose.
Updated monthly with the most recent edition of the magazine, The Vogue Archive gives researchers of fashion, photography, advertising and history access to the entire publication run of the US edition of Vogue magazine, back to its first issue in 1892. Janet Web Filtering Service. 12 May 2014 As part of a regular and ongoing review of all its services, Janet is in the process of reviewing the Janet Web Filtering Service to establish requirements for the future of the service. We would be grateful if you would spend a few minutes completing the following survey. The survey will take approximately 10 minutes to complete. Janet Web Hosting Service. Find out what the FES-DRP funding winners are up to... ENABLE conference – book now! Healthcare excellence gets boost from free research journal trial. More universities to benefit from lower cost, high-quality data archiving.
Aurora2 dark fibre communications research service to power the future internet. JISC RSC > RSC North West regional events. ENABLE conference – book now! Open access to be a requirement for UK research funding. Healthcare excellence gets boost from free research journal trial. Transforming Lives Awards – Nominations now open! Unlimited access to 33,000 video resources now available to UK educators. Jisc Digital Media announces spring workshop lineup. Blog. Blog. Putting the student at the centre of their learning. Social Media for Business and Community Engagement Webinar. Netskills announces Summer workshops. CoLRiC best practice awards. Judging the use of technology in lessons: A tick box or formalized criteria. Announcement for FES-DRP funding.
Jisc Digital Festival. Jisc TechDis launch ambassador programme. Jisc Digital Festival 2014 online programme announced. JISC RSC > RSC North West regional events. JISC RSC > RSC North West regional events. JISC RSC > RSC North West regional events. Jisc Legal publishes new social media guidance. Registration opens for Jisc's Summer of Student Innovation 2014. JISC RSC > RSC North West regional events. Jisc commissions Cetis to undertake educational technology standards work. JISC RSC > RSC North West regional events.
Digital Practitioner Awards 2013. JISC RSC > RSC Wales regional events. BYOD Toolkit (1 May 2013. JISC RSC SouthEast: Login to the site. JISC Advance signs memorandum of understanding with NIACE. JISC Advance :: themes. RSC-NW Moodle. RSC Northwest's Post-16 TV. Conference 2011 - Delegate Feedback. JISC RSC Northwest Annual Event 2011 - Manchester : un album.
---