JISC RSC-NW
On December 4th, 2012 the following winners were presented with a Digital Pracitioner Award by BBC Stargazing Live's Mark Thompson: Outstanding Digital Practitioner Award (Sponsored by LSIS) Mandy-Jayne Lace, Learning Societies Mandy-Jayne has overcome many personal barriers in order to support learners with disabilities from accessing Higher Education. No stranger to technology herself, Mandy-Jayne has made extensive use of accessibility software and the latest gadgets to ensure that education is accessible to all.
Digital Practitioner Awards 2013
JISC RSC > RSC Wales regional events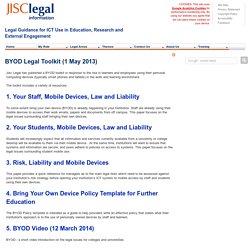 Jisc Legal has published a BYOD toolkit in response to the rise in learners and employees using their personal computing devices (typically smart phones and tablets) in the work and learning environment.
BYOD Toolkit (1 May 2013
Job Vacancies at RSC Northwest
Networks for Knowledge: Social Media enthuses students of Early Years Education case study
An Excellence Gateway case study Published: 13 June 2012 This case study was produced by JISC RSC (Regional Support Centres) Northwest on behalf of the Excellence Gateway.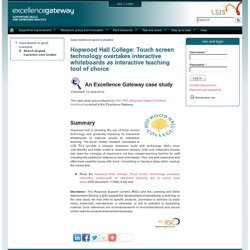 Hopwood Hall College: Touch screen technology overtakes interactive whiteboards as interactive teaching tool of choice
JISC RSC SouthEast: Login to the site
e-Learning advantage
JISC Advance signs memorandum of understanding with NIACE
JISC Advance is furthering its work with adult learning providers by signing a memorandum of understanding with The National Institute of Adult Continuing Education (NIACE). The memorandum sets out how the two organisations will work together to raise the quality of learning experiences for adults across the UK. Guy Lambert, Managing Director of JISC Advance, said: "It is particularly important for JISC Advance to work in a complementary manner with membership organisations. Combining our expertise in technology with NIACE's deep understanding of adult learning provides a unique capability to support learning providers and learners to get the best results from their endeavours."
JISC Advance :: themes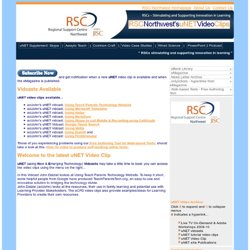 and get notification when a new uNET video clip is available and when the eMagazine is published. Vidcasts Available uNET video clips available...
RSC-NW uNET Video Clips
RSC-NW Moodle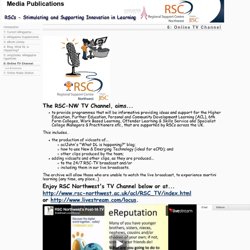 6: Online TV Channel
The RSC-NW TV Channel, aims... to provide programmes that will be informative providing ideas and support for the Higher Education, Further Education, Personal and Community Development Learning (ACL), 6th Form Colleges, Work Based Learning, Offender Learning & Skills Service and Specialist College Managers & Practitioners etc., that are supported by RSCs across the UK. This includes ... the production of vidcasts of...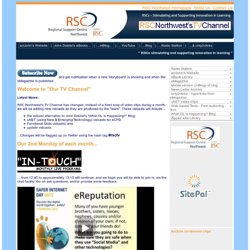 and get notification when a new 'storyboard' is showing and when the eMagazine is published. Welcome to "Our TV Channel" Latest News: RSC Northwest's TV Channel has changed. Instead of a fixed loop of video clips during a month, we will be adding new vidcasts as they are produced by the "team".
RSC Northwest's TV Channel
RSC Northwest's Post-16 TV
Preston College - An Innovation and Excellence Room supports a radical approach to using technology for teaching and learning
An Excellence Gateway case study Published: 28 May 2012 This case study was produced by JISC Regional Support Centre for Northwest on behalf of the Excellence Gateway.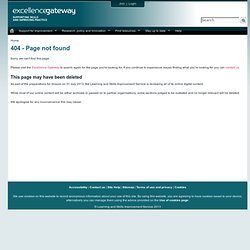 3: eBook Library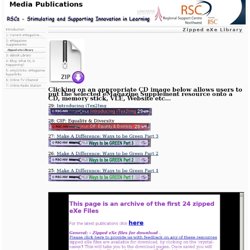 Media Publications Zipped eXe Library Clicking on an appropriate CD image below allows users to put the selected eMagazine Supplement resource onto a CD, memory stick, VLE, Website etc... 29: Introducing iTex2Img 28: CIF: Equality & Diversity
Zipped eXe Library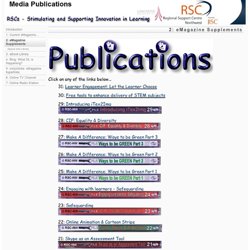 Media Publications 2: eMagazine Supplements Click on any of the links below...
2: eMagazine Supplements
Media Publications
16 Jul 2011 Conference 2011 - Delegate Feedback ...in the MyPod aclJohn-Live on Spreaker
Conference 2011 - Delegate Feedback
JISC RSC Northwest Annual Event 2011 - Manchester : un album