JISC RSC-NW
05 Mar 2014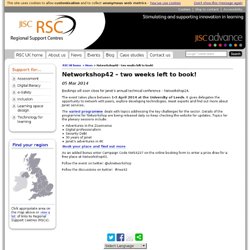 Networkshop42 – two weeks left to book!
Jisc Digital Festival 2014 online programme announced | Jisc
With just one week to go, today Jisc is announcing details of how to follow its Jisc Digital Festival 2014 online. The Jisc Digital Festival, which will be held in the ICC in Birmingham on the 11-12 March 2014, will bring you its highlights, showcasing innovations in higher education (HE), further education (FE) and skills, as well as exploring the future of digital technology from the comfort of your office, home, or on the move. Online participants will be able to follow the event online thanks to Sonic Foundry's Mediasite software which will stream the keynote speakers and expert presentations from the festival's 'Hangout' area.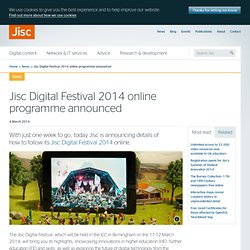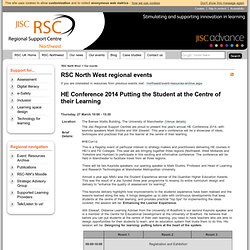 JISC RSC > RSC North West regional events
This is a flagship event of particular interest to strategy makers and practitioners delivering HE courses in HEI's and FE Colleges.
JISC RSC > RSC North West regional events
JISC RSC > RSC North West regional events
26 Feb 2014 The Enable project is celebrating and rewarding the use of information and communication technologies (ICT) to support lifelong learning by disabled adults in order to overcome barriers and increase opportunities.
Nominations for Enable Awards 2014
26 Feb 2014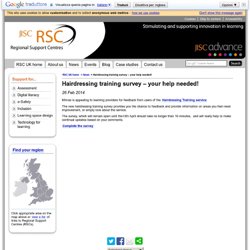 Hairdressing training survey – your help needed!
24 Feb 2014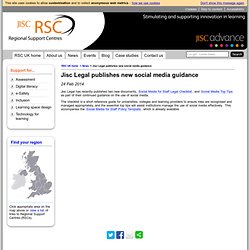 Jisc Legal publishes new social media guidance
Join the conversation: technology in teaching and learning
24 Feb 2014 Whatever your starting point your views are needed about how the technology skills of the learning and skills workforce can be developed.
Registration opens for Jisc's Summer of Student Innovation 2014 | Jisc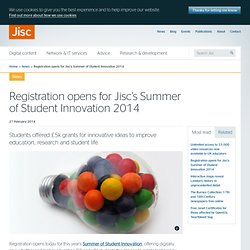 Students offered £5k grants for innovative ideas to improve education, research and student life. Registration opens today for this year's Summer of Student Innovation, offering digitally savvy further and higher education (FE and HE) students the chance to create technology solutions that could change the education landscape forever.
JISC RSC > RSC North West regional events
For over a decade Jisc funded Cetis to promote and support the uptake of educational technology specifications and standards for the benefit of UK Universities and Colleges.
Jisc commissions Cetis to undertake educational technology standards work | Cetis - expert advice on educational technology and standards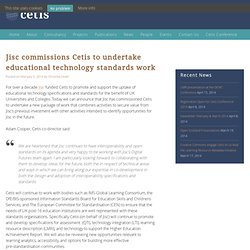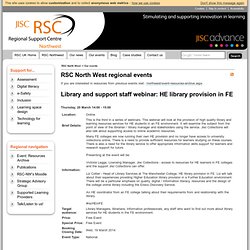 Many FE colleges are now running their own HE provision and no longer have access to university collections online.
JISC RSC > RSC North West regional events
Sponsored by Do you know a digital practitioner who has, through the use of technology: made learning more inclusive orwidened participation in learning ormade learning more engaging ordelivered learning in a different way? If they went beyond the call of duty to implement innovation or technology the result was a positive and inspiring impact on learners, then you should nominate them for this years "Digital Practitioner Awards", sponsored by Jisc. Nominations are now open.
Digital Practitioner Awards 2013
JISC RSC > RSC Wales regional events
Jisc Legal has published a BYOD toolkit in response to the rise in learners and employees using their personal computing devices (typically smart phones and tablets) in the work and learning environment.
BYOD Toolkit (1 May 2013
JISC RSC SouthEast: Login to the site
JISC Advance signs memorandum of understanding with NIACE
JISC Advance is furthering its work with adult learning providers by signing a memorandum of understanding with The National Institute of Adult Continuing Education (NIACE). The memorandum sets out how the two organisations will work together to raise the quality of learning experiences for adults across the UK. Guy Lambert, Managing Director of JISC Advance, said: "It is particularly important for JISC Advance to work in a complementary manner with membership organisations. Combining our expertise in technology with NIACE's deep understanding of adult learning provides a unique capability to support learning providers and learners to get the best results from their endeavours."
JISC Advance :: themes
RSC-NW Moodle
RSC Northwest's Post-16 TV
Conference 2011 - Delegate Feedback
JISC RSC Northwest Annual Event 2011 - Manchester : un album