ICT
What Is The Difference Between A Netbook, Notebook, Ultrabook, Laptop, & Palmtop?
What Is...every file format in the world - A through E | technologies
The History of Digital Storage [Infographic] | technologies
Free Technology for Teachers: Google Apps Ceasing Support for Internet Explorer 8
What is a browser? - YouTube
The Evolution of Technology and Education | technologies
eLearning Tools-Resources-etc.
Differences Between Capacitive & Resistive Touchscreens | technologies
Learn the Web's core | CoreDogs | technologies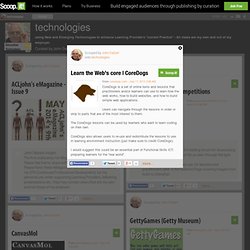 CoreDogs is a set of online texts and lessons that practitioners and/or learners can use to learn how the web works, how to build websites, and how to build simple web applications. Users can navigate through the lessons in order or skip to parts that are of the most interest to them. The CoreDogs lessons can be used by learners who want to learn coding on their own. CoreDogs also allows users to re-use and redistribute the lessons to use in learning environment instruction (just make sure to credit CoreDogs). I would suggest this could be an essential part of Functional Skills ICT; preparing learners for the "real world".
How a Hard Drive Works in Slow Motion [Video]
TheRevolutionofEmail_4fbbcb7558900_w590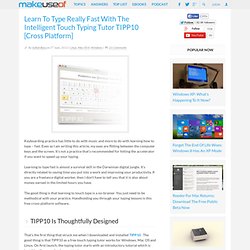 Learn To Type Really Fast With The Intelligent Touch Typing Tutor TIPP10 [Cross Platform]
Keyboarding practice has little to do with music and more to do with learning how to type – fast. Even as I am writing this article, my eyes are flitting between the computer keys and the screen. It's not a practice that's recommended for hitting the accelerator if you want to speed up your typing.
Today, learning to touch type is a no-brainer, it's almost an essential survival skill in the digital jungle. Improving productivity and potentially increasing the money earned, within the limited hours available. Learners just need to be methodical with their practice. TIPP10 is a free touch typing tutor for Windows, Mac OS and Linux. The ingenious thing about the software is its intelligence feature.
TIPP10 | technologies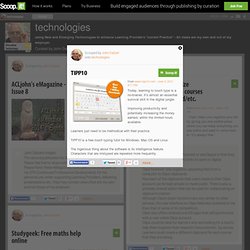 WordTalk - A free text-to-speech plugin for Microsoft Word. For people with reading and writing difficulties, having text reinforced by hearing it read aloud can be very useful. Do you and/or your learners proof read their work? When producing documents,I always read the text out loud and, quite often, recorded it at the same time, using Audacity. That way I spot mistakes that my eyes often miss and I also have the text in a format many learners/colleagues preferred (Audio/mp3 files)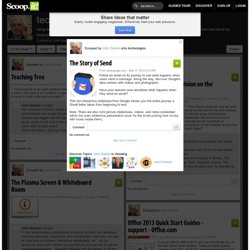 The Story of Send | technologies
The Problem About Being A Programer | MakeUseOf Geeky Fun
The Importance of DNS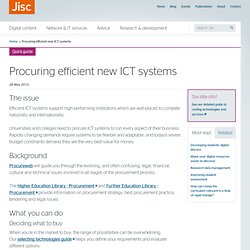 The issue Efficient ICT systems support high performing institutions which are well-placed to compete nationally and internationally. Universities and colleges need to procure ICT systems to run every aspect of their business.
Procuring efficient new information and communications technology systems
Pen - Simple Online Publishing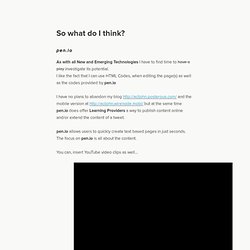 pen.io
pen.io As with all New and Emerging Technologies I have to find time to have a play investigate its potential.I like the fact that I can use HTML Codes, when editing the page(s) as well as the codes provided by pen.io I have no plans to abandon my blog http://acljohn.posterous.com/ and the mobile version at http://acljohn.wirenode.mobi/ but at the same time pen.io does offer Learning Providers a way to publish content online and/or extend the content of a tweet. pen.io allows users to quickly create text based pages in just seconds. The focus on pen.io is all about the content.
Ofcom Maps - Broadband speeds map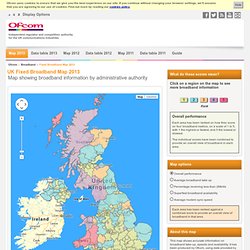 Click on a region on the map to see more broadband information Rank Overall performance Each area has been ranked on how they score on four broadband metrics, on a scale of 1 to 5, with 1 the highest or fastest, and 5 the lowest or slowest. The individual scores have been combined to provide an overall view of broadband in each area. Average broadband take up
Law, ICT and Independent Specialist Colleges (12/01/12)
Microsoft Virtual Academy - Free Microsoft Cloud Technologies Training | technologies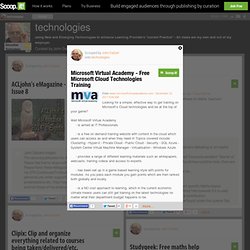 Looking for a simple, effective way to get training on Microsoft's Cloud technologies and be at the top of your game? Well Microsoft Virtual Academy - is aimed at IT Professionals - is a free on demand training website with content in the cloud which users can access as and when they need it! Topics covered include: Clustering - Hyper-V - Private Cloud - Public Cloud - Security - SQL Azure - System Center Virtual Machine Manager - Virtualisation - Windows Azure - provides a range of different learning materials such as whitepapers, webcasts, training videos and access to experts. - has been set up in a game based learning style with points for modules.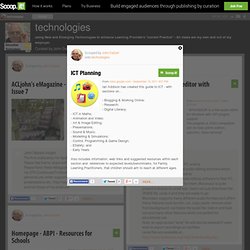 ICT Planning | technologies
Ian Addison has created this guide to ICT - with sections on... - Blogging & Working Online;- Research;- Digital Literacy;- ICT in Maths;- Animation and Video;- Art & Image Editing;- Presentations;- Sound & Music;- Modelling & Simulations;- Control, Programming & Game Design;- ESafety; and - Early Years.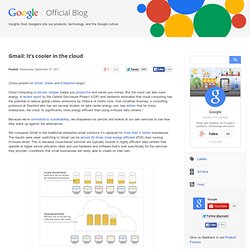 (Cross-posted on Gmail, Green and Enterprise blogs) Cloud computing is secure, simple, keeps you productive and saves you money. But the cloud can also save energy. A recent report by the Carbon Disclosure Project (CDP) and Verdantix estimates that cloud computing has the potential to reduce global carbon emissions by millions of metric tons.
It's cooler in the cloud
JISC Elevator
I.T. Agony Bingo [Humorous Image]
ICT Self Assessment booklet
A few weeks ago, I stumbled across ICT Teaching & Learning Framework 2011, which was written by Matt Lovegrove and included contributions from Steve Greenfield, David Sheppard & Claire Waite. Here is the Framework which can be found on his blog. The beauty of this work was that it was licensed for sharing, remixing and adapting. This is exactly the type of thing we should all be doing in my opinion and I must sincerely thank those who wrote it for saving me a tremendous amount of time by not having to write my own. What I did do, however, was to create a self-assessment booklet that can be used in conjunction with the framework. I hate assessment, but this book allows the children to assess their learning at the end of the week.
Our vision Behind the Screen is the working title of our project to create a new computing GCSE. Designed in partnership with teachers, students, universities and employers, the new GCSE will equip young people with a wide variety of skills, from programming to game design, and be supported by state-of-the-art employer contributed challenges and resources to help teachers deliver and inspire students to study.
Home - Behind the Screen
history-os Infographic
Happy Fun Coding
Good cop, bad cop? How to manage tech change in a BYOD and cloud world
The rise of consumerisation and on-demand services means business relationship managers need to foster IT innovation, not stifle it. The realisation that enterprise IT had to manage relationships actively with the business - a hateful term - was one of the main IT organisational consensus points of the past decade. CIOs everywhere rushed to created CIO Mini-Me's - business relationship managers acting as the interface between business units and IT. I know - I was one for several years.
Get your computer
Research shows that everything practitioners do to inspire and encourage learners – providing them the right skills to go online – will gradually slip away if there is no PC at home to keep the excitement alive and provide easy, instant access to the internet. For many learners, engaged with ACL/PCDL/IAL/WBL and other Learning Providers, and others within the communities they support, the last significant barrier to getting people connected is the cost of a PC in the home. It's not enough for them to go online while attending taster or longer courses – the goal is to make it possible for them to stay online – and to feel the wonderful benefits of... - using Skype with friends and family; – unlimited video calls to any part of the world;
Everything is a Remix Part IV: System Failure
File extension library with detailed explanation of each file type with links to free or associated software programs downloads
DNS Explained
Digital literacy diagrams « Web n' Circle
Colour Clock
Cloud Hosting: How Does it Really Work?
Cloud Online Briefing Series (UK only) | technologies
Cloud Computing Checkpoints
ChemReference: Periodic Table and Chemistry Reference | technologies
Prepared for your impending move to the cloud?
llege saves £500,000 with virtual desktop project - 27 Feb 2012
Cloud Computing and the Law (19/01/12, Online)
Browser Wars – The Transportation Edition [Classic Funny Image]
Bare bones Raspberry Pi PC gets ready to launch
Add calculating rows and columns to a Word table
10 myths of BYOD in the enterprise
Typing Club