eAdministration
Share Lesson Outlines in Google Calendar. Youpd. Find Anyone's Email Address - Free SEO Tool from BuzzStream | technologies. How To Create Your Own Custom Google Search Engine | technologies. Appointlet | technologies. eLearning Tools-Resources-etc. Employees sick while on annual leave can retake time off. Employees who fall sick during their annual leave have the right to re-take that annual leave a later date, irrespective of when they fell ill, the European Court of Justice (ECJ) has ruled today.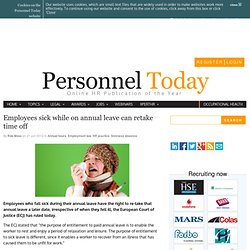 The ECJ stated that "the purpose of entitlement to paid annual leave is to enable the worker to rest and enjoy a period of relaxation and leisure. The purpose of entitlement to sick leave is different, since it enables a worker to recover from an illness that has caused them to be unfit for work." Half of employers have not prepared for pensions auto-enrolment. Employers have been warned to prepare for pensions auto-enrolment "as soon as possible" after research found that nearly half (44%) of organisations had taken no steps to get ready for its introduction.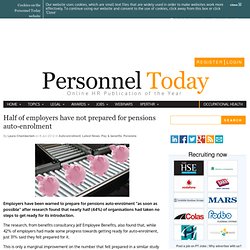 The research, from benefits consultancy Jelf Employee Benefits, also found that, while 42% of employers had made some progress towards getting ready for auto-enrolment, just 31% said they felt prepared for it. This is only a marginal improvement on the number that felt prepared in a similar study carried out by the consultancy last year, when 29.5% of employers reported that they felt ready. Steve Herbert, head of benefits strategy at Jelf Employee Benefits, warned that employers need to start preparing for pensions auto-enrolment sooner rather than later.
"We are very concerned about the number of employers that still appear to be in denial about this issue," he said. Crowdsourced School Social Media Policy Now Available. I've been seeing a lot of people on social media looking for a social media policy and / or an acceptable use policy.
So I offered to help spearhead an initiative where some of our amazing readers could help craft these policies from scratch. It started out very basic but, 400 edits later, has materialized into a thoughtful and well-organized document that's a great template for any school. It may not be perfect for you, but use this as a jumping-off point to get your own policy started. Want to edit the living document? How to use the new Google Analytics tools.
As Google and other online giants continue to tap into the social circles, it was time for a more robust way of collecting and filtering social data.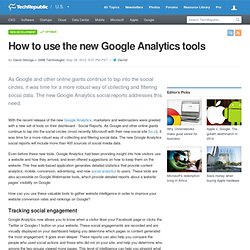 The new Google Analytics social reports addresses this need. With the recent release of the new Google Analytics, marketers and webmasters were greeted with a new set of tools on their dashboard - Social Reports. As Google and other online giants continue to tap into the social circles (most recently Microsoft with their new social site So.cl), it was time for a more robust way of collecting and filtering social data. Keele University joins US admissions system. 30 April 2012Last updated at 16:31 GMT By Sean Coughlan BBC News education correspondent Keele University will be open to applications via a US admissions service Keele University has become the first English university to join the Common Application system for university admissions in the United States.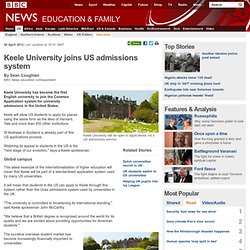 Does Your School Use Windows XP? Microsoft Ending Support. If you're using computers that have resisted the temptation to upgrade to Windows Vista or Windows 7, listen up.
Microsoft XP is going to no longer be supported as ofApril 8, 2014. That's now officially less than two years away. While two years is an eternity in the world of software, some schools and organizations will likely still be using the OS by this date. Compensated no-fault dismissals: the case for and against. In March 2012, the coalition Government issued a call for evidence on making the dismissal process "simpler, quicker and clearer" and introducing "compensated no-fault dismissals" for micro-businesses.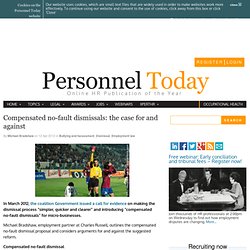 Michael Bradshaw, employment partner at Charles Russell, outlines the compensated no-fault dismissal proposal and considers arguments for and against the suggested reform. Compensated no-fault dismissal. Ultimate Guide to Twitter Marketing. Trello – A Unique, Simple & Powerful Project Management System From A Good Home. Does the name Joel Spolsky mean anything to you?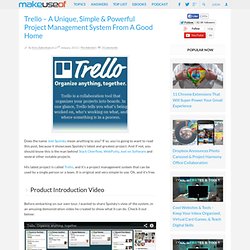 If so, you're going to want to read this post, because it showcases Spolsky's latest and greatest project. And if not, you should know this is the man behind Stack Overflow, WebPutty, Joel on Software and several other notable projects. His latest project is called Trello, and it's a project management system that can be used by a single person or a team. Trello. The Joe and Rika Mansueto Library: How It Works. The Essentials of Supporting an Online Learning Community | Many learning professionals speak about building a community environment for their learners to collaborate and communicate within.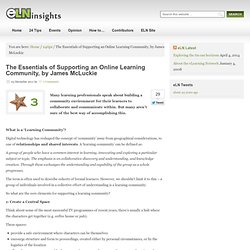 But many aren't sure of the best way of accomplishing this. What is a 'Learning Community'? Technology Does Not Equal 21st Century Learning. Picture: leftyparent.com As our school embarks on a mission to become more of a 21st Century school combined with the fact that we are now a Google Apps school I have gotten a number of questions about technology and our dependency on it.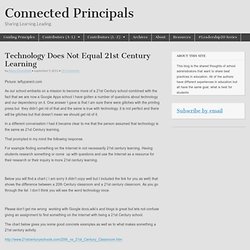 One answer I gave is that I am sure there were glitches with the printing press but they didn't get rid of that and the same is true with technology. it is not perfect and there will be glitches but that doesn't mean we should get rid of it. In a different conversation I had it became clear to me that the person assumed that technology is the same as 21st Century learning. That prompted in my mind the following response.
For example finding something on the Internet in not necessarily 21st century learning. TagMyDoc | technologies. Submit Share Ebook PDF | technologies. Stolen Camera Finder. SMART Goals. Schedule Project Due Dates in Wikispaces. If you assign wiki editing due dates to your students' wiki projects, Wikispaces has just launched a new feature just for you. Events is a Wikispaces feature that allows you to schedule due dates for Wikispaces Projects. When you schedule a Wikispaces Event you can specify a lock time for your project. Once that lock time is reached no one is able to make any further edits to that page.
Watch the short video below to learn more about Wikispaces Events. Applications for Education Wikispaces Events doesn't change the way that students use Wikispaces, but it does make it easier for you to manage your students' work in Wikispaces. Reel – Present your ideas and reel in the feedback | technologies. Ofsted Good Practice. Recording Lectures and the Law Top Tips (22/12/2011) With the increasing use of open educational resources and the use of technology to provide online learning, more and more institutions are recording lectures to be broadcast or reused in a variety of ways.
This comes with a range of potential legal implications, of which the institution should be aware. To help give you confidence in your compliance with the law, these top tips serve as a quick reminder of the main areas to be addressed and sources of help available when recording lectures. These tips are available in html, Word and PDF format. For more detailed guidance on the issues raised, see the recording of our webcast in 2011, or the accompanying guidance document, Recording Lectures: Legal Considerations.
Realtime Behavior Management Software - ClassDojo. New Guidance on Notification of Security Breaches. Under the revised Privacy and Electronic Communications (EC Directive) Regulations 2003 (PECR), public electronic communications service providers are required to notify the ICO when a personal data breach occurs. The regulations require that -a record of all security breaches is kept in a log of personal data breaches the Information Commissioner is notified of any security breaches subscribers need to be informed of the breach without delay if is likely to adversely affect their personal data or privacyFor now, this law only applies to providers of public electronic communications services, (not users of the JANET network) but the European Commission are keen that similar requirements be extended to all other organisations handling personal data.
So it's probably worth planning for when (not if) these requirements come to cover all colleges and universities. The new guidance on how to respond to security breaches can be found on the ICO website. Lesson planning tool: Learning Score - Lesson planning tool: Learning Score | technologies. Large employers to be forced to appoint data protection officers. Organisations with more than 250 employees will have to designate a data protection officer to ensure that they deal with the personal information of staff and customers correctly, under reforms proposed by the European Commission. The Commission aims to enhance the accountability of European organisations that process data by introducing the requirement for large employers and those that gather personal information through the course of their business to appoint data protection officers.
Under the proposals, the "patchwork" of data protection laws and reporting requirements across Europe will be replaced with a single set of rules for all 27 member states. According to Viviane Reding, vice-president of the Commission, the reforms will eliminate unnecessary administrative burden for businesses, saving them around €2.3 billion per year. Kanban2go | technologies. Is FOI Too Costly for Public Authorities? The UK Government has put its view of how the Freedom of Information Act 2000 is working to the UK Parliament Justice Select Committee who will assess whether further scrutiny of the law is needed.
One area of interest to Colleges and Universities and highlighted in the report conclusions is the cost of compliance and the limits placed on how this is calculated, in particular in relation to significant costs in dealing with a small number of complex requests. However it is also recognised this is a balancing act between transparency and the regulatory burden it places on public authorities. The full report is available on the Ministry of Justice website at. Welcome to the Intellectual Property Office. How To Measure Social Media - 6 Step Process | social media strategy. Implementing the Cookies Regulations - Public Sector Guidance. Hiper url - Abre hasta 5 pestañas con un solo enlace.
Hiper url - Abre hasta 5 pestañas con un solo enlace. Guide to Social Marketing Best Practices. Google Maps Fuel Cost Calculator. Good Legal Practice on Mobile Learning > JISC Legal > ManageContent. Google Docs 4 Andriod. Funding Advice | Envirolink. DROPitTOme - Securely receive files from anyone to your Dropbox. Digital Signatures. DAYTUM: presentation of data. Creative Commons Kiwi. Community Learning Champions Support Programme (NATIONAL) Cardcloud - Your online business card. BYOD can work, with some challenges. BYOD? Forget about it! Can we record programmes from BBC iPlayer and 4oD for educational purposes?
Bitly URL shortener. 5 Innovative Mind-Mapping Tools For Education. 10 things you should consider before launching a social media marketing campaign. XMind - Mind Mapping and Storming. When to register for VAT.
Weebly - Free website and a free blog. Using Wikis for Learning and Collaboration.
---