Catering
Ten inches of snow and single digits temperatures are usually no big deal for a Chicago native like myself. This morning, I put these heavy duty snow boots on to get goods for a breakfast sandwich for my hardworking E (all in the name of love, people). But I barely made it to the deli before frostbite start to set in. It took me 10 minutes in front of the heater to warm up again! I seriously want to move someplace where I'll never wear these boots again, trading them in for flip-flops for the rest of my life.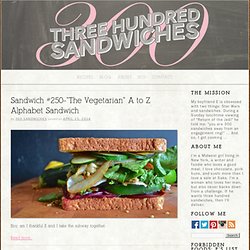 300 Sandwiches » The way to a man's heart is through his stomach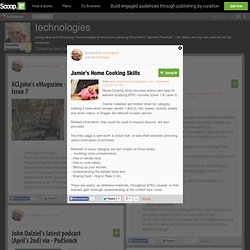 Home Cooking Skills provides advice and help for learners studying BTEC courses (Level 1 & Level 2). Course materials are broken down by category, making it clear which recipes (levels 1 and 2), fact sheets, activity sheets and skills videos or images are relevant to each section. Related information, that could be used to expand lessons, are also provided. The links page is well worth a closer look, to see other websites providing useful information or activities. Relevant to every category are fact sheets on Food safety...– Avoiding cross-contamination,- How to handle food,- How to cook safely,- Setting up your kitchen,- Understanding the eatwell plate and- Sharing food - How to Pass It On.
Jamie's Home Cooking Skills | technologies
Dvour | technologies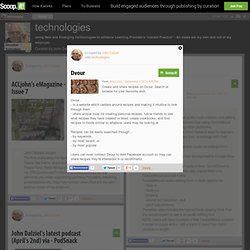 Create and share recipes on Dvour. Search or browse for your favourite dish. Dvour... - is a website which centers around recipes and making it intuitive to look through them.
Fruit turned Animal Art: 30 Creative Creations
Metric Food Measurement Converter for Recipe Ingredients | technologies
Convert Dry & Liquid Food Ingredients for Use in Cooking Recipes from Metric Measurement Units on Epicurious.com. Epicurious is a recipe search and food site. The food measurement chart shows users the multiplication factors for all metric equivalents, whether they are using imperial units or measuring with a teaspoon and cup. An ideal tool not just for catering; it also provides an opportunity to include functional skills within the curriculum.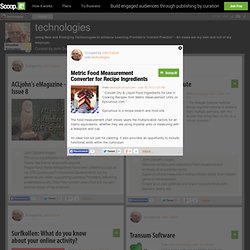 Conversion guides - How to cook - BBC Good Food | technologies
3 Great Recipe Bookmarking Sites | technologies
Catering practitioners and learners can save their Favourite Recipes from all over the web. The only problem with this never-ending recipe source is finding again the ones really liked. The Web has come up with solutions for this specific problem – recipe bookmarking sites. These three examples lets users gather their favourite recipes from all over the web, and save them all in their very own cookbook.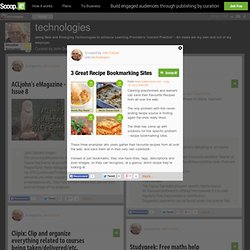 Shortly before 6 this morning, my wife and I were awakened to the delightful aroma of baking focaccia bread. Our daughter Anjali (recently written up in our local paper) had dropped in to bake some bread because the oven isn't working at her place. Before leaving for her 7 o'clock shift at the hospital, Anjali shared a piece of hot focaccia with her dad.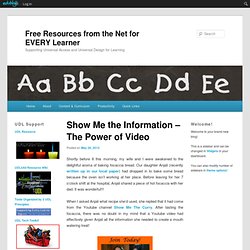 Show Me the Information – The Power of Video
Easy to follow, step-by-step Indian cooking videos showcasing cuisine from all regions of India. These Youtube videos effectively provide all the information needed to create mouth watering treats! There are countless learners, in learning environments everywhere, who struggle to be successful with written recipes. These same learners would do just fine with a recipe presented in a video format.
ShowMeTheCurry - YouTube | technologies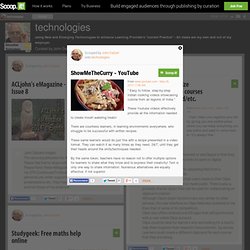 HealthyHomeCooking.com has launched their website to allow users to find out exactly what the nutritional information of their food is. The Nutrition Directory, Nutrition Lists and a convenient Measurement Converter, are examples of free tools that they offer, along with a large searchable database of nutritional information. HealthyHomeCooking.com alows users to search for nutritional information by ingredient name, calorie density or calorie ratio.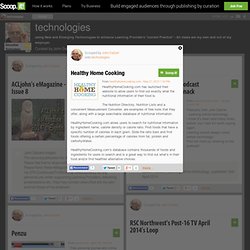 Healthy Home Cooking | technologies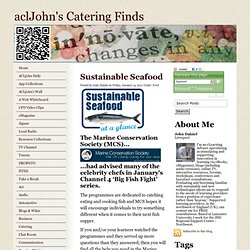 The Marine Conservation Society (MCS)... ...had advised many of the celebrity chefs in January's Channel 4 'Big Fish Fight' series. The programmes are dedicated to catching eating and cooking fish and MCS hopes it will encourage individuals to try something different when it comes to their next fish supper.
Sustainable Seafood
Shucking Corn--Clean Ears Everytime
Michael Pollan's Book, Food Rules, Brought to Life with Animation
IdealChef
How To Peel a Head of Garlic in Less Than 10 Seconds
digg Who needs expensive copper or stainless steel egg or pancake ring molds when you can use pretty, bright bell peppers? For those of you alive in the 1970′s, travel back in time with me for just a minute. Remember "Flower Power?"
Flower Power Eggs – Bell Pepper Ring Molds for Sunny Side Up Eggs! | Apron Strings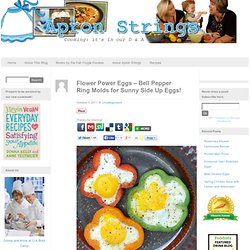 Foodskey - The Science of Food and Drink | technologies