Business
eLearning Tools-Resources-etc.
Academy Bridge – Free Business Education | technologies
Academy Bridge... - is another source of online learning, this time targeting Adults; - shows that it is possible to provide a high-quality, free, and easily accessible business education experience. As of October 2012, the site features nearly 5,000 videos designed to help undergraduate and graduate students in business programs all for free. If practitioners are looking to refresh their key business knowledge, Academy Bridge is worth checking out. NOTE: Academy Bridge has a sort of 'entrance exam' called 24-Hour Business School; users have to pass it in order to move onto the 'real' lessons.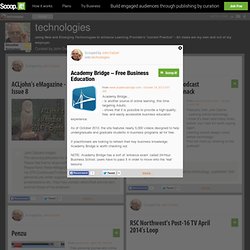 eLearning Tools-Resources-etc.
Home - WebToTheRescue.com | technologies
As the global body for professional accountants, the Association of Chartered Certified Accountants (ACCAGlobal) provides support to their 147,000 members and more than 420,000 students; based in London, with administrative offices in Glasgow, they have an active presence in over 170 different countries. Take a look at "Teach Accounting" ACCA's e-magazine for teachers of finance professionals. Now published exclusively via email, it includes ACCA news, industry updates, resources and guidance for learning providers, as well as technical support and exam-related articles.
Global body for professional accountants | ACCA Global | technologies
faulty-vaults-online-banking-raises-security-concerns
Economic lesson plans, Personal Finance lesson plans and resources for educators, students and afterschool providers | EconEdLink | technologies
Doing_Business_2012
cloudinfographic
Business Model Alchemist
Many workplaces nowadays find it prudent to prevent their employees from surfing certain websites. Leading that pack of blocked websites is Facebook. Facebook is a true phenomena in our social lives today, and many employers feel that leaving Facebook open for free surfing will cause a major waste of time and loss of productivity.
7 Reasons Facebook Should Not Be Blocked At Work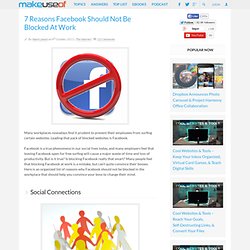 Policy. It can be a dirty word, especially in social media communities. Why? Poorly written social media policies restrict, deter and deaden social media engagement–the exact opposite of what businesses want. However, great social media policies support, protect and empower high-quality engagement.