Business
eLearning Tools-Resources-etc. Academy Bridge – Free Business Education | technologies. eLearning Tools-Resources-etc. Online-payment-security-how-much-more-would-you-spend. Home - WebToTheRescue.com | technologies. Global body for professional accountants | ACCA Global | technologies. Faulty-vaults-online-banking-raises-security-concerns. Educational Financial Videos - Investopedia Videos.
Economic lesson plans, Personal Finance lesson plans and resources for educators, students and afterschool providers | EconEdLink | technologies. Doing_Business_2012. Cloudinfographic. Business Model Alchemist. 7 Reasons Facebook Should Not Be Blocked At Work. Many workplaces nowadays find it prudent to prevent their employees from surfing certain websites.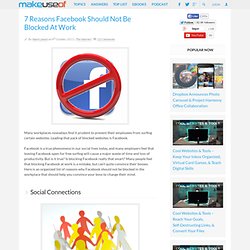 Leading that pack of blocked websites is Facebook. Facebook is a true phenomena in our social lives today, and many employers feel that leaving Facebook open for free surfing will cause a major waste of time and loss of productivity. 10 Tips for Creating a Social Media Policy for Your Business. Policy.
It can be a dirty word, especially in social media communities. Why? Poorly written social media policies restrict, deter and deaden social media engagement–the exact opposite of what businesses want. However, great social media policies support, protect and empower high-quality engagement.
---