Blogs
12 Types of Blog Posts to Drive More Traffic to Your Blog
In a recent training session, I discussed commitment gradients – how much extra effort is involved to move between each stage of involvement within a project. After the session I was asked for some examples of commitment gradients and how it's possible to make them shallower, so it's easier for people to progress their involvement in a project. This graph represents a desirable commitment gradient.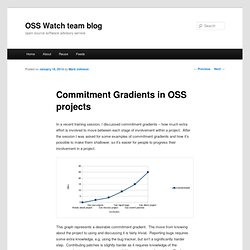 Commitment Gradients in OSS projects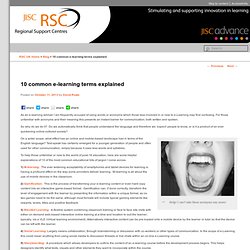 10 common e-learning terms explained - Jisc Regional Support Centres Blog
share As an e-learning adviser I am frequently accused of using words or acronyms which those less involved in or new to e-Learning may find confusing. For those unfamiliar with acronyms and their meaning this presents an instant barrier for communication; both written and spoken. So why do we do it? Do we automatically think that people understand the language and therefore we 'expect' people to know, or is it a product of an ever quickening online-cultured society? Help!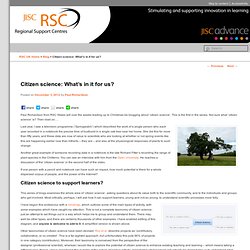 Citizen science: What's in it for us? - JISC RSC Blog
share Paul Richardson from RSC Wales will over the weeks leading up to Christmas be blogging about 'citizen science'. This is the first in the series. Not sure what 'citizen science' is? Then read on….
Muzy offers both practitioners and learners...- a neat way to blog with pictures and text.- more than two dozen apps for manipulating and displaying their pictures.- a way to share their creations on Twitter and/or Facebook. Everything that users create becomes a part of their Muzy blog. Additionally, they can share all of their Muzy creations on Twitter and Facebook. Users can create new posts...- on the Muzy website,- with the Muzy iOS app, and- with the Muzy Android app. Muzy also has an integrated image search that could be used by learners to create a collage of images about a place, person, or event that they're studying.
Muzy: A Neat Way to Blog With Pictures | technologies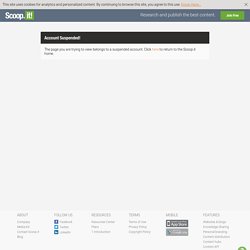 Why I Love Infographics.
Back in 2010, Jeff Dunn wrote an article about how infographics can accelerate learning . Their popularity has not lessened since then; in fact, I think their popularity has only grown, if this Pinterest page is any indication. In this post, I am going to share the reasons I love infographics.
What DL is happening? - General eLearning News stimulating & supporting learning...
What DL is Happening?
The FE Blog (Microsoft)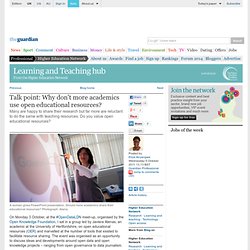 Talk point: hands off my PowerPoint! Why don't more academics use open educational resources? | Higher Education Network | Guardian Professional
A woman gives PowerPoint presentation. Should more academics share their educational resources? Photograph: Alamy On Monday 3 October, at the #OpenDataLDN meet-up, organised by the Open Knowledge Foundation, I sat in a group led by Javiera Atenas, an academic at the University of Hertfordshire, on open educational resources (OER) and marvelled at the number of tools that existed to facilitate resource sharing. The event was organised as an opportunity to discuss ideas and developments around open data and open knowledge projects – ranging from open governance to data journalism. MIT's open courseware was lauded as an exceptional example of openness but there were also homegrown tools available such as the University of Nottingham's Xpert repository or Jorum.ac.uk, a site set up to enable teachers to find, share and discuss teaching resources, across all of the UK's HE and FE communities.
Introducing Posterous Spaces on Vimeo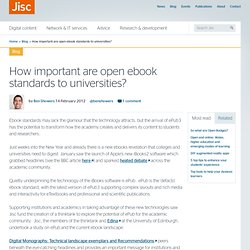 How important are open ebook standards to universities?
Ebook standards may lack the glamour that the technology attracts, but the arrival of ePub3 has the potential to transform how the academy creates and delivers its content to students and researchers. Just weeks into the New Year and already there is a new ebooks revelation that colleges and universities need to digest. January saw the launch of Apple's new iBooks2 software which grabbed headlines (see the BBC article here) and sparked heated debate across the academic community. Quietly underpinning the technology of the iBooks software is ePub. ePub is the 'defacto' ebook standard, with the latest version of ePub3 supporting complex layouts and rich media and interactivity for eTextbooks and professional and scientific publications. Supporting institutions and academics in taking advantage of these new technologies saw Jisc fund the creation of a thinktank to explore the potential of ePub for the academic community.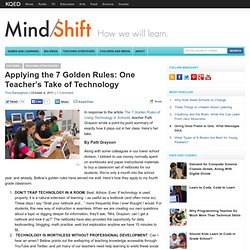 Applying the 7 Golden Rules: One Teacher's Take of Technology
Culture Teaching Strategies In response to the article The 7 Golden Rules of Using Technology in Schools, teacher Patti Grayson wrote a point-by-point summary of exactly how it plays out in her class. Here's her take. By Patti Grayson Along with some colleagues in our lower school division, I lobbied to use money normally spent on workbooks and paper instructional materials to buy a classroom set of netbooks for our students. We're only a month into the school year, and already, Bellow's golden rules have served me well.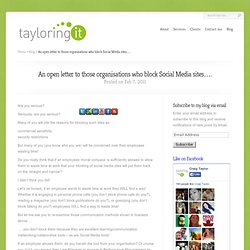 An open letter to those organisations who block Social Media sites….
Are you serious? Seriously, are you serious? Many of you will cite the reasons for blocking such sites as: commercial sensitivity security restrictions
aclJohn's Blog Portal
7 Reasons to Rethink Your Blogging Strategy: New Research
Is your business working with bloggers? Do you blog? This article examines new research that shows blogging is here to stay. Like many social media tools, blogs have seen a steady increase in numbers and influence over the last several years. Note the growth charted by Invesp.