Sweets
Birthday Cake Popcorn. So here's what happened.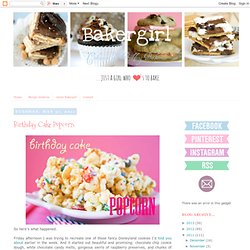 Friday afternoon I was trying to recreate one of those fancy Disneyland cookies I'd told you about earlier in the week. And it started out beautiful and promising: chocolate chip cookie dough, white chocolate candy melts, gorgeous swirls of raspberry preserves, and chunks of rich dark chocolate... the sort of cookie dough that spoons were made for, if you know what I mean. Dreamy. I'm rich, I'm rich! Thousand Dollar Bars. Have you ever baked something that made you do the Daffy Duck?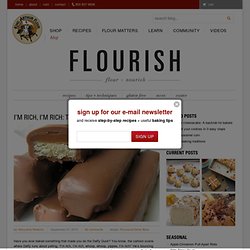 You know, the cartoon scene where Daffy runs about yelling, "I'm rich, I'm rich, whoop, whoop, yippee, I'm rich!" He's bouncing around on his head, feet, hands, and rump in a spastic outpouring of sheer joy. Yep, the Daffy Duck. Not everything we bake here in the kitchen gets us to do the Daffy Duck. Colorful Spiral Cookies. Just try to be in a bad mood around one of these.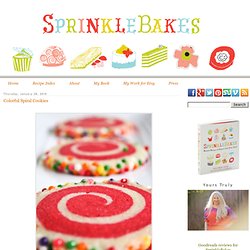 Impossible! I was naturally drawn to these because of the bright, eye-catching swirl, not to mention the jumbo sprinkles-encrusted edges! Milk and Cookies Cocktails. You know when you hear a song on the radio, or in a movie, and you can't get it out of your head for days?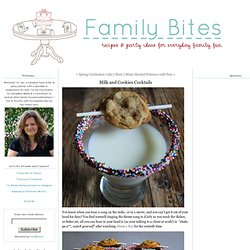 You find yourself singing the theme song to iCarly as you wash the dishes, or better yet, all you can hear in your head is (as your talking to a client at work!) Is "shake ya a**, watch yourself" after watching About a Boy for the sixteeth time. That's how I felt about these sprinkle-rimmed glasses of milk I spotted over on Oh Sweet Babies. I couldn't get the image out of my head, and for days all I could think was what a fun idea for a party, don't you agree? Deep Fried Strawberries | The Family Kitchen. I know what you may be thinking.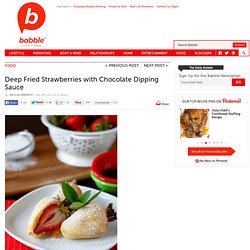 It's a little out of the ordinary BUT if you give this a try, I think you just might be pleasantly surprised. Strawberries are everywhere right now and I'm always looking for ways to use them. We've already shared a trio of beverage ideas using strawberries: STRAWBERRY MARGARITA GRANITA , STRAWBERRY AGUA FRESCA , and a NUTELLA STRAWBERRY SMOOTHIE. Cake Batter Chocolate Bark. I don't think I've ever been so excited to share a recipe with you.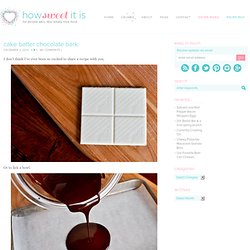 Or to lick a bowl. The secret ingredient here? Make Your Own Candy Bars - Project. Here are the most common terms you'll come across as your candy-making odyssey begins.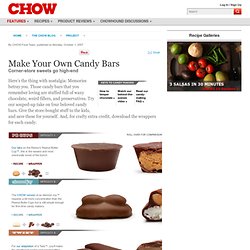 You'll also want to take a look at our behind-the-scenes video. Bloom: The gray mottling that sometimes appears on the surface of chocolate is a result of extremes in heat or humidity. Chocolate stored in a fridge is subject to too much humidity, which causes the sugars to crystallize. If your chocolate is too warm, it will melt slightly and the fats will separate out. While not aesthetically pleasing, the chocolate is still usable and edible. Cinnamon Sugar Pull-Apart Bread. I'm sorry.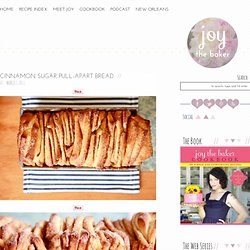 I know it's Monday morning and you probably came here for some pretty pictures of food that you could glance at, and then move on with your day… and here I go thrusting warm, soft cinnamon sugar bread in your face. It's not fair. I know it's not fair.
---