Yarn
British Wool and Knit-and-Felt Bag Kits from Sheepfold
Hand Knitting Yarn, Patterns, Needles, Crochet Hook and Accessories from Thread, Yarn and Fabric
Banyan Tree Yarns - The famous European based Lion Brand Yarn online shop
Cheap Fabric, Knitting, Curtains, Sewing, & Haberdashery Accessories | Abakhan
Knitting Yarn | Knitting Wool | Patterns | Needles | Deramores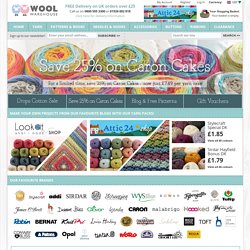 Home - Wool Warehouse - Buy Yarn, Wool, Needles & Other Knitting Supplies Online!
DROPS is a phenomenal range of natural fibre yarns from Scandinavia. The price, range and quality of DROPS yarns is simply unbelievable, with a variety of yarns made from Alpaca, Wool, Cotton and Silk – and with prices starting from just £1.60 a ball. One of the most impressive things about DROPS is the incredible selection of over 4000 knitting and crochet patterns – all of which are available to download for FREE from the Garnstudio website. Our most popular DROPS yarns are DROPS Alaska, Alpaca, Eskimo, Fabel, Karisma, Lima, Merino and Nepal.
Yarns : Alpaca Socks, Clothing and Household Textiles by John Arbon Textiles
knit nottingham - yarn in the centre of Nottingham
Law escapee sought refuge in sticks and string whilst studying, was much saddened by the closure of a local yarn shop so she set out on her own. In the two years since we've been open we've come to realise that these are things that make us happy and successful: Shop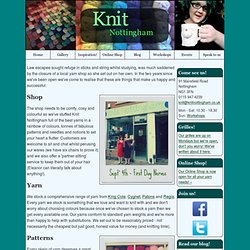 Shop Sections Info Pages Best Sellers Double Top Cotton Yarn - Cerise. Magic Plus by Bergere de France Knitting Pattern - 286.57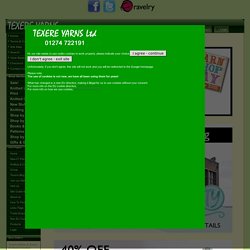 Texere Yarns| Double Knitting Wool-Create the Latest Trends | Knitting, weaving, crochet and felting wool
Wool Colours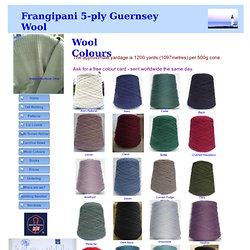 Please remember that photographs often don't show true colours and different monitors vary the colours. To be sure of what you are ordering, send for a free colour card and information pack. The approximate yardage is 1200 yards (1097metres) per cone The approximate yardage is 1200 yards (1097metres) per 500g cone. Ask for a free colour card - sent worldwide the same day. Send for a free colour card!
Colinette Yarns hand dyed yarns textile alchemy for knitters, crocheters and weavers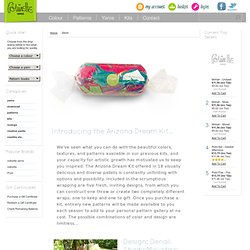 Introducing the Arizona Dream Kit... We've seen what you can do with the beautiful colors, textures, and patterns available in our previous kits, and your capacity for artistic growth has motivated us to keep you inspired. The Arizona Dream Kit offered in 18 visually delicious and diverse pallets is constantly unfolding with options and possibility.
Harris Wool
------------------------------------------------------------------------------------garn.dk - din leverandør af luksusgarn Vi har et stort udvalg i økologisk uld og økologisk bomuldVi lagerfører kvalitets garn i rene materialer til strik og væv.Fx. cashmere, babyalpaca, alpaca, silke garn, morbærsilke, bourettesilke (råsilke), himalaya silke (recycle silk), hør, cottolin, egyptisk bomuld, merceriseret bomuld, kid mohair, mohair garn, super soft merinould, valke garn, strømpegarn,superwash uld, kamgarn,shetlandsuld, angora, m.m.(Stort udvalg af garn til maskinstrik og vævning) Du finder også strikkepinde og strikketibehør fra addi samt strikke opskrifter, strikke bøger og meget mere...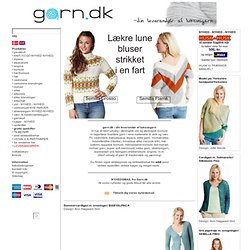 garn.dk - your supplier of luxury yarns
New Lanark 100% pure new Aran wool Heather Mixtures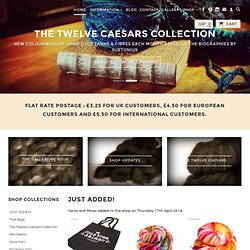 Based in the UK, Countess Ablaze is a one-woman small business focusing on intense colour and fun colour combinations Every single yarn is dyed a minimum of twice to achieve high saturation and glossy results, using professional acid dyes. A variety of dyeing techniques are used such as kettle dyeing, low water immersion dyeing and hand painting. Sometimes a colourway uses a mixture of all three. All yarns and fibres are heat set to exhaustion in a small industrial steamer and left overnight to sit in their own juices and cool naturally before rinsing with water the next day (unless it is a particularly stubborn colour and then it gets a bath with a dash of Synthrapol).
Countess Ablaze
Mohair Yarns
Fine silk yarns for weaving embroidery knitting and handicraft
Silk and cashmere yarns for handspinning weaving embroidery knitting handicraft
First 4 Yarns, Knitting Yarns & Needles
Hello and Welcome to the KnitWitches Yarns Website, the home of Seriously Gorgeous Yarns, hand dyed in Wales with love. I specialise in silks, cashmere, kid mohair, and merino yarns, and oodles of silk mixed with cashmere/ baby camel/ merinos etc. In fact all yarn entering Knitwitches has to be sooo soft and squishy and just plain all round fabulous, or it won't make it onto these pages. I'm a lace addict, so lots of laceweights as well.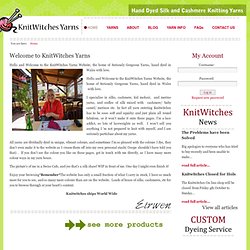 KnitWitches Yarns | Home of Seriously Gorgeous Yarns
fiddlesticks online knitting wool shop, supplies knitting yarns, needles and patterns, in honiton devon,
YarnAddict
Hand dyed yarn : Skein Queen Shop - Purveyor of luxury yarn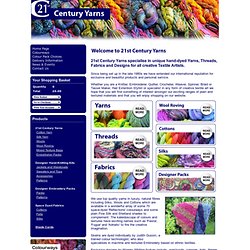 21st Century Yarns specialise in unique hand-dyed Yarns, Threads, Fabrics and Designs for all creative Textile Artists. Since being set up in the late 1980s we have extended our international reputation for exclusive and beautiful products and personal service. Whether you are a Knitter, Embroiderer, Quilter, Crocheter, Weaver, Spinner, Braid or Tassel Maker, Hair Extention Stylist or specialist in any form of creative textile art we hope that you will find something of interest amongst our exciting ranges of plain and textured materials and that you will enjoy shopping on our website.
21st Century Yarns - hand-dyed Yarns, Threads, Fabrics and Knitting Designs.
Great British Yarns Online Catalogue
Knitting yarn | Cotton yarn | Cotton knitting yarn | Cotton yarns
Home Page - Knitting Yarns | Knitting Accessories - Stash Fine Yarns.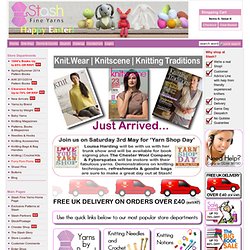 Just Arrived Knitting Traditions Spring 2014 In this issue, you will meet Ceceila, a Cowichan knitter in western Canada who recalls knitting into the early hours of the morning by candlelight, knowing the sweater she finishes for sale will keep her children from going hungry; and James Moar, an invalid in 1880s Shetland, who learned to knit from his sisters, so he could contribute to the family income. You will discover the powerhouse stocking knitting trade that flourished in Wales for over two hundred years and the knitting cottage industries of Macedonia that have thrived from the nineteenth century to the bustling markets of today.
Pavi Yarns UK Online Wool Shop for Knitting Yarns, Knitting Patterns, Knitting Wools and Knitting Accessories
A very warm welcome to all... Pavi Yarns has been born from a passion for everything tactile and textile! We have searched worldwide to bring you the most scintillating, sumptuous and spectacular product range available. This includes the highest quality yarns, fine needles, luxurious tote bags, bespoke buttons and exclusive vintage items. Pavi Yarns provides a very friendly, efficient and speedy service whilst also ensuring that your online shopping is secure. We will endeavour to offer an experience that is as close as possible to visiting your local wool shop and we are committed to providing you with excellent service.
This is an amazing book. A group of women brought together in the 1930′s after responding to a letter published in Nursery World magazine by this "Can any mother help me? I live a very lonely life as I have no near neighbours. I cannot afford to buy a wireless. I adore reading, but with no library am very limited with books… I know it is bad to brood and breed hard thoughts and resentment.
The Yarn Yard | …don't just knit, knit with art!
Alpaca wool yarn