Supplies
We UK sewers can often be found lamenting the lack of decent fabric to be found in this fair isle, but there is an increasing selection if you know where to hunt! Thanks to all who answered my call in Twitter and Facebook for their favourite online shops (and in particular to Ali of VeryBerry Handmade with her own fabulous list here). So let's get all the sources together into one gigantic big list... The Shops Most Likely to be Mentioned By People with Breathy Excitement in their Voices: Kitschy Coo (that's me!)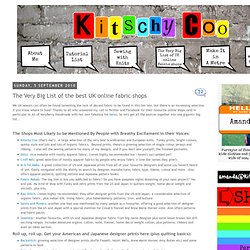 The Very Big List of the best UK online fabric shops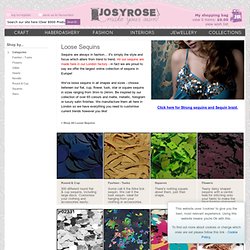 Sequins
Sequins are always in fashion… it's simply the style and focus which alters from trend to trend. All our sequins are made here in our London factory - in fact we are proud to say we offer the largest online collection of sequins in Europe! We've loose sequins in all shapes and sizes - choose between our flat, cup, flower, tusk, star or square sequins in sizes ranging from 3mm to 24mm.
raffia stock in various colours, raffia supplied on rolls 91 metres, raffia paper available next day
Kraft Raffia 91 metre rolls Natural kraft raffia paper Sampl.. Baby Pink Raffia 91 metre rolls Baby pink raffia kraft paper Sample available.. Beauty Pink Raffia 91 metre rolls Beauty pink raffia kraft paper S..