Acid23
Alaa El-Sea'dawy
‫ظهور المهدي وخروج الدجال محاضرة الشيخ محمد العريفي 2014‬‎
Installing Hyper-V Server 2012 on ESXi 5 | Wahl Network
Now that Hyper-V Server 2012 has been released, I thought it would be interesting to virtualize it and tinker around in the lab. I found two great posts on running nested hypervisors, one on VirtuallyGhetto (here) and another on Thep Huck (here). However, while the content posted in these locations were enough for me to piece together the whole puzzle, I wanted to lay out the process in a clear and concise manner for those specifically using Hyper-V Server 2012 on ESXi 5.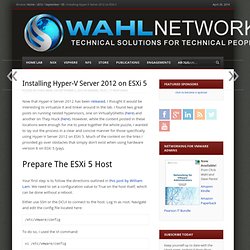 Hyper-V in vSphere 5.1 | How to Run Hyper-V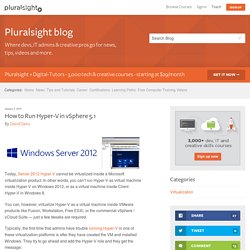 January 2, 2013By David Davis Today, Server 2012 Hyper-V cannot be virtualized inside a Microsoft virtualization product. In other words, you can't run Hyper-V as virtual machine inside Hyper-V on Windows 2012, or as a virtual machine inside Client Hyper-V in Windows 8.
TOMORROW starts here
▶ Harnessing the Internet of Things
Samsung delivers official statement regarding Galaxy S3′s Android 4.3 update issues
Posted by FaryaabS on 18 November 2013 at 15:37 Two weeks ago, Samsung finally released the much awaited Android 4.3 update for the Galaxy S III, but immediately after updating the device to Android 4.3 users started to complain about various bugs they were encountering. We ourselves tested the Android 4.3 update extensively and came to the conclusion that Samsung might have rushed with the new update just so that they could bring in GALAXY Gear's support to the Galaxy S III.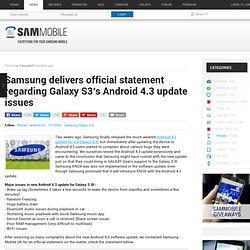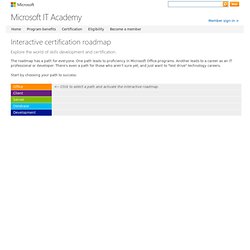 Start here MTA - Fundamentals for IT Infrastructure The Microsoft Technology Associate (MTA) IT Infrastructure Track is an optional step that validates essential IT concepts and help you prepare for MCSA certification 349: Windows OS Fundamentals 365: Windows Server Admin Fundamentals 366: Networking Fundamentals 367: Security Fundamentals This track also helps prepare you for entry-level jobs in IT such as:
Interactive certification roadmap
شركة