Dorm
Design Your Dorm: 3-D interior design tool for students, parents, and universities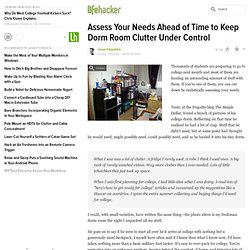 SExpand Thousands of students are preparing to go to college next month and most of them are hauling an astounding amount of stuff with them. If you're one of them, you can cut down by realistically assessing your needs. Trent, at the frugality blog The Simple Dollar, found a bunch of pictures of his college dorm. Reflecting on that time he realized he had a lot of crap. Stuff that he didn't need, but at some point had thought he would need, might possibly need, could possibly need, and so he hauled it into his tiny dorm.
Assess Your Needs Ahead of Time to Keep Dorm Room Clutter Under Control
Dorm Co - College Dorm Supplies, Dorm Bedding, College Trunks, Dorm Furniture, College Posters, Twin XL Bedding, Twin XL Sheets, College Dorm Essentials, Dorm Room Rugs, Twin XL Comforter, College Bedding, Dorm Stuff, Dorm Decor and Cheap College Dorm Pro
1. In terms of decorating, try and remain gender neutral. Ladies, no guys wants to hang out in a room that looks like a pieces of sugar free bubblegum and guys, the girls might be a little freaked out if you have your college mascot splashed across your pillowcase. 2. Seating is limited – your bed might turn into a makeshift couch. Make sure it's comfortable by investing in an egg crate and some cool throw pillows. Throw pillows are essential – you don't want peoples sweaty hands playing around with where you lay your head at night. 3.
How to Make Your Dorm the Hangout | DormDelicious