Recipes
Millet with Dried Fruit Compote. This delicious millet breakfast is a great way to start the day and carry you through the morning.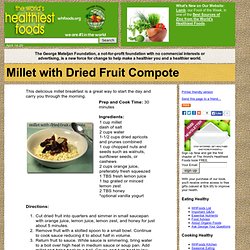 Directions: Cut dried fruit into quarters and simmer in small saucepan with orange juice, lemon juice, lemon zest, and honey for just about 5 minutes. Remove fruit with a slotted spoon to a small bowl. Continue to cook sauce reducing it to about half in volume. Learn Thai Cooking - ThaiTable.com - deep knowledge of Thai food. Easy Brazilian Cheese Bread (Pão de Queijo) Recipe | Simply Reci. Our tour of Brazil continues.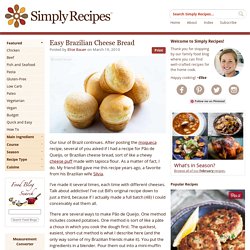 After posting the moqueca recipe, several of you asked if I had a recipe for Pão de Queijo, or Brazilian cheese bread, sort of like a chewy cheese puff made with tapioca flour. As a matter of fact, I do. My friend Bill gave me this recipe years ago, a favorite from his Brazilian wife Silvia. I've made it several times, each time with different cheeses. How To Make Creamy Ice Cream with Just One Ingredient! | Apartme. Yes, that's right; you heard us.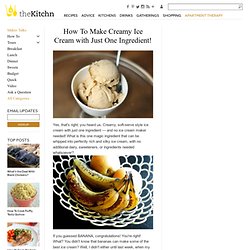 Creamy, soft-serve style ice cream with just one ingredient — and no ice cream maker needed! What is this one magic ingredient that can be whipped into perfectly rich and silky ice cream, with no additional dairy, sweeteners, or ingredients needed whatsoever? If you guessed BANANA, congratulations! You're right! Pepperoni-Pesto Popovers. Make Cake in a Mug. From Wired How-To Wiki Make this cake in 5 minutes!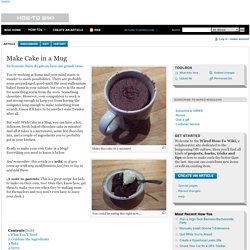 You could be eating this right now... En francais: Faire du gâteau dans une grande tasse. How to Make a Simple Curry "Anything" : Joe Grossberg. In the course of cooking Indian food, I've found that many dishes have a great number of similarities.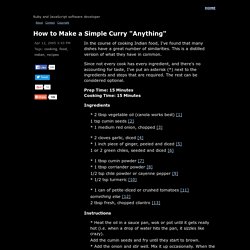 This is a distilled version of what they have in common. Since not every cook has every ingredient, and there's no accounting for taste, I've put an asterisk (*) next to the ingredients and steps that are required. The rest can be considered optional. Prep Time: 15 MinutesCooking Time: 15 Minutes Ingredients. Buy the Bacon Explosion - Ready to Heat and Eat! As featured on CNN, Good Morning America, in the New York Times, and other major media outlets, The Original Bacon Explosion™, the world famous bacon-stuffed, bacon-wrapped Italian sausage, is enhanced with our classic Kansas City style barbecue sauce and rub, then smoked low and slow in a special blend of oak and hickory wood.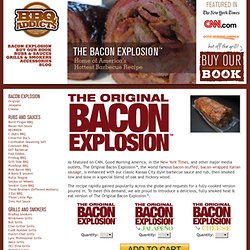 The recipe rapidly gained popularity across the globe and requests for a fully-cooked version poured in. To meet this demand, we are proud to introduce a delicious, fully smoked heat & eat version of The Original Bacon Explosion™. 1/2 Bacon Explosion - $19.99Full Bacon Explosion - $34.99 See shipping times and plan accordingly. Orders will ship within 2-3 business days after your order is placed depending on delivery date.
---