Mobile Data Share
Mobile Users Prefer Browsers Over Apps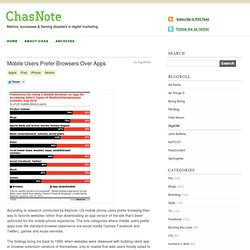 According to research conducted by Keynote, US mobile phone users prefer browsing their way to favorite websites rather than downloading an app version of the site that's been optimized for the mobile-phone experience.
About Us - Contact Us
iPhone-Applications-Privacy-Issues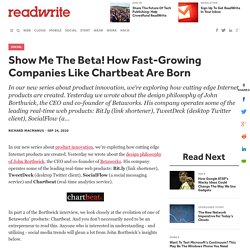 In our new series about product innovation, we're exploring how cutting edge Internet products are created. Yesterday we wrote about the design philosophy of John Borthwick, the CEO and co-founder of Betaworks. His company operates some of the leading real-time web products: Bit.ly (link shortener), TweetDeck (desktop Twitter client), SocialFlow (a social messaging service) and Chartbeat (real-time analytics service). In part 2 of the Borthwick interview, we look closely at the evolution of one of Betaworks' products: Chartbeat. And you don't necessarily need to be an entrepreneur to read this.
Show Me The Beta! How Fast-Growing Companies Like Chartbeat Are Born
The Truth about Mobile Application Stores
At the recent Mobile World Congress 2010, Dutch app store analytics firm Distimo presented their findings on the six largest mobile application stores in existence today: the iTunes App Store, BlackBerry App World, Google Android Market, Nokia Ovi Store, Palm App Catalog and Windows Marketplace for Mobile. In their presentation, they analyzed everything including store size, store growth, the most popular applications and where you can find the best deal. They recently shared some of the highlights from that presentation by way of a slideshow embedded on their blog.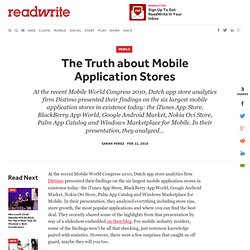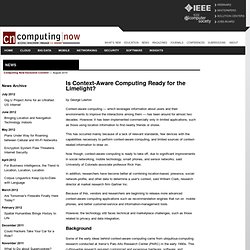 by George Lawton
Computing Now | News | August 2010 | Is Context-Aware Computing Ready for the Limelight?
Carriers missing opportunity with app stores - Mobile Commerce Daily - Columns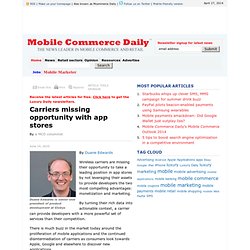 Duane Edwards is senior vice president of product development at Globys By Duane Edwards Wireless carriers are missing their opportunity to take a leading position in app stores by not leveraging their assets to provide developers the two most compelling advantages: monetization and marketing. By turning their rich data into actionable context, a carrier can provide developers with a more powerful set of services than their competition. There is much buzz in the market today around the proliferation of mobile applications and the continued disintermediation of carriers as consumers look towards Apple, Google and elsewhere to discover new applications. Carriers see the strategic value in actively participating in the application ecosystem and many are launching their own app stores.